500 million-year-old red stone forest to glow with vibrant life
Share - WeChat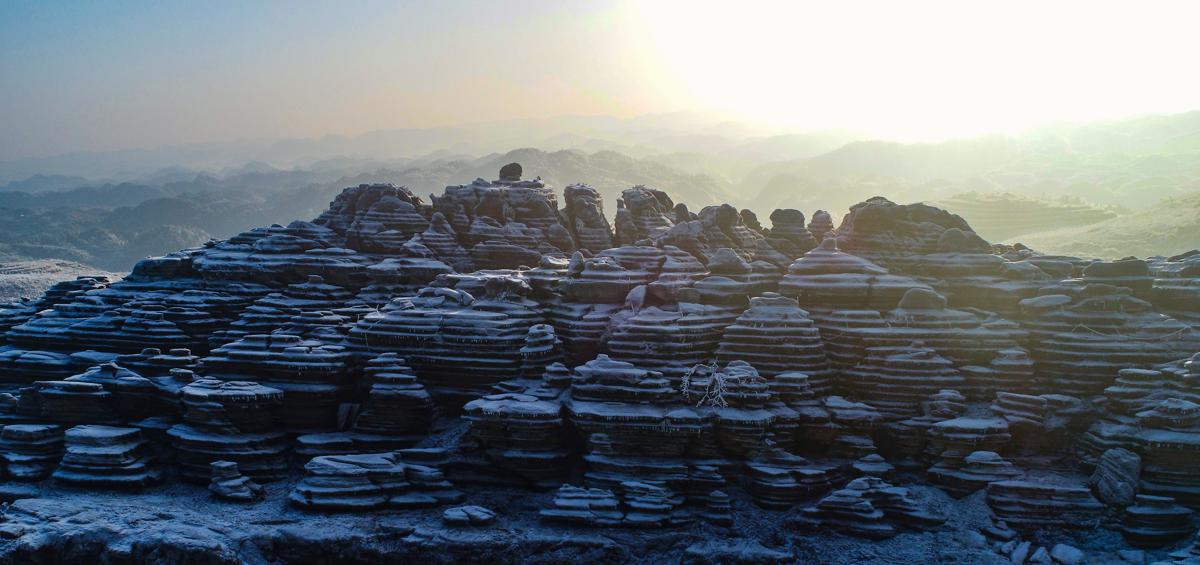 A massive red stone forest, called Shilin in Chinese, where stones resemble fossilized trees, has a history of nearly 500 million years. It covers an area of about 133 hectares on the top of La'er Mountain in Songtao Miao autonomous county of Tongren city, Guizhou province.
Hundreds of millions of years ago, there was a vast expanse of sea in Guizhou. The seabed deposited a large amount of sediments mixed with carbonate materials. As a result of crustal movement and sea receding, as well as the constant seeping of rain, the unique geological wonders were therefore produced.
Such a group of great stone sculptures of different shapes and beautiful red and white colors has become one of the most impressive examples of Guizhou karst topography.
Composed of carbonate rocks, mudstones and sandstones, those red stones have unique bedding texture and are rich in minerals of silicon and calcium elements, experts say. Due to its rare "pagoda type" stone forest in the world, Songtao red stone forest commands both high scientific research and appreciation value.
The government this year aims to develop the stone forest into a 5A scenic spot, featuring geological landform sightseeing, mountain sports and characteristic leisure tourism, with an estimated investment of 1.7 billion yuan($264.23 million), according to local authorities.
Wang Jin contributed to this story.