FDA panel recommends Moderna's booster shot
Share - WeChat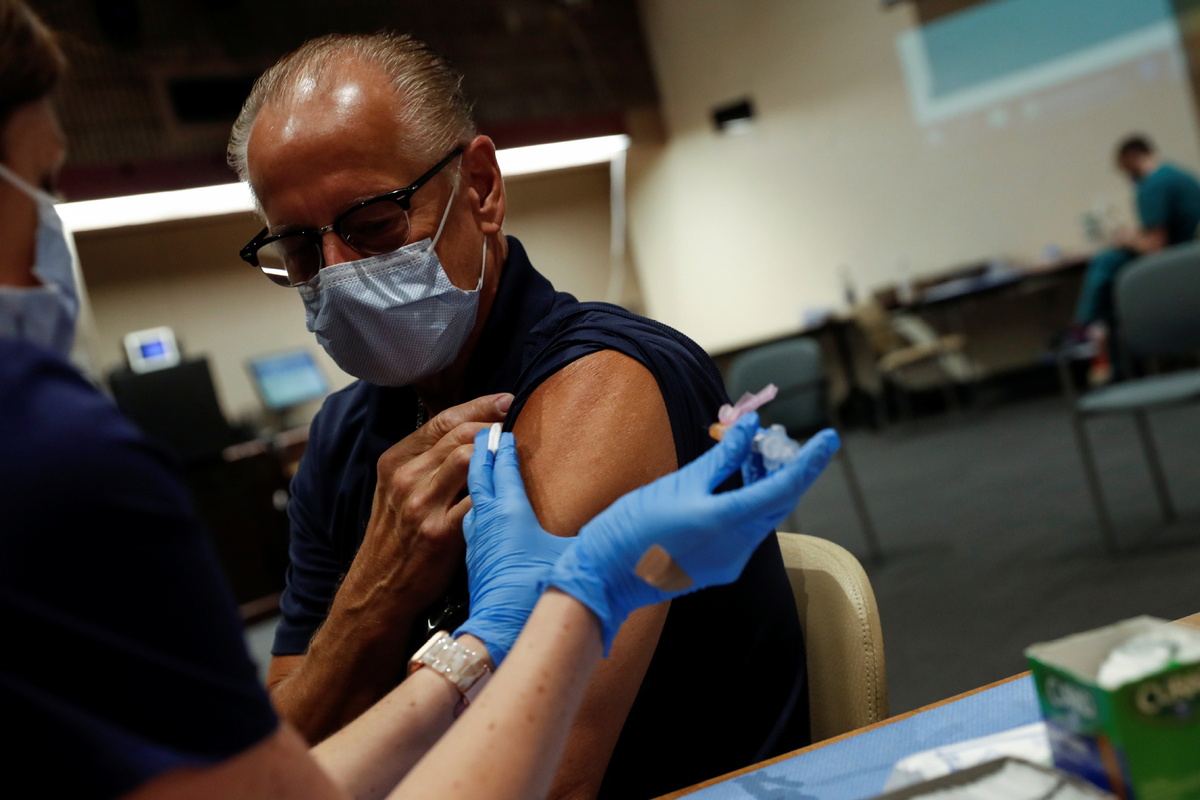 An advisory committee to the US Food and Drug Administration (FDA) voted unanimously Thursday to recommend Moderna's COVID-19 booster shot to people 65 and older and other vulnerable Americans.
The FDA's Vaccines and Related Biological Products Advisory Committee agreed that use of a booster dose would be safe and effective for some people six months after a second dose.
Moderna had asked for emergency use authorization for a half dose of its COVID-19 vaccine to be used as a booster for certain groups of people.
Those groups include people age 65 and older; people age 18 to 64 who are at high risk of severe COVID-19; and people age 18 to 64 whose exposure to the coronavirus in their settings or jobs put them at risk for COVID-19 complications or severe illness.
While the FDA doesn't need to follow the advice of its committee, it often does. A final FDA decision on Moderna booster shots could come within days.
The vaccine advisory committee of the Centers for Disease Control and Prevention (CDC) is expected to vote on the FDA's proposal next week. Its decision is subject to approval by the CDC director.
After Moderna's unanimous vote Thursday, members of the committee said they weren't entirely convinced the data showed a booster was necessary or that it increased protection.
Dr Patrick Moore said the data that the company submitted for authorization of a booster "was not well explained", adding that he voted yes more on a "gut feeling". "The data itself is not strong, but it is certainly going in a direction that is supportive of this vote," he said.
The advisory committee will continue meeting Friday, when members are expected to vote on Johnson & Johnson's vaccine booster and will hear presentations about mixing and matching vaccines.
The FDA and the CDC already have approved the Pfizer-BioNTech vaccine for certain people with weakened immune systems.
In remarks at the White House on Thursday, President Joe Biden stressed the need to vaccinate the 66 million Americans who haven't received any COVID-19 vaccine shots.
"I'm calling on more businesses to step up. I'm calling on more parents to get their children vaccinated when they are eligible," Biden said.
Biden hailed the progress on the vaccination rate but said that more needs to be done, and one of the reasons why some people refuse to get vaccinated is misinformation.
"That's important, it's important progress but it's not — now is not the time to let up," Biden said. "We have a lot more to do."
"Vaccination requirements should not be another issue that divides us. That's why we continue to battle the misinformation that's out there. And companies and communities are setting up, they're stepping up, as well, to combat the misinformation," he added.
The US now records approximately 90,000 new infections a day, a drop of more than 40 percent since August. The number of hospitalizations and deaths is also declining.
Nearly 70 percent of adults are fully vaccinated, and many children under 12 are likely to be eligible for their shots in a matter of weeks, according to The New York Times.
Vaccination could have prevented 90,000 deaths between June and September, according to an analysis from two US nonprofits.
In September alone, approximately 49,000 deaths could have been avoided if more adults got a COVID-19 shot, researchers from the Kaiser Family Foundation (KFF) and the Peterson Center on Healthcare said in a report published Tuesday.
COVID-19 was the leading cause of death for adults aged 35 to 54 in September, putting it ahead of heart disease and cancer.
Dr Anthony Fauci, director of the National Institute of Allergy and Infectious Diseases, said on Wednesday that other variants that emerge aren't expected to "outstrip" the capability of Delta.
The new variant, B.1.630, first detected in March in the Dominican Republic, has just been detected in Louisiana. It is one of more than a dozen variants being monitored by the World Health Organization.