Holiday backlog in sight amid driver crisis
Share - WeChat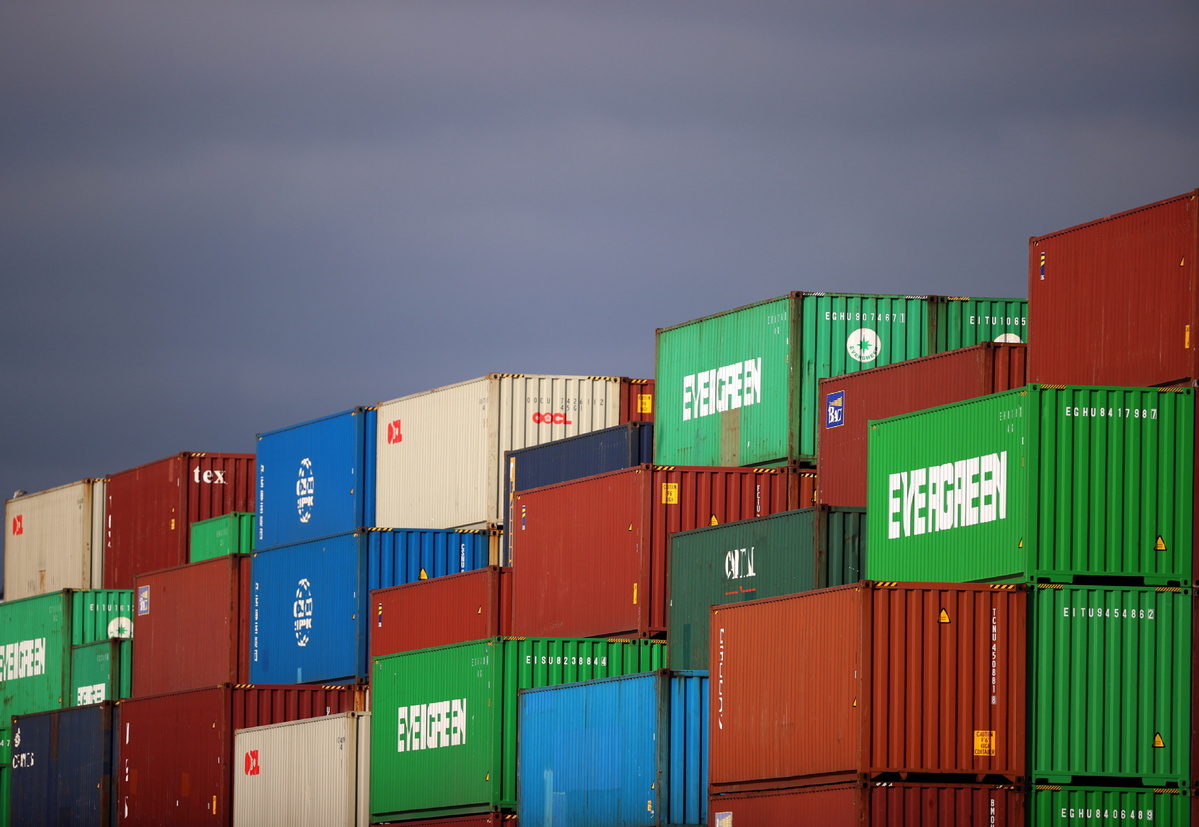 The United Kingdom's biggest container port has been diverting cargo ships from Asia because of congestion caused by the shortage of truck drivers and a surge in imports ahead of Christmas.
The world's biggest container shipping company, AP Moller-Maersk, said the port of Felixstowe in England has run out of storage space for containers amid a shortage of heavy goods vehicle drivers in the country, and warned the crisis could continue into the New Year.
Maersk announced that cargo would instead be unloaded at scheduled stops in Rotterdam and Antwerp and onto smaller vessels that can use other British ports, which can result in delays and extra costs. The company said it has already diverted one of its "two really big ships".
Lars Mikael Jensen, head of east-west network at Maersk, told The Guardian newspaper that the situation at Felixstowe, which handles about 36 percent of containers coming in and out of the UK, was one of its biggest global challenges.
He said: "The trouble is that now we don't have the same speed of flow of boxes moving in and out. With fewer truckers on average it takes longer to get boxes out of the terminal, so they are left standing there."
The Telegraph reported that the number of collections at Felixstowe last month was down by up to 20 percent. It said this had led to a backlog of around 7,500 full containers and 50,000 empty ones. It noted that there is also a shortage of workers to lift containers on and off the ships.
Quoted by The Guardian, a spokesperson for Felixstowe port said: "The pre-Christmas peak, combined with haulage shortages, congested inland terminals, poor vessel schedule reliability and the pandemic, has resulted in a buildup of containers at the port."
They added that "a high proportion of ships are off schedule due to the well-publicized global supply chain issues and imports continue to arrive faster than the UK supply chain can handle them".
A spokesperson for the Department for Transport, quoted by The Times, insisted the problem was not "unique to the UK", and that "ports around the globe are experiencing similar container capacity and supply chain issues."
The shortage of a reported 100,000 HGV drivers has caused fuel shortages in the UK and comes amid rising gas prices.
On Wednesday, Oliver Dowden, a Cabinet minister and the new Conservative party co-chair, told Sky News: "There is, clearly, a challenging problem, particularly with HGV drivers-and not just here, it's across Europe, Poland, the US, even China has this challenge."