Doctor's inspiring legacy given a fresh take
By XU WEIWEI in Hong Kong, APARAJIT CHAKRABORTY in New Delhi,APARAJIT CHAKRABORTY and ARUNAVA DAS in Kolkata | China Daily | Updated: 2021-10-13 07:31





Share - WeChat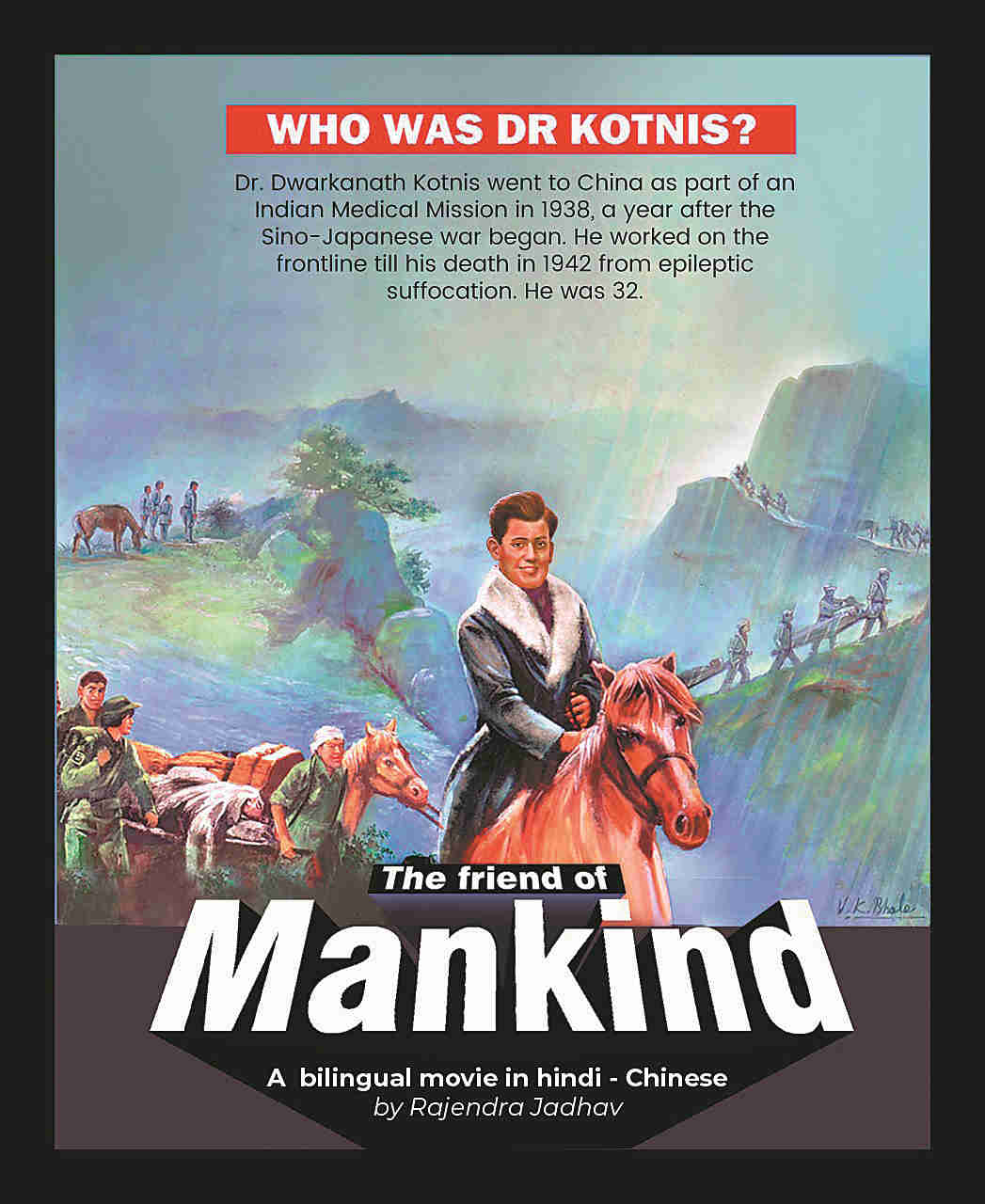 New movie features story of Indian medic who performed heroics in wartime China
A film made in the 1940s about a young Indian doctor who traveled to China to selflessly treat soldiers injured fighting Japanese invaders proved a hit with Indian moviegoers.
Seventy-five years since that black-and-white feature film was shown in theaters, a new movie is being produced about the medical hero.
There is much to tell about the life and times of Dwarkanath Kotnis, with many stories about his work collected from researchers and the public in China.
Lou Yue, a research fellow at North China Martyrs' Memorial Cemetery, said: "He helped his patients with food. He was careful and quick while changing dressings so that the wounded wouldn't feel too much pain. He even gave his horse and hat to patients who were on the march."
Kotnis, also known by his Chinese name Ke Dihua, worked so hard that during one battle in China in 1940, he performed operations for up to 72 hours and treated more than 800 patients in 13 days.
For the soldiers of the Eighth Route Army and villagers, the efforts made by Kotnis won him the nicknames "Dr Thoughtful" and "Old Ke"-a term used by Chinese to refer affectionately to friends.
Rajendra Jadhav, chairman of the Dr Kotnis Memorial Committee in Mumbai, India's financial capital, said, "Dr Kotnis wasn't just a dedicated, passionate and competent doctor, he was also an exemplary internationalist.
"That he is still so deeply revered in China is testimony to the dedication with which he nursed and treated wounded soldiers in China more than eight decades ago."
Srikant Kotnis, 98, a cousin of the doctor, said in a message to China Daily: "Dr Kotnis' glorious services to mankind must inspire more than 2.7 billion living on both sides of the border. He sacrificed his life not just for the wounded Chinese but for humankind.
"The upcoming movie should capture the true spirit and values Dr Kotnis upheld."
Dwarkanath Kotnis was one of five Indian physicians in a team sent to China in 1938 to provide medical assistance. The team arrived one year after China mounted full-scale resistance against the aggression of Japanese invaders.
Earlier, Communist General Zhu De asked the British colonial administration in India to send physicians to provide medical assistance to Chinese soldiers.
Lou, who has spent years studying the doctor's life, said: "At that time, China was in tremendous difficulty. We had an acute shortage of practitioners and medicines."
The other four doctors in the medical team also had Chinese names ending with hua, the character for "China", but Kotnis was the only member not to return to India.