Experts map out common future for mankind
Share - WeChat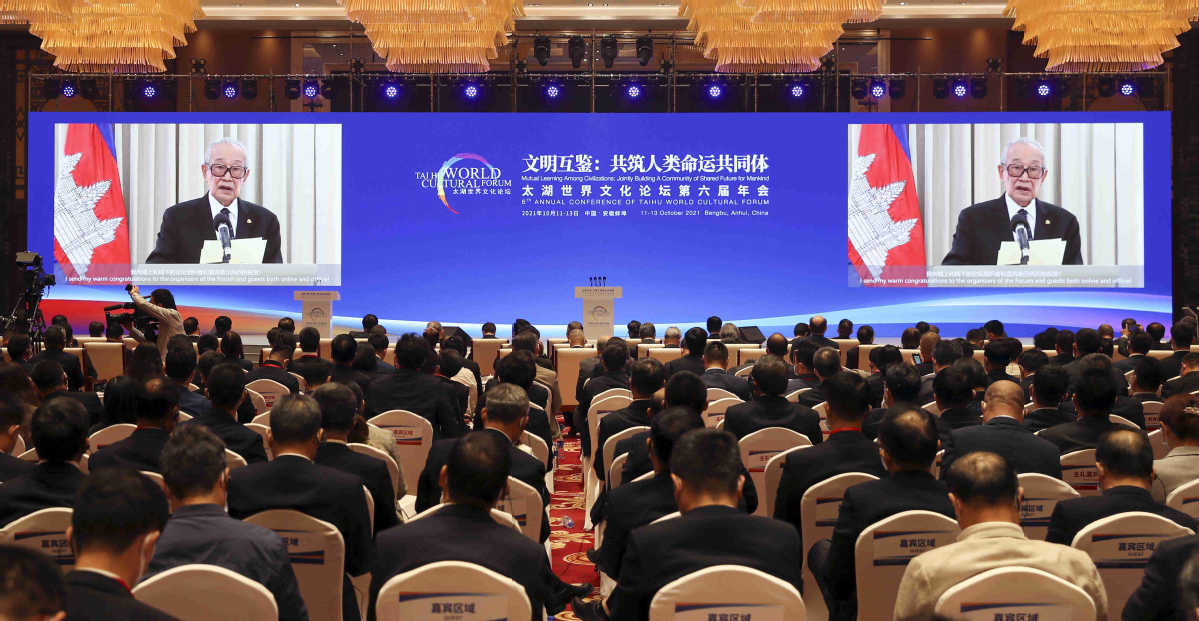 Leading political adviser stresses vital importance of cultural diversity
A community of shared future for mankind represents a new awakening and enlightenment of humanity, experts said at a forum titled "Promoting World Cultural Diversity and Building a Community of Shared Future for Mankind", held in Bengbu, Anhui province, on Tuesday.
The event was part of the sixth annual conference of the Taihu World Cultural Forum, which seeks to deepen cultural exchanges between China and the rest of the world.
Experts from China and abroad attended the event or shared their views by video link.
According to Zhou Hanmin, a member of the Standing Committee of the National Committee of the Chinese People's Political Consultative Conference, cultural diversity is of vital importance, and people need to appreciate other's beauty and even help to complement other's beauty.
He cited the example of the exhibition of Denmark's famous Little Mermaid statue in China at the 2010 Shanghai World Expo.
Zhou noted that the Danish authorities made a "big decision" to move the national treasure temporarily from Copenhagen to Shanghai.
"Many Chinese felt grateful and excited to see the statue," he said, noting that Denmark's decision to loan the famous statue to Shanghai was in order to "complement the beauty of the expo".
"We need to appreciate other's beauty instead of rejecting it, and we need to help others to be more beautiful instead of hindering them from making progress," Zhou added.
Sergiy Kuzmichov, the first secretary of the embassy of Ukraine in China, who is also a Sinologist, said culture plays an important role in building a community of shared future for mankind.
He expressed his appreciation for the concept proposed by pioneering Chinese sociologist and anthropologist Fei Xiaotong (1910-2005) that, "Every beauty has its uniqueness; precious is to appreciate other forms of beauty with openness. If beauty represents itself with diversity and integrity, the world will be blessed with harmony and unity."
Kuzmichov said, "Respecting cultural diversity is a must for the prosperity of culture in the whole world."
Li Xiguang, director of Tsinghua University International Center for Communication, said that the concept of the community of shared future "requires efforts from people all over the world to work jointly to build it".
He said that "opposition, splits and wars" were nothing but humanity "destroying each other", and warned that such practices would lead the human race to "everlasting perdition".
His outlook was echoed by David Gosset, founder of the Euro-China Forum, who is also an expert on global affairs and international relations.
"The proposal of building a community of shared future for mankind is a modern explanation of the Confucian vision of Da Tong-which means 'Great Unity', and is a Chinese utopian vision of the world in which everyone and everything is at peace-and it echoes the concept of universalism in the West. The highest goal is to benefit mankind instead of only a part of it.
"China's opening to the West, and the West's opening to China, are vital to each other. We must oppose the narrative that the West will inevitably clash with China, since they are all important architects for building a community of shared future for mankind," he added.