Yunnan ideal to host UN biodiversity meeting
Share - WeChat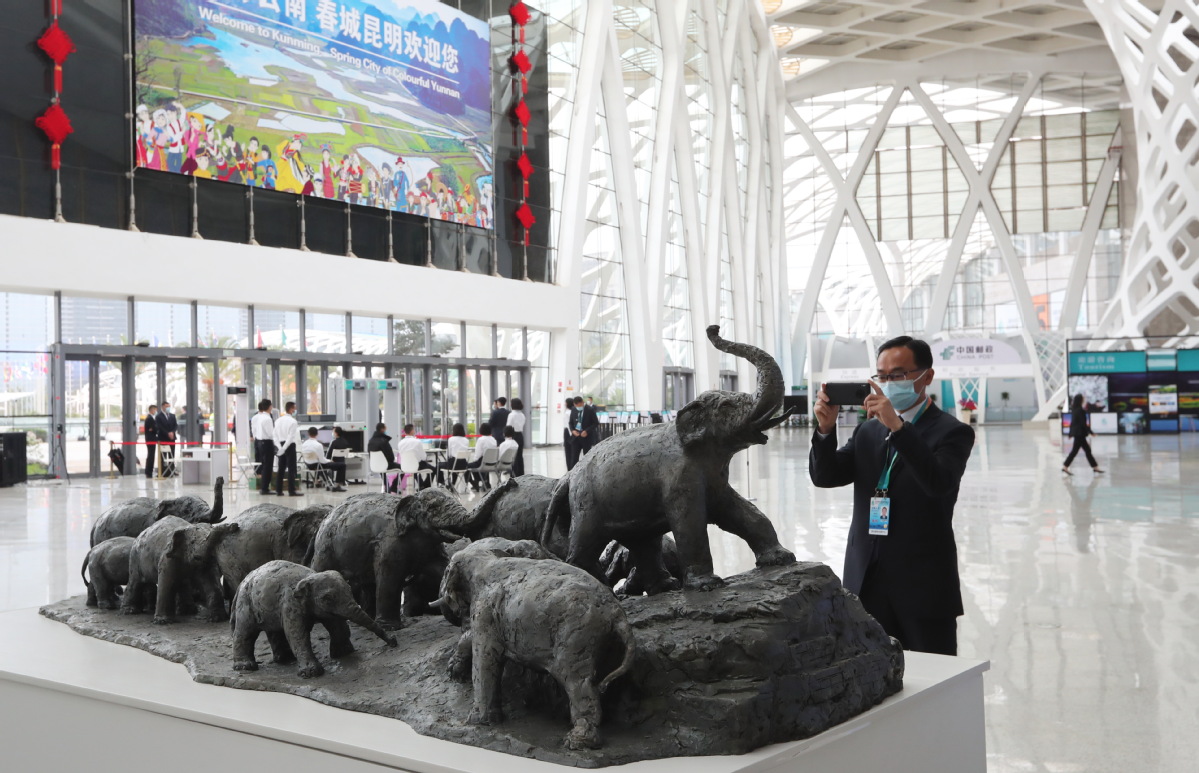 Kunming is ready to host the 15th meeting of the Conference of the Parties to the UN Convention on Biological Diversity, which will review the "post-2020 global biodiversity framework" to draw a blueprint for biodiversity conservation in the future.
The meeting from Oct 11 to 15 will form the first part of the 15th UN biodiversity conference, with the second part, to be held in person in the first half of 2022, likely to see broad and deepened negotiations on an ambitious post-2020 global biodiversity framework.
It's fitting that the UN biodiversity is being held in Yunnan, as it is known as the "Kingdom of Animals and Plants" and ranks first in terms of biodiversity in China. Among the 36 biodiversity hotspots in the world, Yunnan is linked to three: the eastside of Himalayas; Indo-Myanmar tropical mountains; and the Mountains of Southwest China.
Although Yunnan accounts for only 4.1 percent of China's land area, it is home to 19,333 vascular plants, accounting for 50.1 percent of the country's biological species.
As the province faces geological challenges in improving residents' lives, boosting the local economy is as important as conserving biodiversity, because ecological resources form the foundation of bio-economy. As such, the province has great potential for developing green industry.
Balancing the use and conservation of natural resources is an accepted global practice. And Yunnan has been implementing the policy of green development for almost 10 years according to the concept of "green mountains and clear water are equal to mountains of gold and silver".
Yunnan is home to 476 types of ecosystems, among which the wetland and forest ecosystems ranks the highest in terms of their overall numbers and the number of species they are home to. To boost the integration between ecological resources and tourism, the province has stepped up efforts to build national parks, among which the Pudacuo National Park is the first of its kind on the Chinese mainland.
Opened in 2007, the eco-environment in this park is well preserved with marshes, lakes, forests, brooks, springs, rare fauna and flora, as well as some villages. The government has been making efforts to protect the environment in Pudacuo by, for example, shutting down and using ecological means to restore the tailings dams (earth-filled dams that store the leftovers after separation of the valuable fraction from uneconomic fraction of ores in mining) inside and around the park.
The authorities also attach great importance to the sustainable development of villages in the park, by introducing favorable policies to boost employment. For instance, villagers are trained as drivers, security guards and cleaners. In fact, the about 350 villagers turned workers account for 53.3 percent of employees in the park.
The government spends about 15 million yuan ($2.3 million) a year to support 3,696 farmers who have benefited by converting their marginal farmlands into forests and grasslands. And while ecological conservation and tourism have replaced traditional agricultural and animal husbandry, ecological protection has been integrated with villagers' livelihoods.

From 2012 to 2019, the Pudacuo National Park has received 9.45 million visitors, generating revenue of about 1.89 billion yuan. Since national parks bring economic benefits to local villagers, many villagers today realize the importance of environmental protection.
Addressing the UN Summit on Biodiversity in September 2020, President Xi Jinping said: "We need to respect nature, follow its laws and protect it. We need to find a way for man and nature to live in harmony, balance and coordinate economic development and ecological protection".
Yunnan's efforts to better protect the environment are a reflection of Xi's idea. And non-wood forest products and ecological services that depend on non-expendable resources have become the key characteristics of Yunnan's ecological preservation and resource utilization campaign.
As an extension of this policy, ecological tourism and bio-economy should replace mining and chemical-dominated industries and become the pillar industries in Yunnan. Only then can Yunnan be put on a new path of modern and green growth.
Actually, in 2018, Yunnan became the first province in China to pass local regulations on protecting biodiversity, in order to boost sustainable development, strike a balance between biodiversity conservation and development and help build a shared future for all life on Earth.

The author is a professor at Yunnan Academy of Forestry and Grassland.
The views don't necessarily reflect those of China Daily.
If you have a specific expertise, or would like to share your thought about our stories, then send us your writings at opinion@chinadaily.com.cn, and comment@chinadaily.com.cn.
Most Viewed in 24 Hours
China Views