British army deployed to solve fuel crisis amid chaos
Share - WeChat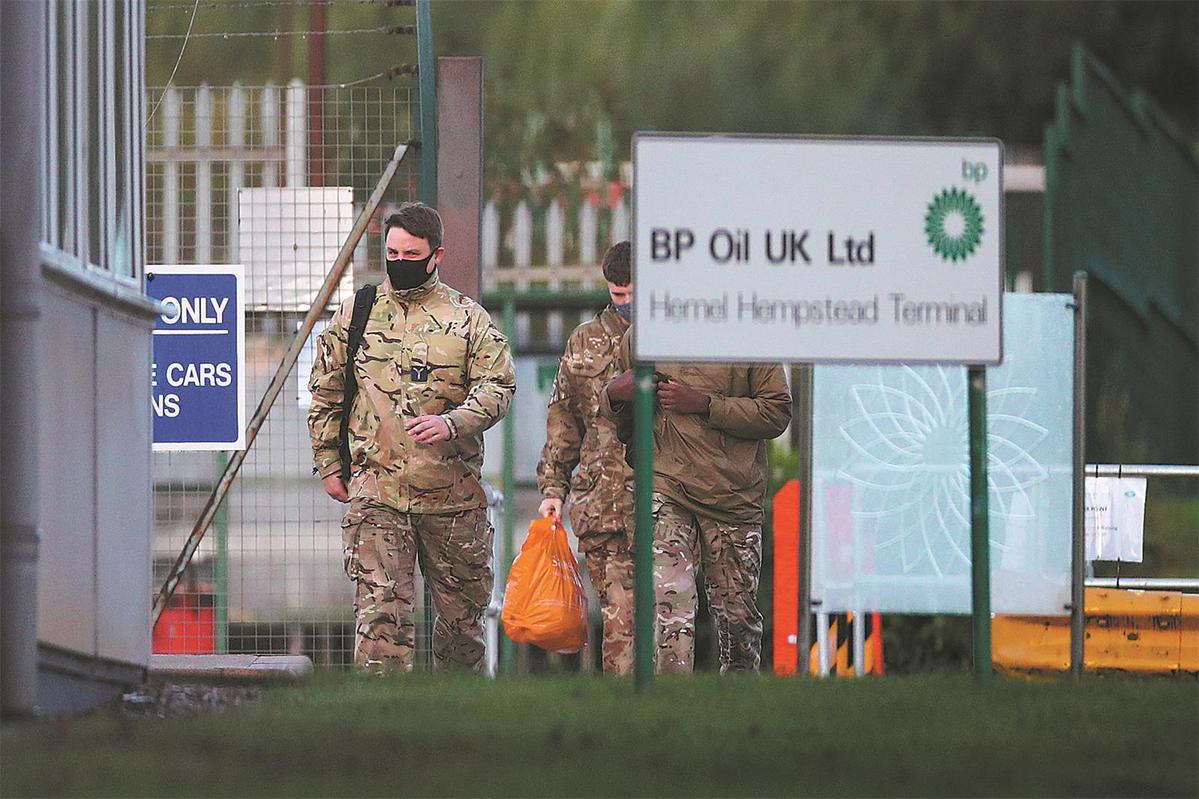 The army started delivering fuel to the United Kingdom's dried-up gas stations on Monday as the country's petrol crisis drags on.
British military personnel in combat fatigues arrived early on Monday at a BP refinery, a Reuters reporter said.
The move came as Britain's supply chains for everything from pork, petrol and poultry to medicines and milk have been strained to breaking point by shortages of labor in the wake of the Brexit and COVID-19 crises.
British ministers have repeatedly denied that the fuel crisis has anything to do with Brexit and have cast the trucker shortage as a global problem, though other European neighbors have not experienced queues at gas stations.
According to The Financial Times, the army would contribute 200 military tanker operators immediately, including 100 heavy goods vehicle drivers, in a mobilization called Operation Escalin.
The paper said London will also relax visa requirements, so 5,000 drivers who are qualified to operate heavy goods vehicles, or HGVs, can be recruited from the European Union. The paper also said the UK needs a total of 100,000 additional HGV drivers for all sectors of its haulage sector.
The run on fuel, which caused many of the nation's 8,000 filling stations to run dry triggering traffic gridlock around pumps that continued to work, started on Sept 24, after news reports said a shortage of delivery drivers could cause problems.
The government claimed the panic at the pumps, which included multihour waits and occasional fistfights, was more of a self-fulfilling prophecy than an actual shortage because people were trying to fill up when they normally would not, and some were even stockpiling coveted fuel as demand shot up.
Sajid Javid, the UK's health secretary, told the BBC that things were, at least, no longer deteriorating.
"It seems the situation is stabilizing," he said. "It's not completely over yet; that's one of the reasons that the army have been asked to help."
But regardless of whether the fuel crisis was caused by a shortage of drivers or by people panicking, the Petrol Retailers Association reported it remained a major problem on Sunday, some 10 days after it began.
The association told Sky News that 16 percent of gas stations that were dry on Saturday was an improvement from the 27 percent that had no fuel on Friday.
"While the situation is similar to recent days, there are signs that it is improving, but far too slowly," said Gordon Balmer, the group's executive director, to the broadcaster.
The association said supplies were still critical in London and the southeast, but were a little better than in most other parts of the nation.
The Guardian newspaper said the UK's shortage of HGV drivers is also impacting other parts of the supply chain and is already causing people to worry about whether they will be able to get the food, drink, gifts and decorations that British people buy in large quantities for their Christmas celebrations, which are centered on Dec 25.
The paper said many shoppers are planning ahead and have already been ordering provisions.
A shortage of meat processing workers will compound problems and looks certain to hit the festive season, reported The Guardian. Grocery chain Iceland told the paper sales of frozen turkeys have shot up by 409 percent this year as a result.
Agencies contributed to this story.