Foreign aircraft makers step up partnership with domestic players
Share - WeChat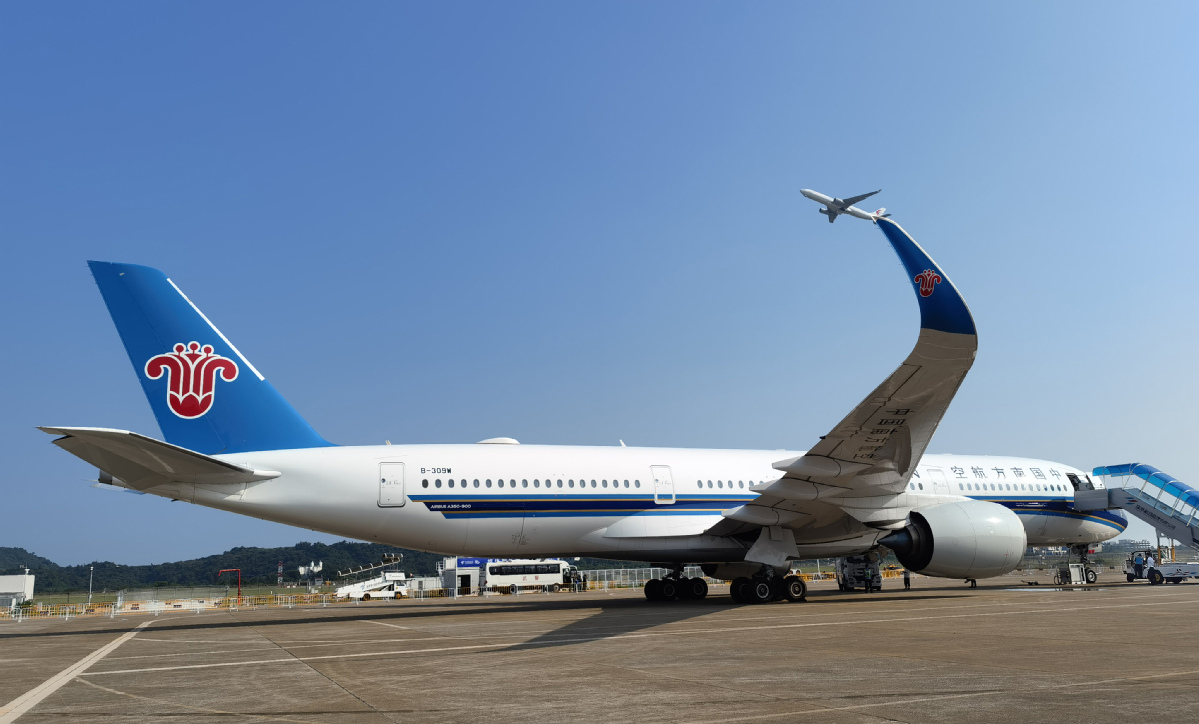 Foreign aircraft manufacturers have been stepping up their efforts in cooperating with Chinese aviation industry players as they show their commitment to the domestic market, officials said at Airshow China 2021, which kicked off in Zhuhai, Guangdong province, on Tuesday.
The 13th China International Aviation and Aerospace Exhibition is a six-day event that will see a number of high-tech products making their debut. Some 700 companies have participated in the airshow and over 100 aircraft are on display.
US aircraft manufacturing giant Boeing Co and Guangzhou Aircraft Maintenance Engineering Co Ltd (GAMECO) announced at the airshow that they plan to create two new conversion lines next year in Guangzhou, Guangdong province, for the B767-300 Boeing converted freighter to meet strong market demand in cargo transportation.
GAMECO will be the first maintenance, repair and operations site in China to convert the B767-300 and the only site turning both the B767-300 and the B737-800 aircraft into freighters. Earlier this year, GAMECO announced plans to open a third B737-800 conversion line.
"GAMECO has demonstrated excellent execution on the B737-800 converted freighter program. We believe it will bring the same expertise to help deliver our medium wide-body freighter conversions to our global customers," said Peter Gao, vice-president of Boeing commercial sales and marketing for China.
Norbert Marx, general manager of GAMECO, said the introduction of the B767-300 conversion program would further grow its regional presence and enhance its strategic focus to meet strong customer demand. It will open the conversion lines in its new hangar.
Over the next 20 years, Boeing forecast that 1,720 freighter conversions will be needed. Of those, 520 will be wide-body conversions, with Asian carriers accounting for more than 40 percent of the total demand, the company said.
"Foreign manufacturers have been increasing their investments in China, as the country has shown a growing demand in the aviation sector and is upgrading its manufacturing capabilities. Meanwhile, China is further increasing the opening-up efforts to foreign investors," said Zou Jianjun, a professor at the Civil Aviation Management Institute of China.
European aircraft manufacturer Airbus said at the airshow it would deliver this year five Airbus A350 wide-body aircraft from its wide-body completion and delivery center in Tianjin. It said the work is progressing smoothly, and it is confident it will hit its year-end target.
In July, China Eastern Airlines became the recipient of the first Airbus A350 wide-body aircraft that was delivered in Tianjin.
Airbus said it has sent a group of experts from Toulouse, France, to Tianjin to help train local employees. The Tianjin facility is now undertaking tasks such as installing cabin floors, ceilings, the seats of business and economy classes, as well as aircraft painting.
"Despite the challenges brought by the COVID-19 pandemic, we have been forming a vertical integration supply chain in China by purchasing raw materials and parts, assembling parts and delivering the aircraft in China to lower transportation time and costs," said George Xu, Airbus executive vice-president and its CEO in China. "We are ready to develop and grow our strategic partnership in China".
Lin Zhijie, an aviation industry analyst and a columnist with Carnoc, one of the largest civil aviation websites in China, said China's aircraft parts manufacturing capability has been constantly growing and has been widely recognized in the market. Putting more manufacturing work in China will help Boeing and Airbus to provide better services in the country.