Uygur women take to social media in Xinjiang
Share - WeChat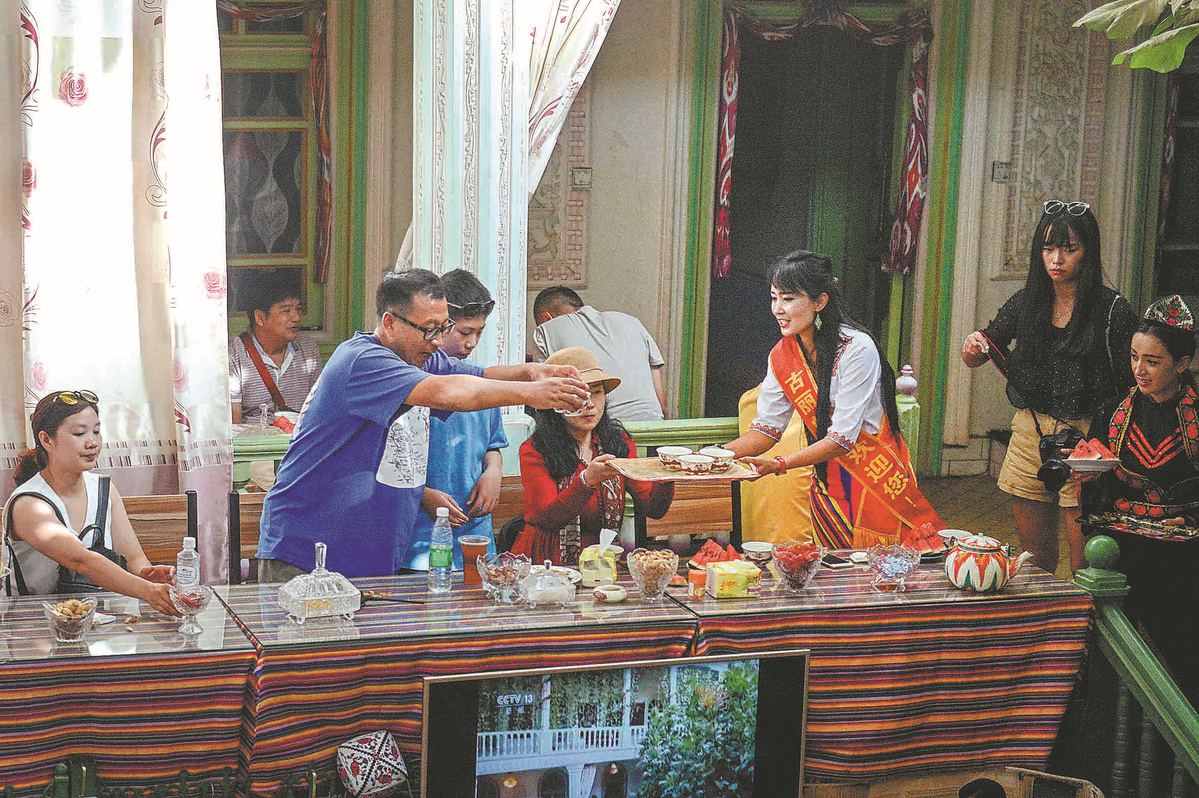 Returning home
Aytunam Ablikim, 29, a Uygur woman living in Moyu county, Hotan prefecture, Xinjiang, uses social media to promote her home area, attracting more than 1.5 million followers on these three platforms.
The Xinjiang University graduate used to work for Xinjiang Ancient Ecological Park in Urumqi, where she frequently posted interesting video clips of horses raised at the venue on her WeChat Moments account.
Her boss found she had video editing skills and encouraged her to film more footage of horses, and in 2019, Aytunam started to post this footage on social media platforms, gradually winning more followers.
Her parents moved to Urumqi from their hometown in Moyu county to run their business before she was born, so Aytunam grew up in the regional capital.
Several years ago, her parents decided to move back to their hometown to run a restaurant.
Last year, Aytunam resigned from her job at the park and followed her parents in returning to Moyu, from where she spent two months traveling across Hotan.
She was surprised to find that the prefecture boasts many examples of intangible cultural heritage, including the time-honored craft of making mulberry paper. The comfortable lifestyles of the locals and the close connections among neighbors made her want to stay.
"I didn't know much about my hometown beforehand. After my trip, I decided to film more videos to tell the stories and customs of people in Hotan," Aytunam said.
The videos she has posts online depict various aspects of Uygur people's lives. They explain why they like to use a particular herb to make their eyebrows look fuller, how Uygur families celebrate festivals, and the method they use to make nang bread and other traditional regional delicacies.
"I hope to use my online influence to promote Hotan's reputation as a tourism destination by filming videos to show the hospitality and kindness of local residents," said Aytunam who also runs a business selling Hotan's specialties to customers from outside the prefecture.
Branching out
Salamat Kari, who has made a niche for herself in her hometown of Kashgar, Xinjiang, used to be a tour guide at Kashgar Ancient City, a rammed-earth building complex with a history of 2,000 years.
After the complex was designated a leading national tourism attraction in 2015, growing numbers of visitors flocked to the venue. Salamat decided to run a homestay business, offering customers accommodations and food as well as singing and dancing performances in the scenic area.
Supported by the local government, she opened Gul's Home, a three-story homestay that occupies 500 square meters. Salamat posts videos on Douyin of the performances staged at the homestay, attracting more than 250,000 followers.
"Through entrepreneurship, my family is able to live a happy, prosperous life in our hometown," she said.