Gaza to begin rebuilding neighborhoods
Share - WeChat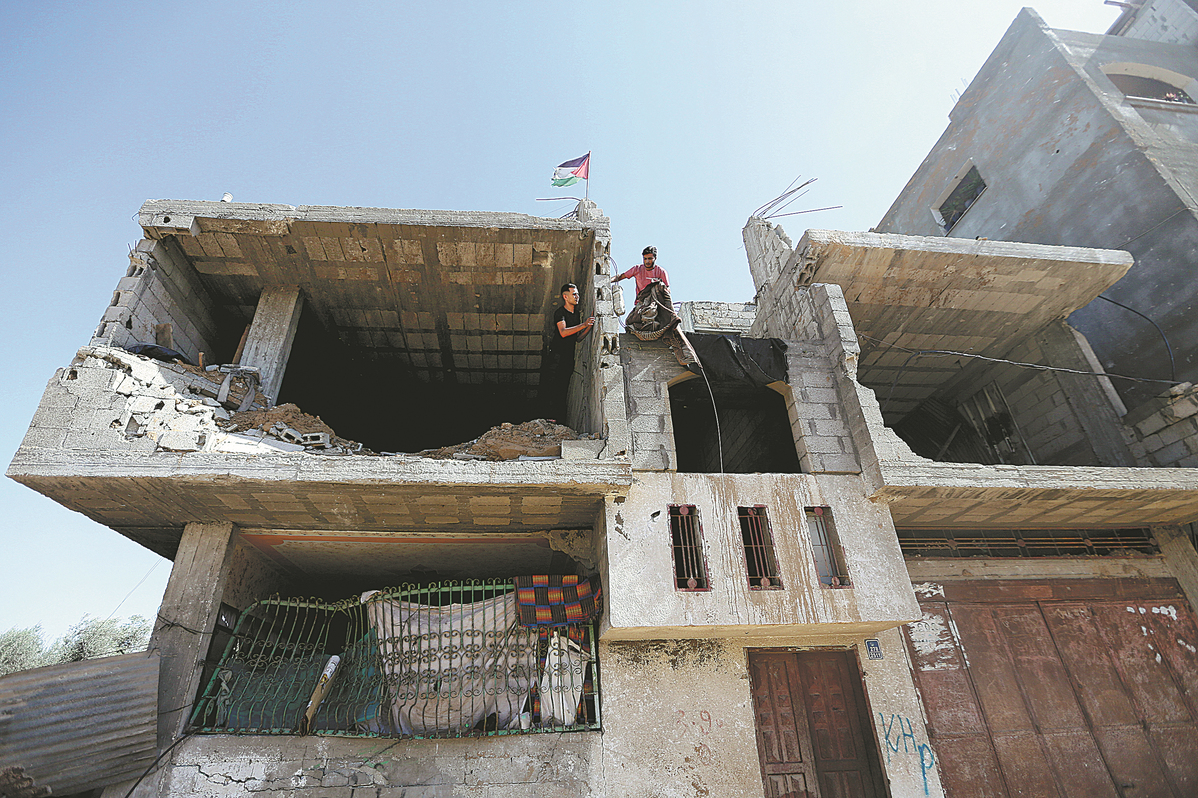 GAZA-Work to rebuild homes in Gaza that were destroyed or damaged in the May conflict between Israel and Hamas will begin in the first week of October using aid from Qatar, said a senior Palestinian housing official on Sunday.
Gaza's Hamas-run government said Israeli airstrikes destroyed about 2,200 homes in the enclave during the 11-day conflict and damaged 37,000 others. Some homes in Israel were damaged by rockets launched by Hamas and other Gaza militant groups.
About 1,800 destroyed or damaged homes will be rebuilt in the first phase, according to Naji Sarhan, Gaza's deputy minister for housing and public works.
He said Israel had lifted some restrictions on steel and cement entering the territory in recent days. Last week, Egypt began repairing Gaza's main coastal road, part of a broader plan to revamp Gaza infrastructure.
Palestinian officials said 250 people, including 66 children, were killed by Israeli airstrikes in Gaza. Israeli officials said 13 people, including two children, were killed in Israel by militant rockets.
Key demand
Following a May 21 cease-fire mediated by Egypt, access to reconstruction funds and materials has been a key Hamas demand.
Israel limits construction materials entering the territory, saying Hamas uses them to build weapons to wage attacks.
But following an agreement with the United Nations and Qatar, Israel allowed about $20 million in aid from the Gulf state to enter Gaza this month. That disbursement will be followed by $50 million in Qatari funds earmarked for rebuilding homes, Sarhan said.
Gaza officials estimated it will take $479 million to rebuild homes and infrastructure damaged during the May fighting. Qatar and Egypt have each pledged $500 million for Gaza reconstruction.
Despite the cease-fire, Israeli troops conducted a series of arrest raids against suspected Hamas militants across the occupied West Bank early on Sunday, sparking a pair of gunbattles in which five Palestinians were killed and two Israeli soldiers were seriously wounded.
It was the deadliest violence between Israeli forces and Palestinian militants in the West Bank in several weeks. The region has seen a new round of increase in fighting recently, with tensions fueled by Israeli settlement construction, heightened militant activity in the northern West Bank and the aftermath of a bloody war between Israel and Hamas militants in the Gaza Strip in May.
Agencies - Xinhua