Egyptians put in a good word for Chinese literature
Share - WeChat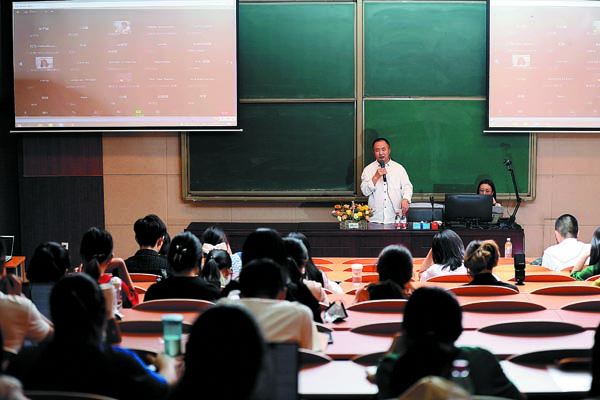 Academics and translators agree it deserves greater global recognition, Fang Aiqing reports.
The full range and depth of contemporary Chinese literature have yet to be discovered by foreign readers despite the increase in published works overseas in recent years, a professor of Chinese literature study says.
Xu Baofeng is in charge of an open-course term at Beijing Language and Culture University. The course covers the overseas publication of contemporary Chinese literature, especially in countries and regions involved in the Belt and Road Initiative.
College students and young translators from around 30 countries attend the class both online and offline. The course wants to promote Chinese authors and works while also covering academic literature and crafting an atmosphere of creation and critique, according to Wang Huiren, editor-in-chief of literature magazine Novel Monthly.
It's the second time the university is cooperating with the magazine on this course, which also invites renowned authors to be guest speakers.
The writers' list this time includes Zhao Benfu, whose work, A World Without Thieves, has been adapted to film and was screened in 2004, as well as Yi ethnic group poet Jidi Majia and top Chinese literary award winner Lu Min.
Xu became interested in this topic during a trip to Mexico in 2016, where he found that readers in Latin America barely knew anything about China and its literature. He says some domestic works are able to cut across nations and ideologies, resonate with people and gain global recognition.
Apart from writers like Mo Yan and Liu Cixin, whose works have won major international awards, some Chinese authors have stepped into the world market by actively engaging in dialogue with their foreign counterparts. Others have been introduced by young translators who have a great deal of knowledge about Chinese language and culture.
One of these Sinologists is Mohamed Elshikh, a lecturer of comparative literature and world literature at Minia University in Egypt. He joined the first class on Sept 10 via livestream and spoke about observations in his motherland.
He translated the full-length 21 Dasha (Building No 21) of Zhou Daxin, winner of the Mao Dun Literature Prize, into Arabic, and his work made its appearance at the Cairo International Book Fair in July. The novel, written in 2001, discusses changes in urban life at the beginning of the century.
According to Elshikh, Chinese contemporary works are much more available in the Arabic-speaking world as Chinese and Egyptian publishers cooperate closely, and these works have provided a window for young people to learn about Chinese society.
He especially calls for more dialogue between Chinese authors and their Arabic translators. He recalls encountering obstacles in understanding the social and cultural context hidden between the lines, although he's been learning Chinese for more than two decades.
He has kept in close contact with the author to guarantee a high-quality translation, and he sees the open course as a platform for foreign translators to learn more about Chinese authors and discover potential works they would like to read and translate.
He's just been acquainted with Chinese best-selling espionage novelist Mai Jia. Over the past weeks, he's been going through Mai's thriller Feng Sheng (The Message), and Rensheng Haihai (Life Is as Changeable as the Ocean), inspired by the author's powerful writing and subtle observations of human nature.
Works of translators like Elshikh are a great improvement on the old days, when Chinese literature was retranslated from English, French or other languages, Xu says, adding that he's impressed by the deep understanding and reflection on Chinese and Egyptian civilizations Elshikh has presented in their private interactions.
However, Elshikh says although he can see the efforts the Chinese government and industry have been putting into overseas publishing, he still feels more needs to be done.
And Xu hopes that one day more foreign critics will discover the value of contemporary Chinese literature and the expressiveness of the language, and the country's position on the world's literature map will be recognized.
Most Popular