Expats, students honored for tales of 'China and Me'
Share - WeChat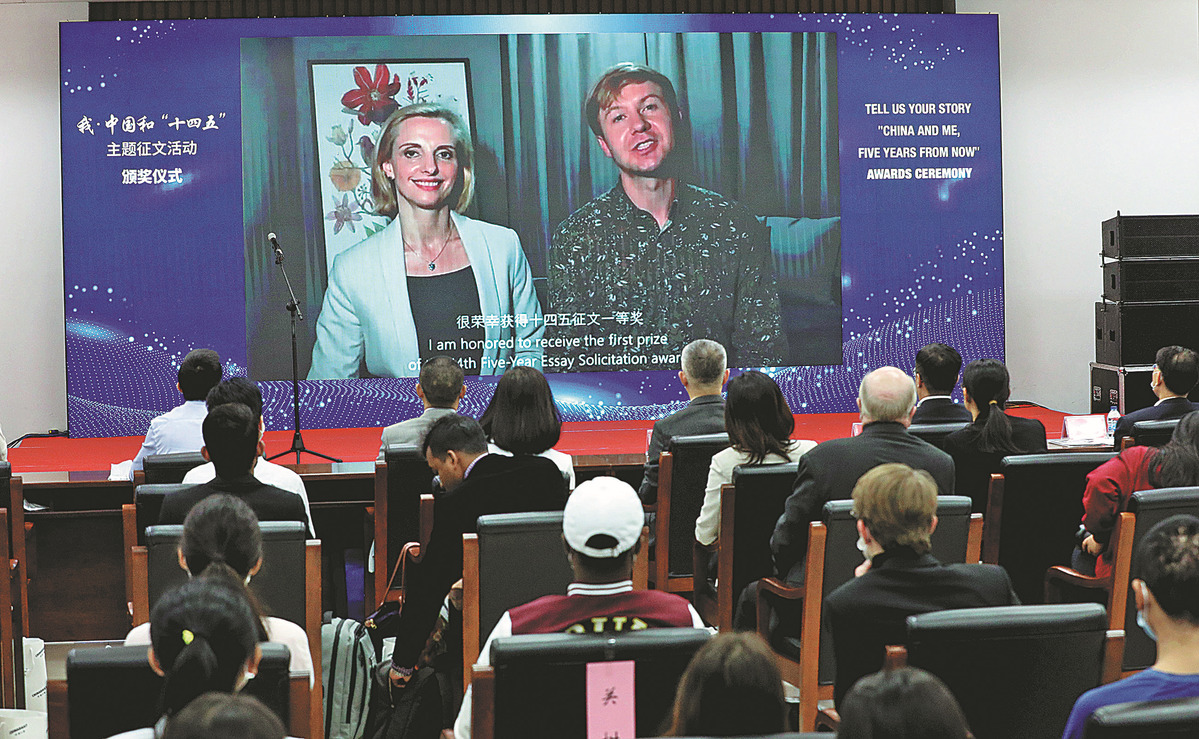 International students and expatriates have received awards in the "China and Me, Five Years from Now" storytelling contest, hosted jointly by China Daily and the Bank of China.
The contest, which began in May, received a total of 138 entries from students and expatriates from more than 30 countries and regions, including 102 written works and 36 videos.
At the awards ceremony on Monday, 10 first prizes, 20 second prizes and 30 third prizes were presented, and six awards were given to universities for their participation in the contest. More than 200 people attended the ceremony in person or participated via video link.
Zhou Shuchun, publisher and editor-in-chief of China Daily, said the competition was open to foreign students and experts living in the country, with a view to presenting a true, multidimensional and panoramic view of China to the outside world.
"The entrants have shared their stories with us, writing down what they have seen, heard and felt as they study, work, start businesses and engage in environmental protection in China. Their love for this country and the high hopes they have for the 14th Five-Year Plan period (2021-25) beam forth in every word," Zhou said.
Bank of China Chairman Liu Lian'ge said in a video speech that he was heartened by the three recurring phrases "a bond between cultures", "openness and inclusiveness" and "China stories".
"Through the participants' stories, I can see their love for this country and great hopes for the future," Liu said.
Mahedi Hassan Sunny, a Bangladeshi student at Peking University, won a first prize for his submission titled "Understanding China (from an international student's perspective)". He is also among a group of international students from the university who wrote a letter to General Secretary Xi Jinping extending their congratulations for the 100th anniversary of the founding of the Communist Party of China.
"In his reply, President Xi mentioned one Chinese saying-'It's better to see something once, than to hear about it a hundred times.' I think this is a perfect reflection of my experience about China," the Bangladeshi student said in his speech.
"China has really impressed me. I hope in my next few years I will travel more around China, meet Chinese people, learn Chinese culture, and overall will have a better understanding about China," he added.
Also among the first prize winners was Bruce Connolly, a Scottish photographer who first came to China in 1987, traveled around the country, settled in Beijing and recorded the changes in China via photos.
"When I think back to how China was those many years ago, the changes have been incredible. I am glad I managed to photograph China through these years and can compare, through photography and writing, 'China Yesterday, Today and Tomorrow'," Connolly said.
The ceremony also marked the launching of China Daily's "Study China" Information Service Platform, which features the website studychina.chinadaily.com.cn and subsites for individual universities.
The website provides information about China, Chinese universities, scholarships, learning Chinese and services for international students ranging from admissions and visas to living, studying and working in China.
The platform also set up a database that allows users to search by region, university or major, aiming to provide timely, accurate and reliable services and information for international students.
"The competition and 'Study China' Information Service Platform are important measures of our efforts to implement President Xi Jinping's important speech on strengthening and improving China's international communication capacity as well as the message in his reply to the letter from overseas students at Peking University," Zhou said.
Most Popular