Thought for food
Share - WeChat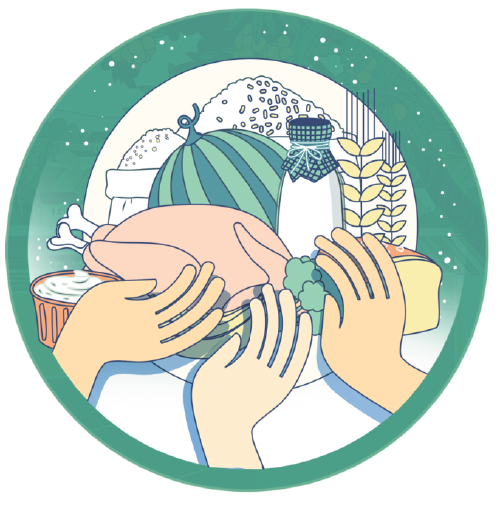 The UN should unleash the power of youth to transform the global food system
Eighteen months ago, United Nations Secretary-General Antonio Guterres announced he was convening a UN Food Systems Summit, with the aim of delivering progress on all 17 of the Sustainable Development Goals through a food systems approach, leveraging the interconnectedness of food systems to address global challenges such as hunger, climate change, poverty and inequality.
Employing a bottom-up approach, everyone including young people has been encouraged to participate and contribute their insights and game-changing solutions through dialogues and the Food Systems Community, a platform gathering key stakeholders across the food system. Over the past 18 months, 148 countries have hosted national dialogues and 600 member state dialogues have been held involving more than 45,000 people.
Young people are key participants in the food system dialogues. According to estimates of the UN, young people between the ages of 15 and 24 years old numbered 1.2 billion in 2019, around one in every six people worldwide. Their sheer number means they should contribute to the global discussion on the food system and be given the opportunity to say what food systems they want.
The UN Food Systems Summit is organized around five Action Tracks to foster initiatives on issues such as boosting "nature-positive" food production and shifting to sustainable consumption patterns. Young people are represented as vice-chairs of the five Action Tracks, working together with the Youth Champions and Food Systems Heroes.
More than being just participants in the dialogues, young people, as a collective force, have unleashed their power to mobilize and influence food systems through global movements. The global campaign Act4Food Act4Change was launched by these youth leaders, and it consists of a pledge to act and a voting for the actions for change, both of which will enable young people to engage with advocacy and campaigning in their own countries as well as creating a united voice across the globe in the lead up to the UN Food Systems Summit.
The campaign has been localized in China by Chinese youth leaders, which has inspired the establishment of a Youth Advocates Network in May 2021. Since then, the Youth Advocates Network, with the support of Good Food Fund and UN agencies such as the International Fund for Agricultural Development, have hosted a series of events, engaging Chinese youth to participate in this year's summit by organizing the United Nations Forum on Sustainability Standards Independent Dialogues, advocating on social media, enrolling in courses and contests to strengthen their food literacy, and taking actions to impact the communities they interact with every day. To date, over 100 Chinese youth advocates have been recruited with diverse backgrounds, five independent dialogues organized with over 200 attendees, and over two-thirds of the 70,000+ pledges made worldwide are from China.
Moving from the campaign to action, a group of Chinese young people has been promoting community supported agriculture in China. Shi Yan, founder of Shared Harvest Farm and co-president of the International Network for Community Supported Agriculture, not only grouped a number of like-minded youth into a China CSA network, but also developed a series of CSA training courses to build up the capacities of young farmers. The network has incubated over 116 organic producers and 180 agricultural products so far. Forty-five young trainees started their organic farms upon the completion of the training.
In fact, even before the announcement of the Food System Summit, young people have been taking a leading role in promoting organic farming and sustainable consumption in cities such as Beijing. Beijing Farmers' Market, led by Chang Tianle, the founder of the think tank Foodthink, and a group of youthful members, helps build trust directly between smallholder farmers and customers-unlike China's traditional urban markets, which usually consist of wholesale vendors instead of farmers. The BFM runs a weekly market and two community centers that sell produce and conduct consumer education events, a network of nearly 200,000 social media followers, and partnerships with sustainable farms across China.
Young people are also drivers for food systems transformation. With their comparative advantages in digital skills, innovation and entrepreneurship, they can offer game-changing solutions to address the structural issues in the food system. For instance, Li Dengyuan from Tsinghua University High School, one of the youngest youth advocates, has persuaded the management team at the school to incorporate a Meatless Monday, providing zero animal products every Monday in the school's canteen to help curb meat overconsumption. And small-scale pig producer Li Xufei, supported by the International Fund for Agricultural Development, is using free range husbandry to lower the environment impact and ensure animal welfare, while maintaining his pig cooperative's economic gains.
In a food and agricultural sector that is increasingly modern, business-oriented and relies extensively on new technologies, including digital technologies, young entrepreneurs can play a leading role in transforming the sector. In developing countries such as China and India, the economy is shifting from one mostly based on agriculture to one mostly based on services and industry. The food system therefore extends beyond farm production in rural areas to activities along value chains including food processing, transportation, retailing, restaurants, and other services in the urban areas. Young agricultural entrepreneurs are in a unique position to promote sustainable agribusiness conducted both on-farm and off-farm, and most vitally, between farms and their off-farm partners. A number of initiatives have emerged in China led by Chinese young entrepreneurs. For example, the Clear Plate app, an artificial intelligence program that encourages diners to clear their plates, had 1 million users in China in 2020.
"Young people are on the front lines of the struggle to build a better future for all," Guterres has stressed. To achieve a sustainable, affordable and accessible food system, "young people must be full partners in that effort".
Cao Xi is a policy specialist at the International Fund for Agricultural Development. Zong Yuhua is Youth Program coordinator at the Good Food Fund. The authors contributed this article to China Watch, a think tank powered by China Daily. The views do not necessarily reflect those of China Daily.
Most Viewed in 24 Hours
China Views