Huawei exec home after 3-year arbitrary detention
Share - WeChat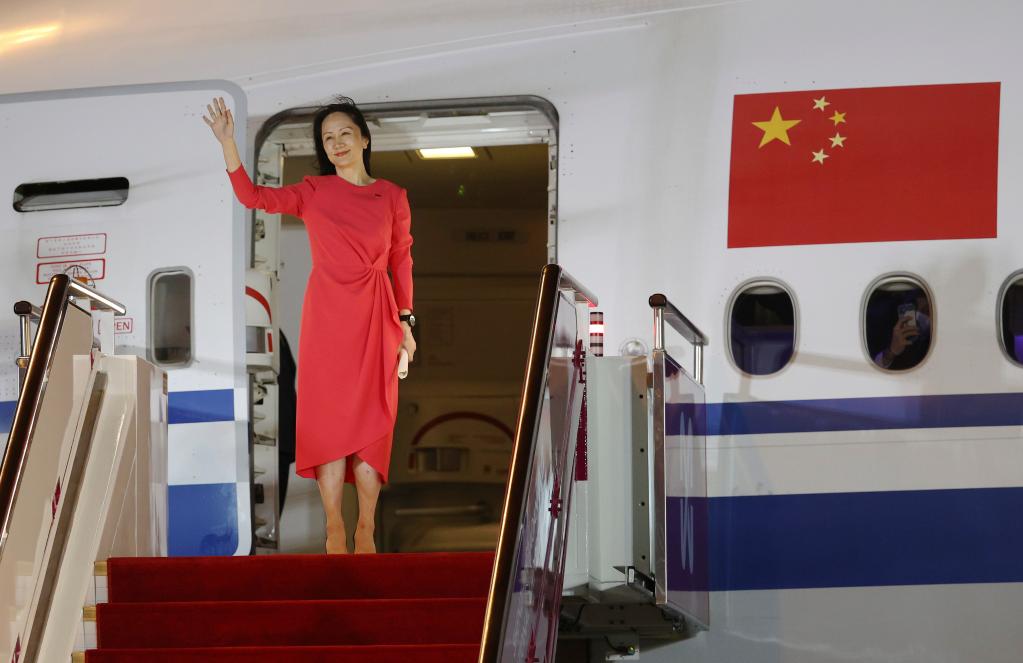 Welcomed by over 400 million people via livestreaming, Huawei's chief financial officer Meng Wanzhou arrived in Shenzhen, Guangdong province, on Saturday night, marking an end to her 1,028-day ordeal and victory for the Chinese government in its unremitting efforts to secure her release.
"As an ordinary Chinese citizen who has suffered this plight and been stranded overseas for three years, there was never a moment when I did not feel the care and warmth of the Party, the motherland and the people," Meng said upon her arrival at Shenzhen Bao'an International Airport.
The actions of the United States and Canada are a typical arbitrary detention, Foreign Ministry spokeswoman Hua Chunying said on Saturday.
Meng, who was detained by the Canadian government on a US extradition request in December 2018, expressed her gratitude for the support and help of the Chinese government. She said that three years of detention had made her realize that the destiny of individuals and enterprises are closely linked with the destiny of a country.
Shortly after Meng's flight entered Chinese airspace, Hua, the spokeswoman, said that "facts have already fully proved that this is an incident of political persecution against a Chinese citizen, with the purpose of suppressing Chinese high-tech enterprises".
Accusing Meng of participating in the so-called "fraud" is a fabrication and even HSBC, which was considered the victim in the case by the US, offered sufficient documents to prove Meng was innocent, Hua said.
Over the past three years, the ministry has repeatedly criticized Canada and the US over the "political incident" and called for the Huawei executive's release.
Meng pleaded not guilty to charges of fraud and conspiracy. Xinhua News Agency quoted one of her lawyers as saying that she will not be prosecuted further in the US and the extradition proceedings in Canada will be terminated.
Two hours after the Canadian Department of Justice said in a statement that she is free to leave the country, Meng boarded a charter flight on Friday afternoon organized by the Chinese government.
During the flight, Meng posted on WeChat about how she felt, saying: "The moon over home is the brightest, the journey home is the sweetest."
Her emotional message reached almost every mobile phone in China and touched the public. Just a month ago, over 10 million netizens signed an online petition launched by a Chinese media group urging Canada to release Meng.
Huawei said in a statement on Saturday that the company expected Meng to return and be reunited with her family. Meanwhile, the company said it will safeguard its interests in a conspiracy case in an Eastern District court in New York.
Meng's return is a major diplomatic victory for the Chinese government in thwarting political abductions against its citizens, and it belongs to all Chinese people, Diao Daming, an associate professor of US studies at Renmin University of China, said.
Her return reflects the Chinese government's long-standing philosophy of people-centered diplomacy, Diao said, adding that as a business executive, it also stands for the Chinese government's determination to protect the legitimate rights and interests of Chinese companies.
Her release has ended a marathon case that had thrown China's relations with Canada and the US into crisis.
The revocation of the US' extradition request for Meng was on a list of US wrongdoings that China outlined and asked to be rectified. The list was put forward by China during talks between senior officials in July in Tianjin.
Meng's case demonstrated that China's action plan and guidance in dealing with the US is effective, which prompted Washington to make a correct response, said Li Haidong, a professor of US studies at the China Foreign Affairs University.
"Meng's return to China has shed a light on improving and stabilizing China's relations with the US and Canada, which have been strained for a long time," Li said.
Her case shows that as long as the US is willing to "pull out the nails" it put in bilateral ties, and has the sincerity and willingness to take a bigger step to work in the same direction with China, it is feasible for the two sides to improve bilateral ties and cooperate in various areas including economic recovery and climate change, he said.
However, China and US relations remain complicated. While competition is still the main focus of US policy toward China, it is difficult to see fundamental adjustments in the long-term bilateral ties, Li said.