Autonomous mowers hungry for lush lawns
Share - WeChat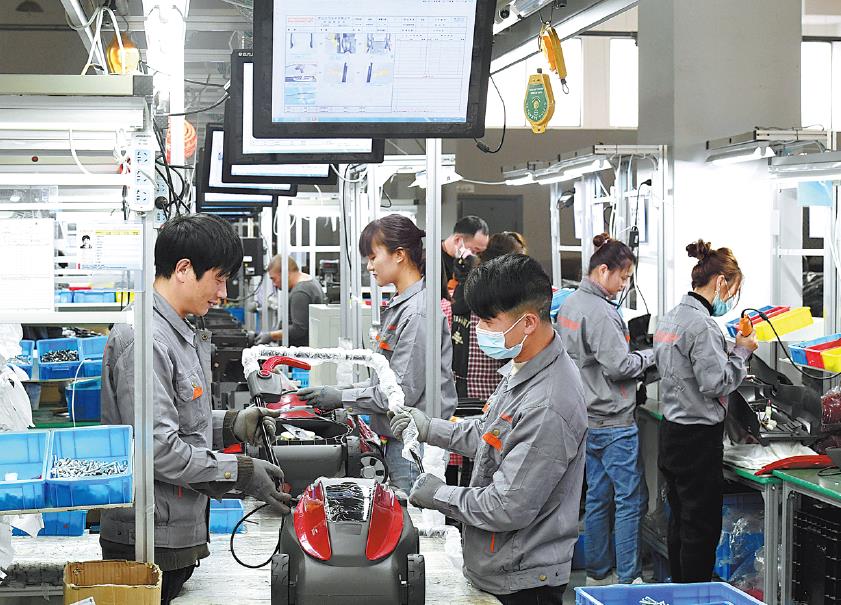 Beijing-based firm hopes to be leader with AI technology
As artificial intelligence is increasingly used to perform day-to-day activities with higher efficiency, unmanned lawn mowers are expected to become more popular in the future, experts and company executives said.
Chinese technology companies could play a bigger role in helping popularize unmanned mowers by leveraging domestic supply chain advantages and accumulated experience in applying AI technologies, they added.
Xiang Ligang, director-general of the Information Consumption Alliance, a tech industry association, said unmanned mowers are expected to become increasingly popular in the future with the advancement of AI.
Research and Markets also forecast that deeper penetration of smartphones and wireless devices, coupled with the rapid development of software applications for controlling such mowers, will propel growth.
According to the market research company, the European autonomous mower market is forecast to grow at a compound annual growth rate of around 25 percent between 2021 and 2026.
Last year, less than 900,000 autonomous mowers were shipped globally, representing a market size of nearly $1 billion, according to data compiled by Segway-Ninebot, a Chinese tech company that recently unveiled its first autonomous mower.
Currently, the autonomous mower industry is still in the early stages of development, as its penetration rate is a low 3.6 percent even in developed markets such as Europe, said Ren Guanjiao, general manager of Segway-Ninebot's home robotics business unit.
By comparison, there are about 250 million private gardens and yards in the world, with about 100 million of them in the US, and more than 80 million in Europe.
"These yards are still dominated by traditional hand-push-reel mowers and ride-on lawn mowers. Also, these traditional mowers rely heavily on human labor, which hikes lawn maintenance costs," Ren said.
To tap into the market, Segway-Ninebot, which is already well-known for its self-balancing scooters, last month unveiled its first autonomous mower.
The mower, called Navimow, is part of the Beijing-based company's broader push to leverage its growing research and development prowess and supply chain advantages in China to seek new growth revenue points in the robotics market.
Gao Lufeng, chairman of Segway-Ninebot, said the company sees robotic mowers as an industry with great growth opportunities. "Our self-developed automatic robotic lawn mowing technologies give us a chance to be the world champion in the sector."
Unlike most autonomous mowers in the market, the company's Navimow requires no external wiring, which saves a lot of time and effort, said Segway-Ninebot.
Navimow is quite easy to operate, as it is equipped with a satellite-and-base-station-enabled positioning system, which the company calls an "exact fusion locating system" and it supports centimeter-level accuracy, Ren said.
"Consumers just need to download an app to connect Navimow with their smartphones, and then follow prompts on the app to set up a virtual boundary," Ren said.
Moreover, the navigation of the Navimow is also more reminiscent of a modern vacuum robot with laser navigation than of the chaos principle of most of models available on the market. In this way, orderly lanes are mowed across lawns and adjustments can be made in the app. It is thus possible to set up no-go zones for the mowers, the company added.
Sensing big growth prospects of the global autonomous mower market, many companies are marching into the sector. Chinese companies like Segway-Ninebot are betting on their strong R&D capabilities, supply chain advantages and established retailing system to stand out amid the competition.
Segway-Ninebot said it has already accumulated more than 1,774 patents in areas ranging from self-balancing control technologies to computer-vision-based multi-sensor indoor positioning techniques.
Meanwhile, the company said it already has an established presence in the short-distance transportation sector. Providing over 75 percent of shared scooters worldwide, the company said it has solid manufacturing experience in mass-producing robots, as well as excellent quality control capabilities and price bargaining power for key components such as chips and motors.
As at the end of 2020, the company had more than 5.87 million users of its app in more than 225 countries and regions, with extensive partnerships with overseas retailers and e-commerce platforms, including Amazon, Costco, Walmart, Athena, Best-Buy and Indiegogo.
"We plan to build a dedicated team to take charge of front-end sales and after-sales in Europe next year for the robotic lawn mower business. We want to use our technologies to create real value for consumers," Ren said.