Festival moon shines on family reunion: China Daily editorial
Share - WeChat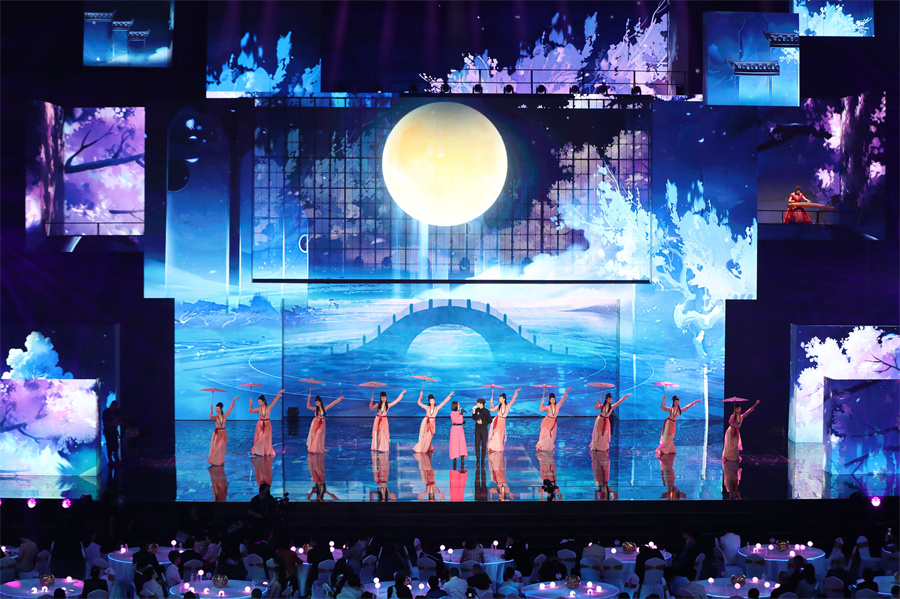 The Mid-Autumn Festival Concert in the Greater Bay Area 2021 was staged in Shenzhen, Guangdong province, on Tuesday.
The festival, which falls on the 15th day of the eighth month in the lunar calendar, is usually celebrated with a family reunion. Holding such an event at this special time therefore had both strong symbolic and practical significance.
Despite the difficulties caused by the COVID-19 pandemic, the fact that more than 100 musicians and filmmakers from the Chinese mainland, Hong Kong, Macao and Taiwan performed in the concert, for free, demonstrates their joint wish to show the unity of the Chinese family to the world.
The close cultural bonds among the performers were evident, and despite having limited time for rehearsals they had no difficulty in presenting a fabulous show.
While the bay area along the southern Chinese coast has a rich history of Cantonese culture, the concert marked a rare instance of the dominant language of Hong Kong being featured in a high-profile entertainment event staged over the boundary, where Mandarin is mainly spoken.
Yet despite most of the performances being of Cantonese songs, the nearly three-hour event showcased Chinese traditions, values and patriotism, demonstrating how rich the shared cultural and spiritual heritage of the performers is. This cultural heritage is a treasure trove in which Chinese people everywhere can find their collective memory and strong cultural bonds.
And that is exactly what the event aimed to do by engendering an understanding of community and nation, Duan Rong, chief director of the concert told the media.
These intrinsic ties of the "Chinese family" cannot be cut by anyone on the outside, no matter how hard they try.
In the 14th Five-Year Plan (2021-25), the Chinese government proposes to promote the development of traditional culture in Hong Kong, support cultural exchanges between Hong Kong and the world, and foster the integrated development of the Greater Bay Area.
The concert was staged against the backdrop of the Hong Kong-Zhuhai-Macao Bridge with the full moon shining above the state-of-the-art civil engineering wonder. The 55-kilometer bridge is itself a strong bond linking Hong Kong and Macao to the motherland, and a symbol of their belonging to the same family.
The popularity of the livestreaming sales activity organized alongside the concert, in which commodities from across the Greater Bay Area appeared, speaks volumes of the potential of regional economic and trade cooperation and integrated development.
The event can and should be held as an annual event on the Mid-Autumn Festival in the future.
Most Viewed in 24 Hours
China Views