Johnson pushes trade in meeting with Biden
Share - WeChat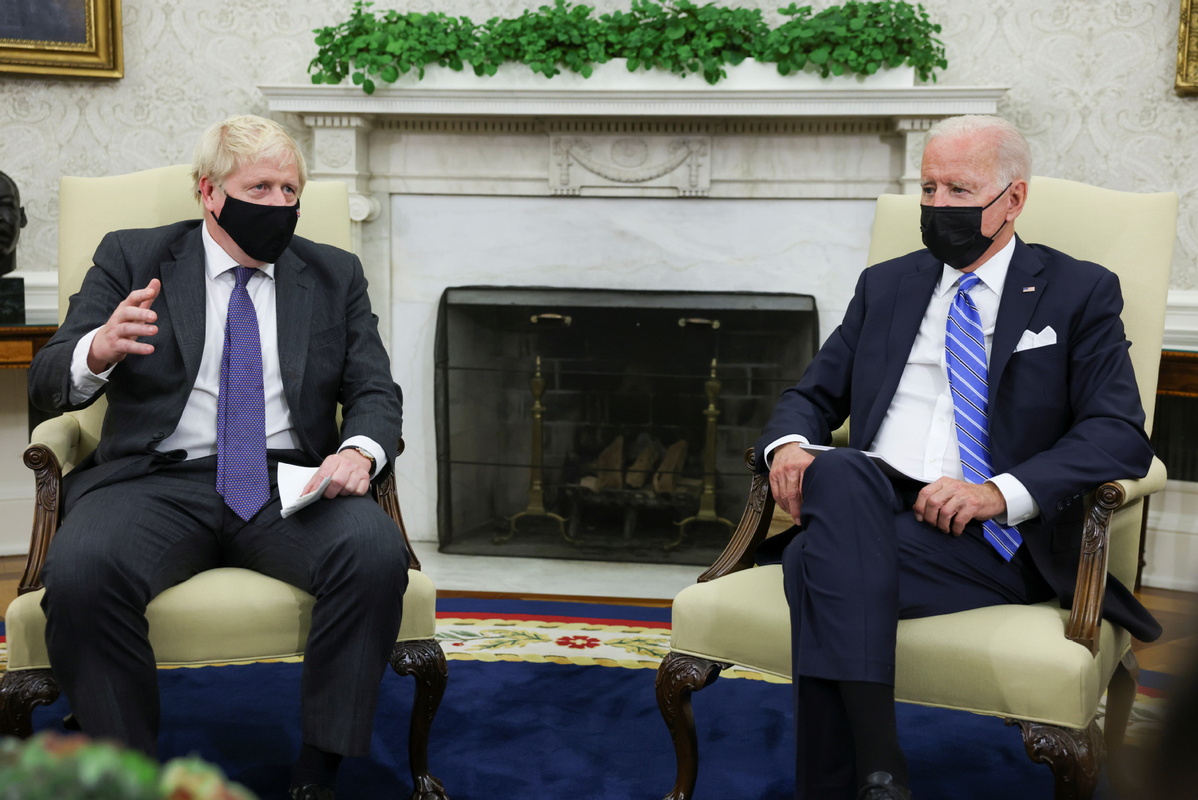 Britain's Prime Minister Boris Johnson was expected to push to restart stalled negotiations on a post-Brexit trade deal with the United States on his first visit to the White House since President Joe Biden succeeded Donald Trump.
Johnson was thought to be keen to get talks going when the pair met in Washington on Tuesday, but earlier, he had played down prospects of a trade deal breakthrough, saying that Biden has "a lot of fish to fry".
Earlier, he had told British media traveling with him on his US visit that a Free Trade Agreement (FTA) was not high on the president's list of priorities, and insisted that he would rather get a good deal with "ruthless" US negotiators than a "quick deal".
The leaders were expected to discuss a wide range of issues, including the new AUKUS security pact, Afghanistan, the COP26 climate change summit and economic growth.
A senior Biden administration official, quoted by the Financial Times, said the president and Johnson would "continue the conversation from their last bilateral meeting in Cornwall on the margins of G7, including on Build Back Better World, COVID-19, and other areas on our bilateral relationship".
Transatlantic relations were strained by the US' withdrawal of troops from Afghanistan before the United Kingdom and other allies were able to evacuate staff and vulnerable Afghans.
Tensions were eased ahead of Johnson's visit by the announcement of the AUKUS defense alliance between the US, UK and Australia, in which Canberra will acquire new nuclear-powered submarines.
The pact has caused a diplomatic crisis with France, which consequentially lost a submarine contract with Australia.
The UK side was caught by surprise on Monday when the US announced it would allow fully vaccinated UK travelers into the US from November, ending an 18-month blanket ban. On Sunday, the prime minister had indicated he was expecting the issue to be a difficult one to "crack".
Biden warned earlier this year that there will be no US-UK trade deal if peace in Northern Ireland is jeopardized by the UK's departure from the European Union.
The prime minister insisted that relationships between Washington and London are now "about as good as they have been at any time in decades".
"When we last flew out a couple of years ago we had all sorts of pebbles in the shoe," he told reporters.
Leading into the UK's EU referendum in 2016, then-president Barack Obama warned Britons they would be at the "back of the queue" for any trade deal if they voted to leave the bloc.
Johnson later visited the US as foreign secretary in 2017, when Trump was US president. At the time, Johnson said he understood from the US side that the UK would be "first in line" for an agreement. "On the FTA, the reality is that Joe has a lot of fish to fry," Johnson said this week.
"He's got a huge infrastructure package, he's got a build back better package. We want to do it, but what we want is a good FTA, a great FTA."