Expats gather in Shanghai for Mid-Autumn Festival
Share - WeChat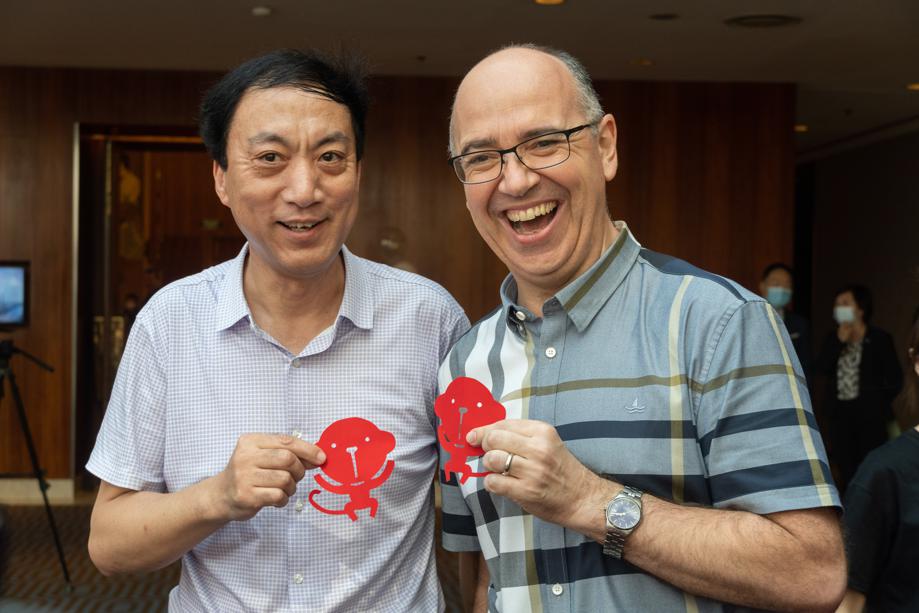 British banker Paul Devlin, who has lived in Shanghai for 20 years, also attended the event.
"I think Shanghai is absolutely a wonderful city and it's amazing that the government here has invited us to come together on this special day. It's really a day for families to get together and for us to gather with foreign and Chinese friends to celebrate this together," said Devlin.
Shen Liang, an official from Shanghai government's publicity department, Poghosyan and Devlin also presented to the audience an impromptu chorus "The Moon Represents My Heart", a famous Chinese love song, during the event.
"I knew the song before I came to China. I really like it. Today is all about the moon as well, so I think it has a lot of resonance," said Devlin, who was attracted to ancient Chinese culture from a young age.
Zarkamol Munisov from Uzbekistan, a PhD student at Shanghai University's Global Studies, tried sugar-painting during the event.
"This was my first creation and I am very satisfied with it," said Munisov. "Shanghai is showing non-traditional ways of inclusiveness. People from all over the world gather in Shanghai, so I feel atmosphere of friendship here. Shanghai also provides a platform to meet new people."
Canadian Shawn Patrick Tilling, head of the 3D animation and visual effects department at Shanghai Vancouver Film School, wore special makeup and costumes of an ancient Chinese general in Kunqu Opera and learned some classic moves during the event.
"The costume and makeup took a long time to put on, but it was a great experience," Tilling said.
Yang Hong contributed to this story.