Japan ruling party begins race to pick Suga successor
Share - WeChat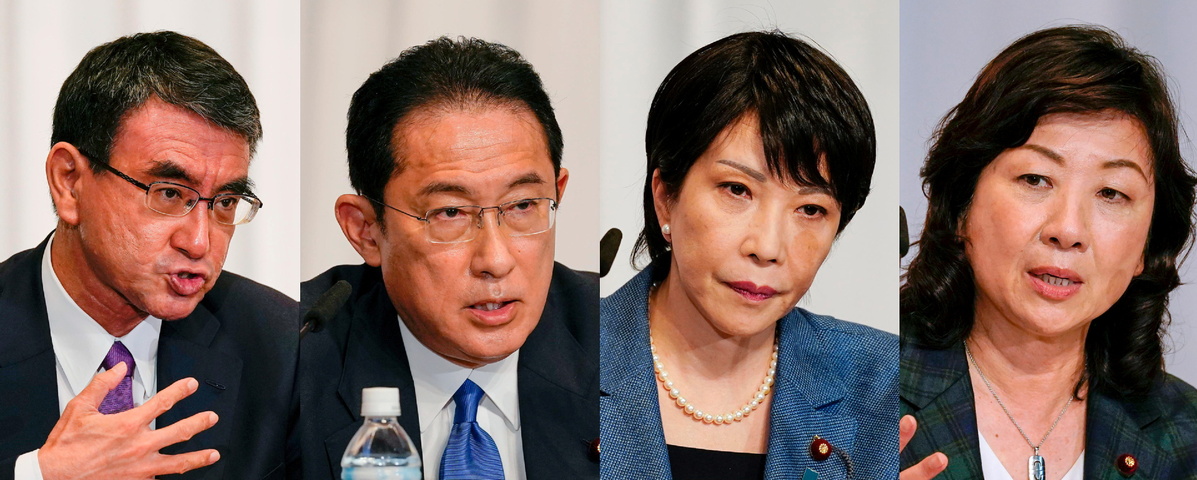 Japan's Liberal Democratic Party, or LDP, has kicked off the contest that will deliver it a new leader who will become the standard-bearer for the ruling party when it goes into battle in a looming general election.
Four candidates have thrown their hats into the ring, and none can be confident of a clear-cut victory that will bring with it the job of prime minister.
Outlining their visions on Friday were Regulatory Reform Minister Taro Kono, who is also in charge of Japan's coronavirus vaccine rollout, former foreign minister Fumio Kishida, former communications minister Sanae Takaichi, and Seiko Noda, executive acting secretary-general of the LDP.
However, as most of the party's major factions are not backing a candidate, uncertainty over the outcome may well persist until Sept 29, the voting day.
The candidates are vying to replace Yoshihide Suga, who said he would not seek reelection as party chief, bringing his reign as prime minister to an end after little more than a year in the job.
Given that the LDP-led coalition controls both chambers of Japan's parliament, the winner of the leadership race will effectively become the country's next prime minister who must lead the party into an election that has to be held no later than Nov 28.
"We must fix divisions in our society and overcome those divisions, to put Japan back together once again, to create a society with 'warmth' where people stand side by side,"Kono told reporters on Friday.
"I will push open this heavy gate that stands in front of me. With all of your support, I want to become the leader of this country and move Japan forward."
He added that he wants to create a Japan where people are encouraged to strive to reach their goals rather than settle for what they have.
An outspoken lawmaker, Kono has been a favorite for the top job in opinion polls. His chances were further bolstered this past week when LDP heavyweight Shigeru Ishiba, who used to be the party's secretary-general and is popular among the LDP's grassroot members, threw his support behind Kono.
However, local media said that because Kono has a reputation for being a maverick, elders of the faction-dominated LDP may favor the more softly spoken Kishida, who also leads a faction himself that has 47 members.
Presenting himself as a leader who is "in step with the times", Kishida said: "I will directly communicate with the public and party members. ... I'm determined to do all I can throughout this race to regain public trust toward the LDP and rebuild a sense of unity among all Japanese people, which is wavering because of the pandemic."
The other two candidates, divisive right-winger Takaichi and disciple of Shinzo Abe, Japan's longest-serving leader, and former gender equality minister Noda aim to lead a country that has never had a female prime minister. Both are considered long shots.
In the election, 766 votes are up for grabs, with 383 of them coming from each of the LDP's members of the legislative Diet and a further 383 cast by rank-and-file party members that are allocated based on proportional representation.