Higher silicon prices squeezing profits of photovoltaic companies
Share - WeChat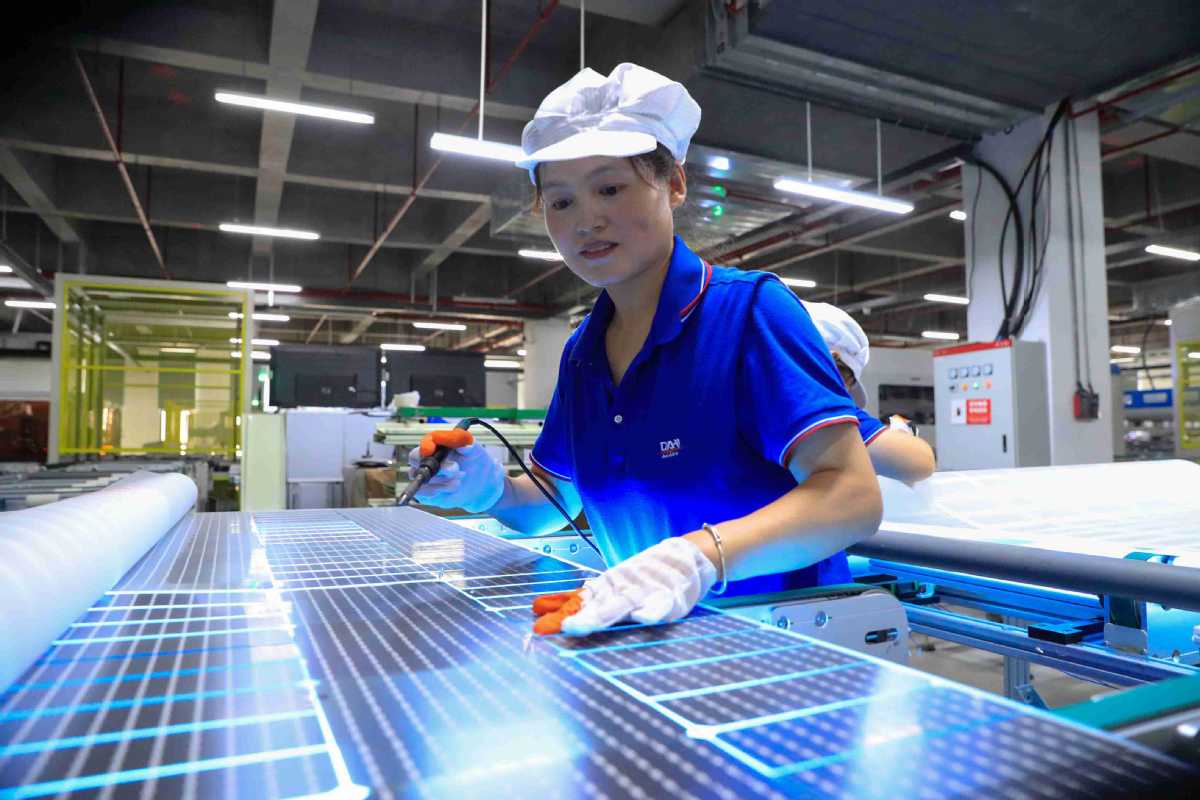 Silicon, a major material used in photovoltaic cells, modules and wafers, has seen prices surge by about 150 percent since the beginning of this year to an average of over 200,000 yuan ($31,100) per metric ton last week, buoyed by growing demand from downstream PV facility manufacturers driven by China's strong green commitment, industry experts said.
The surging price of silicon materials may impact the PV industry through increasing production costs and a reduction in gross margins, forcing more manufacturers to innovate in technologies and business models to make a profit, they added.
The latest data from the Silicon Industry of China Nonferrous Metals Industry Association show that the averaged transaction price of three major silicon materials used in the PV industry continued to rise after a drop in late August. Prices reached a range between 207,900 yuan per ton to 212,300 yuan per ton last week.
Yet, the growth rate of silicon material prices was much lower than that in the first half, the association said.
According to the association, growing demand for solar power has spurred higher production of PV cells, modules and wafers. This has led to a periodic supply shortage of silicon materials and driven up their prices.
"This year, silicon materials saw a shortage in supply and a rise in prices, which is mainly due to the rapid development of the PV industry, as China's goal to peak carbon emissions by 2030 and reach carbon neutrality by 2060 has driven growing demand for clean energy," said Lin Boqiang, head of the China Institute for Studies in Energy Policy at Xiamen University.
Data from the National Energy Administration showed that newly installed PV capacity was 13.01 million kilowatts in the first half of this year. As of June, accumulative PV installed capacity reached 268 million kWs.
Major PV facility manufacturers in China, including LONGi Green Energy Technology Co Ltd, Trina Solar and JA Solar Technology Co Ltd, are expanding output to tap the fast growing market.
Estimates from Guosheng Securities showed that production capacity of PV cells, modules and wafers is likely to surpass 300 gigawatts each by the end of this year, while production capacity of silicon materials will be no more than 200 GW, indicating an insufficient supply of raw materials for PV cells, modules and wafers.
The reason for the relatively lower growth rate of silicon material prices compared to that in the first half was due to a small increase in silicon material supplies, in reaction to the continuously growing demand from PV cell, modules and wafers manufacturers, the association said.
In addition, many manufacturers are becoming more rational in stocking silicon materials in the second half, which helps ease the pressure on supplies, the association added.
As for the pressure on margins, industry giant LONGi is an example. The company reported a year-on-year fall of 4.28 percent in gross margins and a cost increase of 75.92 percent in the first half of this year.
A report by news website 36kr.com said that unlike big companies that can handle an increase in production costs, many small and medium-sized cell, module and wafer manufacturers chose to close production lines instead.
"The price increase of silicon materials is not good news to cell, module and wafer manufacturers, because the market is fiercely competitive and profit margins are too low. A company needs to pay close attention to controlling costs, otherwise they are likely to lose money," said Qi Haikun, president of The Solar Tech Co Ltd in Beijing.
Lin said another reason why many small and medium-sized cell, module and wafer manufacturers find it difficult to make a profit is that many downstream power stations have limited budgets on equipment, coming under pressure to control costs and make a profit as China no longer offers subsidies for certain types of newly registered PV projects since Aug 1, according to the National Development and Reform Commission.
A report by LeadLeo Research Institute, a market research provider, said many PV facility manufacturers are innovating technologies to cut costs while raising production efficiency.
Lin said the halt of government subsidies for certain types of new PV projects, as well as an increase of raw material prices, are also likely to push PV facility manufacturers to slow expansion of production capacity to guarantee profits.