New steps seen stabilizing property's asset quality
Share - WeChat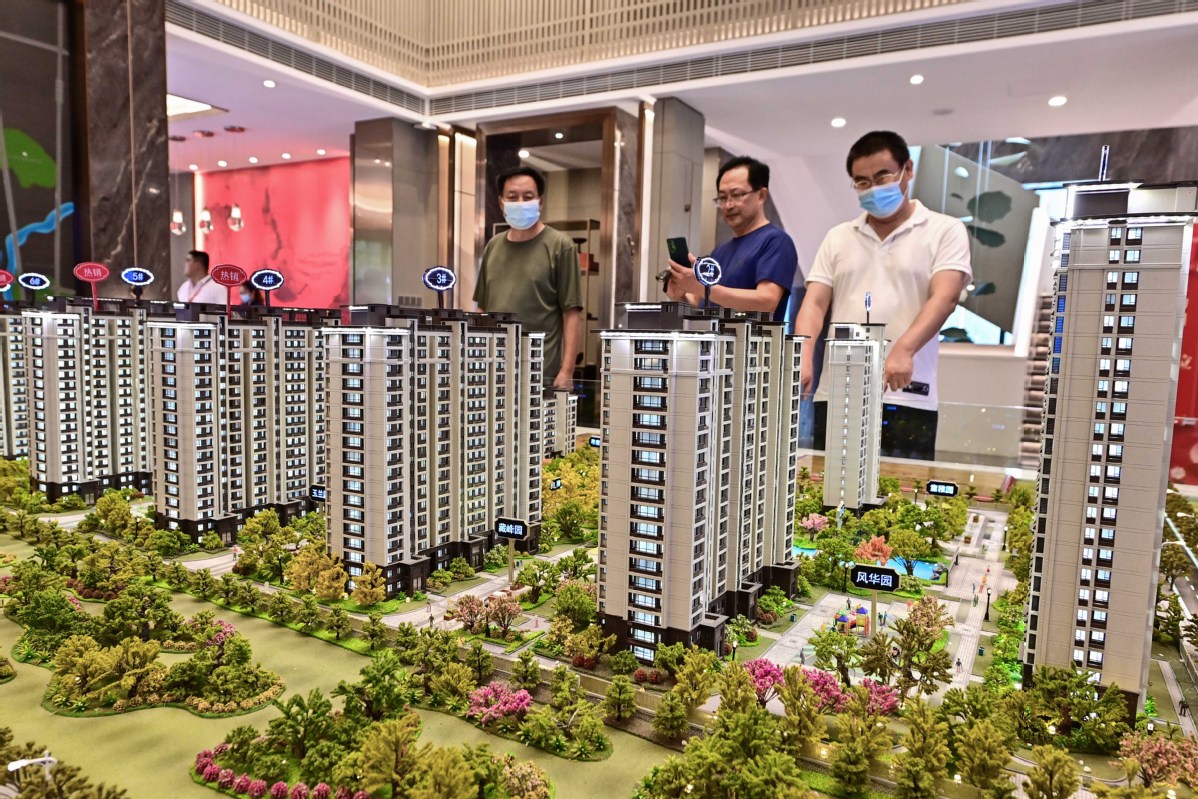 The asset quality of the real estate sector will remain relatively stable, as China further strengthened prevention and control of financial risks associated with the real estate market, banking industry professionals said.
The comments came amid reports that nonperforming loans or NPLs that some commercial banks extend to China's real estate industry rose in the first half of this year.
Their corporate NPLs in the property sector rose in spite of the lenders' efforts to optimize credit structure and internal credit policy according to regulatory requirements and the policies on adjustments for the real estate industry.
Corporate NPLs of Industrial and Commercial Bank of China, the country's largest State-owned commercial lender by assets, to the realty industry rose from 16.24 billion yuan ($2.52 billion) at the end of last year to 31.91 billion yuan by the end of June, with the related NPL ratio increasing from 2.32 percent to 4.29 percent.
A similar trend was visible at several other banks, be they large or small, national or regional.
For instance, China Construction Bank Corp saw its property sector-related NPL ratio increase from 1.31 percent to 1.56 percent in the first half. The corresponding rises at Bank of China were from 4.68 percent to 4.91 percent, from 1.37 percent to 1.48 percent at Bank of Ningbo.
To prevent realty-related risks, China Merchants Bank said it will continue to adjust the structure of real estate customers and regional assets, focus on central cities and strategic customers, strengthen business risk monitoring and process management, and steadily promote industry credit limit and customer credit limit management.
A spokesperson of the China Banking and Insurance Regulatory Commission said on Sept 7 the regulator will stick to the principle of "housing is for living in, not for speculation", and improve the regulatory mechanism for real estate finance to stabilize land prices, home prices and market expectations. The regulator will also strive to prevent excessive concentration of real estate loans, in an effort to create a virtuous cycle between finance and realty.
The spokesperson said the CBIRC will enforce prudential regulatory standards for property development loans and home mortgage loans, prevent business loans from illegally flowing into property, and guide banking and insurance institutions to ramp up support for affordable rental housing.
As at the end of July, the growth of real estate loans in China reached an eight-year low. The balance of the banking sector's real estate loans increased by 8.7 percent year-on-year, 3 percentage points lower than the growth in total loans. The ratio of the balance of real estate loans to the balance of total loans kept falling for 10 consecutive months and declined by 0.95 percentage point year-on-year, the CBIRC said.
"Financial institutions should strictly implement real estate regulatory policies and fulfill the requirements on the management of real estate loan concentration and on the management of real estate developer financing in an active and stable manner, in order to curb the blind expansion of real estate developers and reduce their excessive reliance on financial leverage step by step," said Dong Ximiao, chief researcher with Merchants Union Consumer Finance Co, in an article published on the Beijing-based Economic Information Daily on Friday.
"For real estate developers, financial institutions should step up comprehensive reviews on loans so as not to offer financing to unqualified real estate projects or offer credit guarantee for those projects that violate policies on the real estate industry. For retail clients, financial institutions should ask clients to provide proof of authentication for their applications for large business loans or consumer loans so as to prevent the illegal flow of credit funds into the property market."