Blinken, GOP spar at hearing on pullout from Afghanistan
Share - WeChat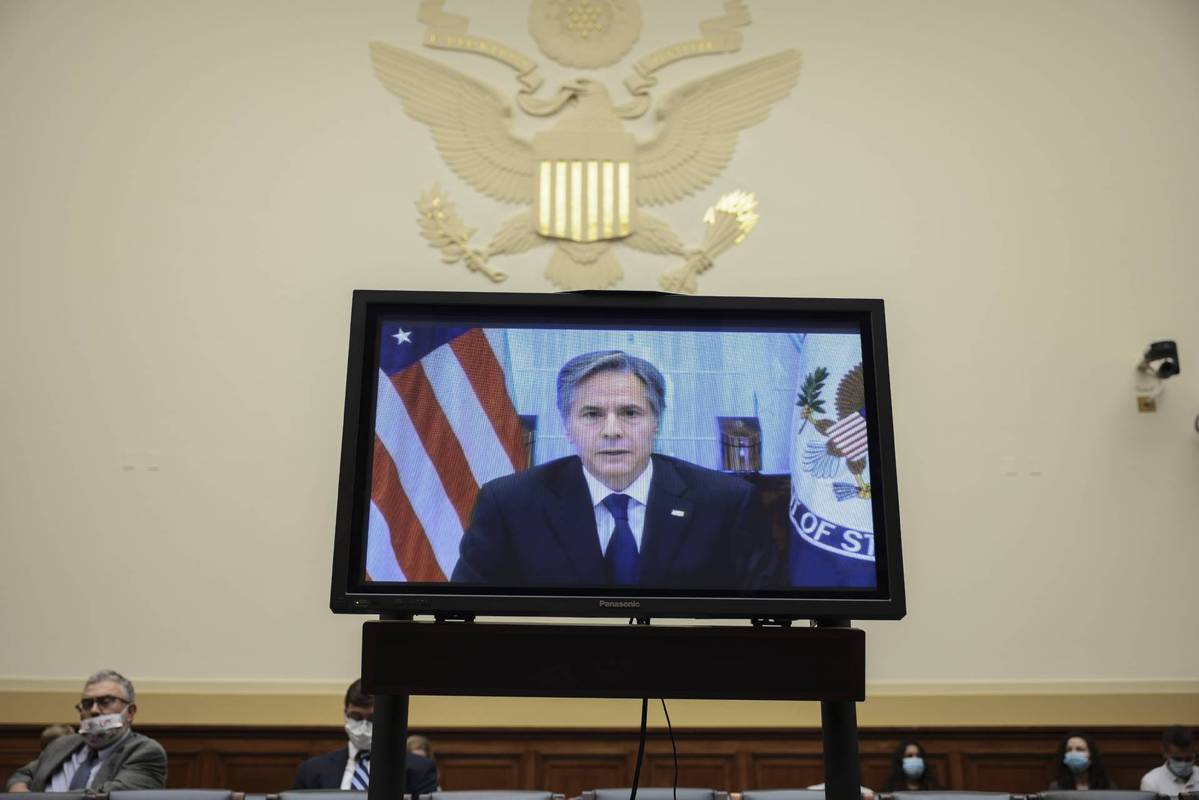 At a contentious hearing on the US withdrawal from Afghanistan, Secretary of State Antony Blinken said Monday that there was "no evidence that staying longer would have made the Afghan security forces or the Afghan government any more resilient or self-sustaining".
In sharp exchanges with lawmakers on the House of Representatives Foreign Affairs Committee in Washington, Blinken defended President Joe Biden's decision to pull out the troops and pushed back on accusations that the State Department might have done more to help evacuate Americans and at-risk Afghans, blaming the previous administration for not producing a plan.
Blinken said that as of the end of last week, about 100 Americans who wanted to leave Afghanistan were still there.
He repeatedly noted that former president Donald Trump had negotiated the withdrawal agreement with the Taliban and said Biden's administration did not consider renegotiating because of threats from the group to resume killing Americans.
"We inherited a deadline. We did not inherit a plan," said Blinken, referring to the Trump administration's agreement to remove all US forces from Afghanistan by May 1.
"As part of that agreement," Blinken said, "the previous administration pressed the Afghan government to release 5,000 Taliban prisoners, including some top war commanders. Meanwhile, it reduced our own force presence to 2,500 troops. In return, the Taliban agreed to stop attacking US and partner forces and to refrain from threatening Afghanistan's major cities," Blinken said.
Trump responded with his own statement Monday: "The inept Afghan government, led by corrupt President Ghani, released 5,000 prisoners — not the Trump Administration. Secretary of State Blinken is doing everything in his power to make the most inept withdrawal in history look, at least, acceptable. It never will.
"Our Country is far more susceptible to attack by outside terrorist groups than ever before," Trump said in an earlier statement Monday. "Our enemies all over the World are inspired by what just happened in Afghanistan — the removal of the Military first, and our 'gift' of $85 billion in Military equipment … Just nine months ago, the United States was viewed as being strong, and now we are being viewed as weak and stupid."
Republicans pressed Blinken about what happened at the airport in the capital Kabul during the evacuation ahead of the administration's Aug 31 deadline to leave.
Thirteen US troops and more than 160 Afghans were killed in an Aug 26 suicide bombing at the airfield.
"This was fatally flawed and poorly executed," said Representative Lee Zeldin, a New York Republican. "I believe that you, sir, should resign. That would be leadership."
Two other GOP congressmen also called for Blinken's resignation at the hearing.
Republican Congressman Adam Kinzinger of Illinois blamed both Biden and Trump.
"The Trump administration failed in the setup, and the Biden administration failed in the execution," Kinzinger said.
Representative Bryan Mast, a Florida Republican and Army veteran who lost his legs in an explosion in Afghanistan, accused Blinken of lying when he denied that intelligence had been manipulated to support Biden's desire to withdraw American troops. "I do not believe a word you have said," he told Blinken.
Blinken replied: "Simply put, what you said congressman, is dead wrong."
Democrats had said they wanted the hearing to address not just the seven months Biden was president before Kabul was captured by the Taliban but all 20 years of US involvement in the country under presidents from both parties — Biden, Trump, Barack Obama and George W. Bush, who initiated the military action in Afghanistan in October 2001 after the 9/11 terrorist attacks.
"I would welcome hearing what exactly a smooth withdrawal from a messy, chaotic, 20-year war looks like," said Representative Gregory Meeks, a New York Democrat and chairman of the committee.
Blinken also is scheduled to testify Tuesday before the Senate Foreign Relations Committee. He is the first Biden administration official to testify publicly to lawmakers since the Islamist fundamentalist group's lightning-quick takeover of the war-torn Central Asian country in August.
Blinken, who had publicly predicted in June that a complete takeover of Afghanistan by the Taliban would not happen "from a Friday to a Monday", worked to pre-empt criticism of the prediction by noting that no one in the US government expected the Afghan government to fall as quickly as it did.
"Even the most pessimistic assessments did not predict that government forces in Kabul would collapse while US forces remained," Blinken said in remarks released ahead of his appearance.
"The evacuation was an extraordinary effort — under the most difficult conditions imaginable — by our diplomats, military, and intelligence professionals," he said. "In the end, we completed one of the biggest airlifts in history, with 124,000 people evacuated to safety."
"It's amazing that it was not much, much worse," added Representative Brad Sherman, a California Democrat.
Blinken pledged that the United States will continue to support humanitarian aid to Afghanistan, but through non-governmental organizations and United Nations agencies, not the Taliban.
Afghanistan is at risk of running out of food, as it faces a drought in addition to political upheaval.
"We need to do everything we can to make sure the people of Afghanistan don't suffer any more than is already the case," Blinken said.
He said he would name a senior official at the State Department to focus solely on the effort to support women, girls and minorities in Afghanistan.
Reuters and The Associated Press contributed to this story.