Jiangsu highlights its appeal
Share - WeChat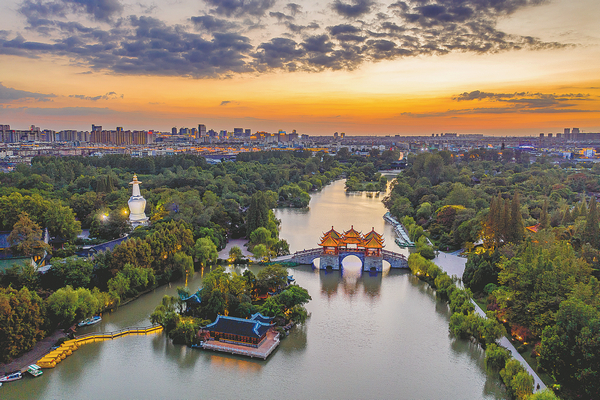 With a long history, profound culture and picturesque views, East China's Jiangsu province attracts millions of tourists every year. To better introduce its attractions, the province has set up a boutique program exhibition for foreign cultural exchange.
The online exhibition, titled Lingering Charm of Waters in Jiangsu, consists of seven parts, including collections and shows of paintings and calligraphy works, cultural relics, dance, music, acrobatics, food and tourism.
In 2020, the department of culture and tourism cooperated with many other bodies, such as art groups and museums, to carefully choose the works that could represent the province and later establish the online exhibition.
Yang Zhichun, Party secretary and director of the Department of Culture and Tourism of Jiangsu Province, says that Jiangsu's landscape, food, culture and way of life appeal to visitors from around the world.
"Jiangsu is located near water and has flourished as a result," he says. "The water infuses the province with a poetic atmosphere and a unique beauty."
"You may linger on the winding paths of the classical gardens to feel in tune with nature, stroll around the quiet ancient water towns to enjoy the leisurely life of local people, or wander around the ruins and museums scattered across the province to have a glimpse of history.
"Of course, you can also enjoy a cup of tea while appreciating Kunqu Opera and the music played on Chinese zithers, as well as the melodious singing of Pingtan (storytelling and ballad singing). The beauty of Jiangsu is waiting for you to explore and experience."
Among the first batch of 62 works chosen for the exhibition, 14 had been admitted by the Ministry of Culture and Tourism to its 2021 Spring Festival online exhibition.