Harsh verdict awaiting on Afghanistan
Share - WeChat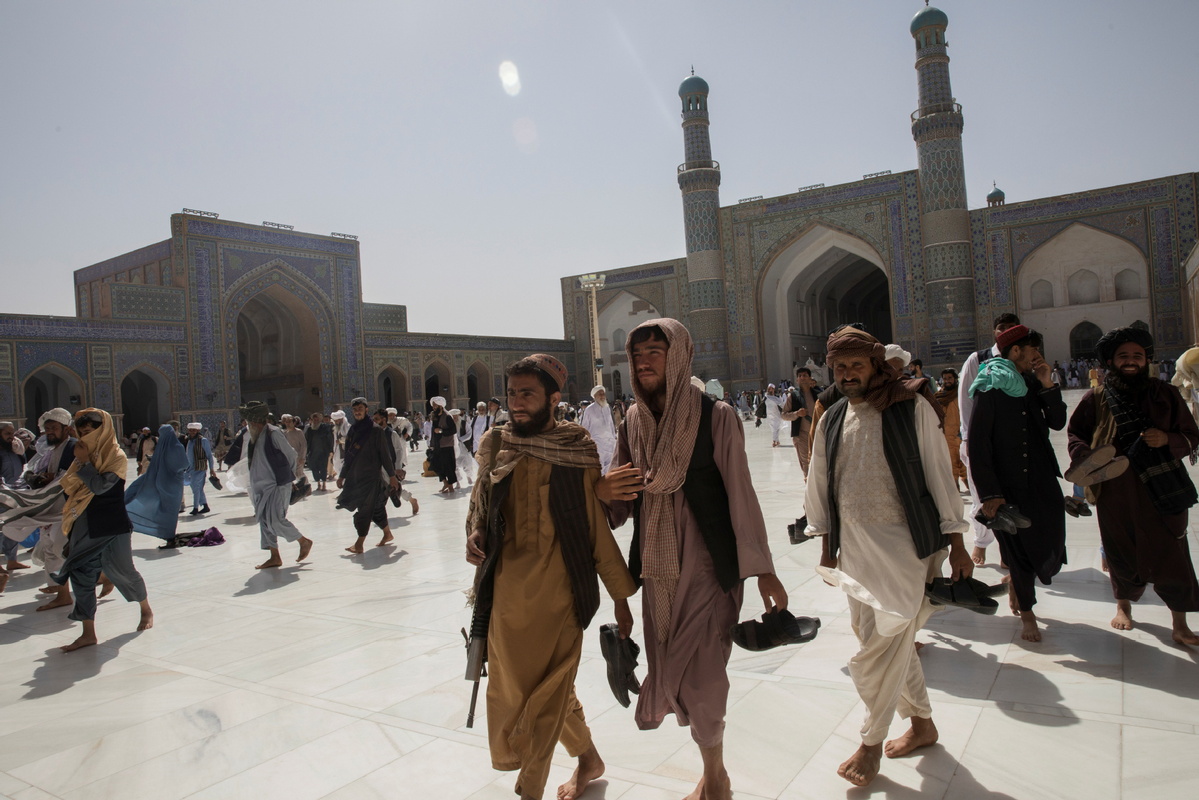 History will be the judge of what Afghanistan has endured over the past 20 years, a Chinese envoy to the United Nations told the Security Council as he urged those countries that had made mistakes over that period to correct them "in a timely manner".
As an ancient civilization of Central Asia, Afghanistan has experienced many ups and downs in its history. Over the past 20 years, Afghanistan's development has been fraught with challenges, and its people have suffered, said Geng Shuang, China's deputy permanent representative to the UN.
Twenty years on, the various Afghan factions have failed to achieve unity. Terrorist forces have not been eradicated but instead have become increasingly rampant. Twenty years on, its people have been "teetering between poverty and instability", the envoy said.
"The recent abrupt changes in Afghanistan remind us once again that military interventions and power politics cannot gain popularity, and foreign models and democratic transformations are hard pressed to gain a foothold," Geng said.
"What relevant countries have done in Afghanistan in the past 20 years has ended in failure.
"They should seriously reflect on it and correct mistakes in a timely manner, rather than walking away from the problems of their own doing and leaving them to Afghanistan and other countries in the region."
After all, they "bear the inescapable political, security, economic and humanitarian responsibilities for Afghanistan", and are more obliged than other countries to help Afghans maintain stability and reconstruct their nation.
"They should earnestly honor their commitment to the Afghan people and take concrete actions to participate in the international community's assistance efforts in Afghanistan," Geng added.
The envoy made the comments as the UN's highest governing body convened on Thursday to consider the recent developments in Afghanistan. The meeting took place two days after the Taliban's announcement on Tuesday of the establishment of a caretaker government, weeks after it seized power in the nation.
China hopes the Taliban will honor their commitments, unite various ethnic groups and factions, build a broad-based and inclusive political architecture, pursue moderate and prudent domestic and foreign policies, protect women and children, resolutely combat terrorist groups, and develop friendly and cooperative ties with other countries, especially its neighbors, Geng said.
He called on the international community to contribute constructively to Afghanistan's reconstruction and respect the sovereignty, independence and territorial integrity of Afghanistan, as well as the will of the Afghan people, while adhering to "the Afghan-led and Afghan-owned" principle.
Geng called for more dialogue and guidance for the new leadership in Afghanistan. He warned against "conceiving presumptions" and "creating difficulties". The international community should help the Taliban honor their commitments and prevent the country from once again becoming a "hotbed of terrorism", he said.
Meanwhile, more than 100 foreigners, including citizens of the United States, left Afghanistan on a commercial flight from Kabul on Thursday with the cooperation of the Taliban-the first such large-scale departure since US forces completed their chaotic withdrawal over a week ago.
The Qatar Airways flight to Doha marked a breakthrough in the bumpy coordination between the US and Afghanistan's new rulers. A dayslong standoff over charter planes at another airport has left hundreds of mostly Afghan people stranded, waiting for Taliban permission to leave.
A senior US official, speaking on condition of anonymity because he wasn't authorized to talk to the media, said the Taliban's foreign minister and deputy prime minister helped facilitate the flight. US citizens, US green-card holders and other nationalities, including Germans, Hungarians and Canadians, were aboard, the official said.
A Qatari official said a further 200 passengers were expected to leave Afghanistan on Friday.
The White House said before the flight that there were roughly 100 US citizens left in Afghanistan. But several veterans groups have said that number is too low.
US President Joe Biden, already criticized for his handling of the evacuation, is being pushed by Democrats and Republicans alike, with some saying he's not doing enough to help the US' former allies and others saying that he's not doing enough to keep potential threats out of the US.
Agencies contributed to this story.