New finds at Sanxingdui Ruins site shed more light on ancient kingdom's culture
Share - WeChat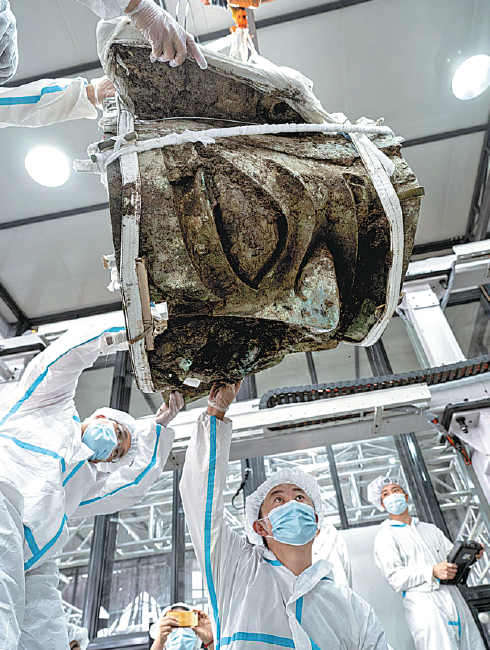 A unique bronze artifact from the No 3 pit features a man carrying a bronze vessel known as a zun that has a round rim and a square body, said Ran Honglin, an archaeologist at the institute.
Three bronze figures, with their palms pressed together and their heads twisted to the right, have been excavated from the No 4 pit.
These three bronze figures are a unique find among Sanxingdui items in terms of their shape and decorative pattern, and they provide further material for studying the bronze casting technology of the Shu people as well as their art, religious beliefs, social system and cultural exchanges with surrounding areas, Ran said.
Radiocarbon dating has shown that the No 3 and No 4 pits, at 3,000 to 3,200 years old, go back to the late Shang Dynasty (c.16th century-11th century BC), he said.
The digging of the No 3 pit undertaken by Shanghai University and Ran's institute started on Jan 9 and is expected to be completed in the next two months. Excavation of the No 4 pit, which the institute began in October last year, was completed on Aug 19.
The Sanxingdui Ruins site, which is 40 kilometers north of Chengdu, the capital of Sichuan, covers 12 square kilometers. Archaeological discoveries show it was a highly developed and prosperous cultural hub established between 2,800 and 4,800 years ago.
The site was discovered by accident in 1929 when Yan Daocheng, a villager in Guanghan, unearthed a pit full of jade and stone artifacts while repairing a sewage ditch at the side of his house.
From the 1930s onward, many archaeologists have conducted excavations at the location. A breakthrough came in the 1980s, when the remains of large palaces and parts of the eastern, western and southern city walls and two large sacrificial pits, now known as the No 1 and No 2 pits, were found.
The findings confirmed that the site housed the ruins of an ancient city that was the political, economic and cultural center of the Shu Kingdom.
Chen Xiandan, a leading archaeologist in Chengdu who took part in excavations of the site in the 1980s, said that before the excavation work was carried out, it was thought that Sichuan had a history of just 3,000 years. Thanks to this work, it is now believed that civilization in what is now Sichuan goes back 5,000 years.
Dong Wenli contributed to this story.