Massive digital potential waiting to be unleashed
Share - WeChat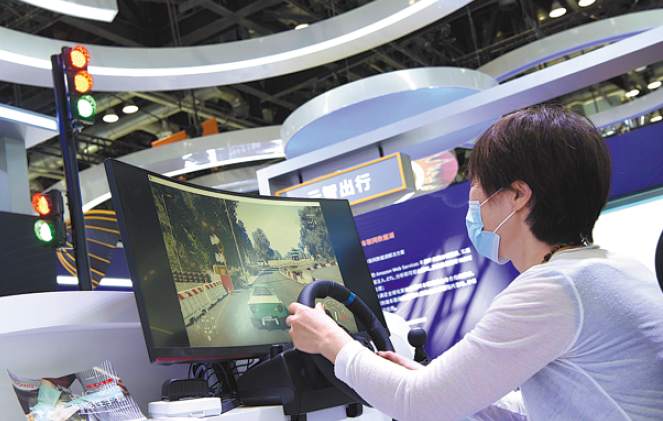 China is improving digital technology innovation and digital trade development as they have become new growth engines of global trade in services, experts said at the 2021 Digital Trade Development Forum earlier this week.
The forum was part of this year's China International Fair for Trade in Services, held from Sept 3-7 both online and offline.
According to the Global Digital Trade and China Development Report 2021, China has risen to become one of the top 10 digital trade economies. The report said that as innovation in digital technologies-including the internet, big data and cloud computing-accelerates and China's digital economy shows strong momentum, China is consolidating its position as a major digital trade powerhouse.
Zhong Mingbo, director of the Beijing Association of Sourcing Services, said that due to the COVID-19 outbreak, digital technologies have integrated into more traditional industries. This has brought in lots of new business models, such as online education, medical care and payments.
China's digital trade volume stood at 1.46 trillion yuan ($225.9 billion) in 2020, up 20.5 percent year-on-year. The growth is 15.6 percentage points higher than that of gross service trade, according to the National Industrial Information Security Development Research Center.
Beijing, with a well-established innovation ecosystem incorporating organizations, talent, technologies and capital, has advantages in becoming a leading city of the digital economy, Zhong added.
According to the preliminary projections by the National Bureau of Statistics, the value added of the capital's digital economy, accounting for 40 percent of the city's GDP, increased by 1.44 trillion yuan in 2020.
Beijing's urban governance and its subcenter construction, hosting the 2022 Winter Olympic Games, as well as the building of three science parks and a science and technology development zone provide rich scenarios for digital technologies and industries, Zhong said.
At this year's CIFTIS, industry experts said that drawing up rules for global cross-border digital trade is urgent. China needs clear rules in the digital service sector, needs to support the international application of high-level free trade rules in Beijing and set up demonstration zones for digital trade, they noted.
Pakistan's Ambassador to China Moin ul Haque called for a new digital trade rule system, in particular, for digital property rights.
The World Trade Organization should be an effective platform for discussing relevant rules and promoting the formulation of rules globally, he said.
The digital service exhibition debuted at the 2021 CIFTIS, which showcased the latest products and cutting-edge technologies.
As the pandemic has not been overcome, the fair was held online and offline. It made full use of digital technologies, providing companies with a platform to expand and reduce the effects of the pandemic. It also showed the great potential of digital and intelligent economic development, according to organizers.