Speed called for as vaccinations lag in Indonesia
Share - WeChat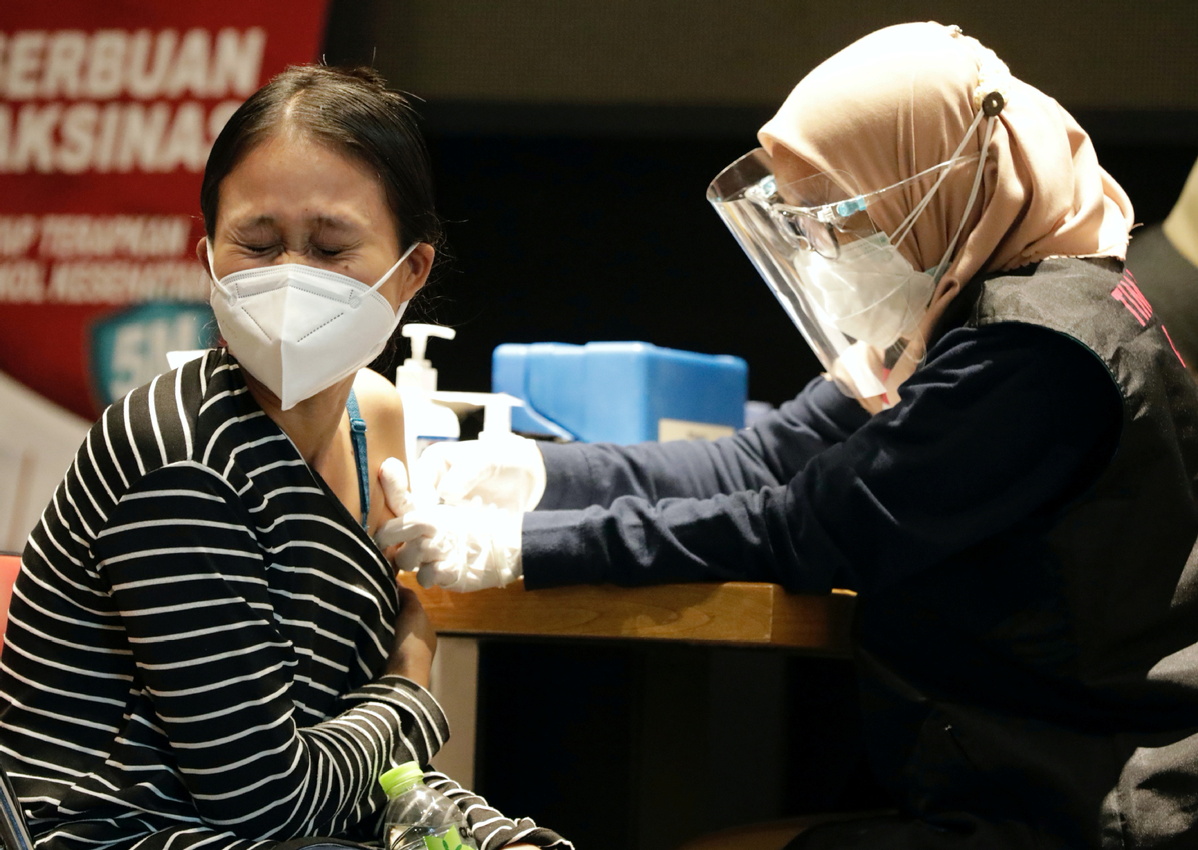 Indonesia must speed up vaccinations to curb one of Asia's worst COVID-19 outbreaks, health experts said.
The world's fourth most populous nation aims to inoculate 208 million people by January. By the end of August, only 17 percent of the target population had been fully vaccinated.
The slow pace of vaccinations contrasts with the fast-rising number of infections of the highly transmissible Delta variant of the coronavirus. More than 4 million people in Indonesia have been infected with COVID-19, killing more than 133,000.
Health Minister Budi Gunadi Sadikin said the government aims to administer 50 million COVID-19 vaccine doses a month to meet the target. But health experts said this goal might not be feasible given the lack of supply and health workers, as well as the poor health infrastructure across the vast country.
"We can set any (vaccination) target, but the problem is whether there is enough supply of vaccines that can be distributed around the country," said Tjandra Yoga Aditama, a professor at the University of Indonesia's Faculty of Medicine.
More than 200 million vaccine doses had arrived in Indonesia by Aug 23, with more than 80 percent of them from Chinese drugmaker Sinovac Biotech. Most of the vaccines are delivered in bulk; Indonesia's state-owned pharmaceutical firm Bio Farma, partnering with Sinovac, processes and packages them. Sinopharm, AstraZeneca, Moderna and Pfizer also supply vaccines.
But the delivery schedule of these vaccines varies, affecting the pace of the vaccination program, according to A'an Suryana, visiting fellow at the ISEAS-Yusof Ishak Institute, a research center in Singapore.
Although Indonesia has seen generous amounts of vaccines arrive, at other times, short supplies have kept health workers waiting before they can inoculate people, Suryana said.
The daily number of shots administered has been fluctuating. On July 14, a record 2.4 million doses were administered, Suryana said. On other days, fewer than 1 million jabs are given.
More centers needed
Aditama said most of the vaccinations are done in crowded stadiums and schools, settings that heighten the risk of people contracting the virus. The government should instead open up more community health centers to reduce crowding and guard against infections among those waiting their turn.
Irma Hidayana, co-founder of the data monitoring group Lapor COVID-19, in Jakarta, said vaccine inequity is undermining efforts to inoculate more people. She said that aside from the supply constraints, of greater concern are issues around how these vaccines are distributed and who should get them.
Suryana said the need to protect health workers is crucial given that the Delta variant has slashed the already low number of people qualified to give out the vaccines. He said the worsening pandemic has forced most health workers to leave their posts as vaccinators to focus on treating COVID-19 patients.
Indonesian authorities are addressing this problem with training. Harif Fadhillah, chairman of the Indonesian Nurses Association, said 166,000 volunteers had been trained to help the government accelerate the inoculation program, state news agency Antara reported. He said most of the volunteers are recent graduates of nursing schools and members of youth organizations.
Indonesia in July increased its 2021 health budget, from the initial 87.55 trillion rupiah ($6.11 billion) to 193.93 trillion rupiah, to enable more testing and contact tracing and improved treatments.
Health experts said Indonesia's poor health infrastructure has been weighed down by the pandemic. According to the World Health Organization, there are only six hospital beds and one doctor for every 10,000 Indonesians.
Leonardus Jegho in Jakarta contributed to this story.