An enduring performance
Share - WeChat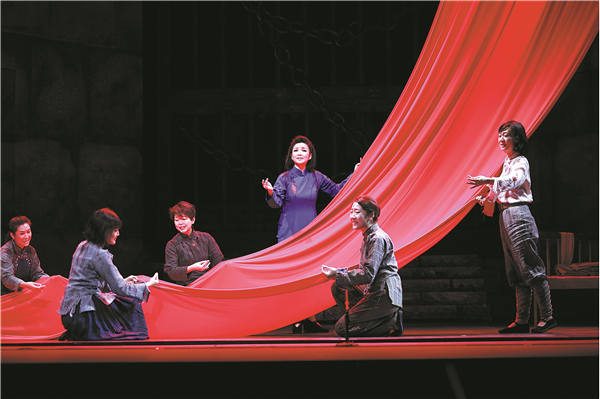 For the 100th time, singer Wang Li reprises her role as revolutionary heroine Jiang Jie, a character that has defined her career and continues to resonate with audiences, Chen Nan reports.
In early 2007, Wang Li, then a 27-year-old singer, stood out among her colleagues of the People's Liberation Army Air Force Art Troupe and was selected to play the eponymous lead in the classic Chinese opera Jiang Jie.
Premiered in Beijing in 1964, the Chinese opera was a huge success and toured nationwide. It was adapted from the revolutionary novel Hong Yan (Red Crag), which, written by Luo Guangbin and Yang Yiyan, portrays a group of underground Communists and their heroic battle on the eve of 1949, when the People's Republic of China was founded.
The Chinese opera centers on one of the female martyrs, Jiang Zhuyun, also known as Jiang Jie, who was born in 1920 in southwestern Sichuan province and joined the Communist Party of China when she was 19.
She was arrested in 1948 and detained in a Chongqing prison. A year later, she was killed at the age of 29. The image of Jiang, with hair down to her shoulders, in a red jacket over a blue cheongsam and wrapped in a long white scarf, is well-known among Chinese audiences.
"It was a landmark of my career and a great honor to portray the role. I was very excited," says 40-year-old Wang.
The most recent version of the Chinese opera made its debut at the National Center for the Performing Arts in Beijing in 2007 and since then, Wang has toured nationwide performing as Jiang in the opera for 11 years.
As this year marks the 100th anniversary of the founding of the Communist Party of China, the opera, Jiang Jie, has been restaged by the China National Opera & Dance Drama Theater. The production is directed by Wang Xiaoying and was performed at Tianqiao Performing Arts Center in Beijing from Saturday to Monday, before heading off to tour across China.
Sunday's performance saw Wang once again don the red jacket to play the role for a 100th time. Singers Yi Hongyuan and Wang Ying played the eponymous lead in the Saturday and Monday performances, respectively.
According to the director Wang Xiaoying, the new version of the opera features a new stage set and new costumes, but the core story is still rooted in the original version.
Since early July, Wang Li has been doing rehearsals in the capital.
"I can still recall that when I first played the role of Jiang, I was very nervous because she is such a famous and classic character, which has appeared in many art forms, like movies and Peking Opera productions," she says, adding that her father loves singing songs from the opera, such as Hong Mei Zan (Ode to the Red Plum Flower) and Embroidering the Red Flag, while he cooks at home.
"I've since played the role 100 times and, this time, I feel quite different because I am married and a mother, which enables me to understand Jiang more deeply,"Wang Li notes.
"In the opera, Jiang devoted her life to the country as a hero. She is also a woman who is separated from her son, and whose husband was killed by the enemy. My daughter is 5 years old. I cannot imagine being separated from her. I miss her very much, even when I go on a tour for 20 days.