The art of governance
Share - WeChat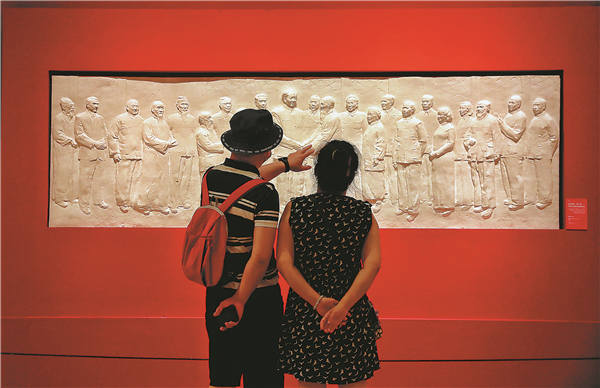 An ongoing display in Beijing highlights the creations of notable artists who have also served as CPPCC National Committee members over the years, Lin Qi reports.
Members of China's artistic circle, many of whom are preeminent painters and calligraphers, have, over the years, constituted an important part of the National Committee of the Chinese People's Political Consultative Conference. Their works not only show master techniques and aesthetics, but also document the dramatic changes of 20th century China, in which the people fought for national independence and social progress and, now, work hard for the great rejuvenation of the Chinese nation.
Togetherness, an ongoing exhibition at the National Art Museum of China which runs through Sunday, presents the artistic creativity and moral integrity of CPPCC National Committee members over the years. It shows paintings, calligraphic works, prints, sculptures, illustrations and cartoons from the NAMOC's collection.
Featured artists include luminaries of modern Chinese art, such as Liu Kaiqu, Chang Shuhong and Jin Shangyi, whose works celebrate the brilliance of nature, cultural traditions and express concern over the nation's future and the well-being of its people.
The exhibition, a collaboration with the Painting and Calligraphy Studio of the CPPCC National Committee, is one of the shows that the NAMOC has staged this year to mark the centennial of the Communist Party of China.
Wu Weishan, NAMOC director and a CPPCC National Committee member, says the exhibition reflects the changes in the way artists pay tribute to landscapes and the progress of people's lifestyles following the founding of the People's Republic of China in 1949, delivering a message that "people are the foundation of the nation".
Wu says how painters depict nature has changed. "There was a major breakthrough in the mountain-and-water genre of classical Chinese paintings. Shortly after the founding of New China, landscape painters not only delivered work with a poetic air, which had been practiced throughout the centuries, they also paid more attention to depicting scenes of the socialist construction boom by combining a realistic style and revolutionary romanticism."
Among the celebrated works of the period, there was a unique set of landscapes which were inspired by the poems of Chairman Mao Zedong, such as Wan Shan Hong Bian ("ten thousand mountains bathed in red"), a monumental series of ink-and-water paintings by late master Li Keran. One of them is now on show at Togetherness.
Most Popular