Wider market access key to promoting high-end services
Share - WeChat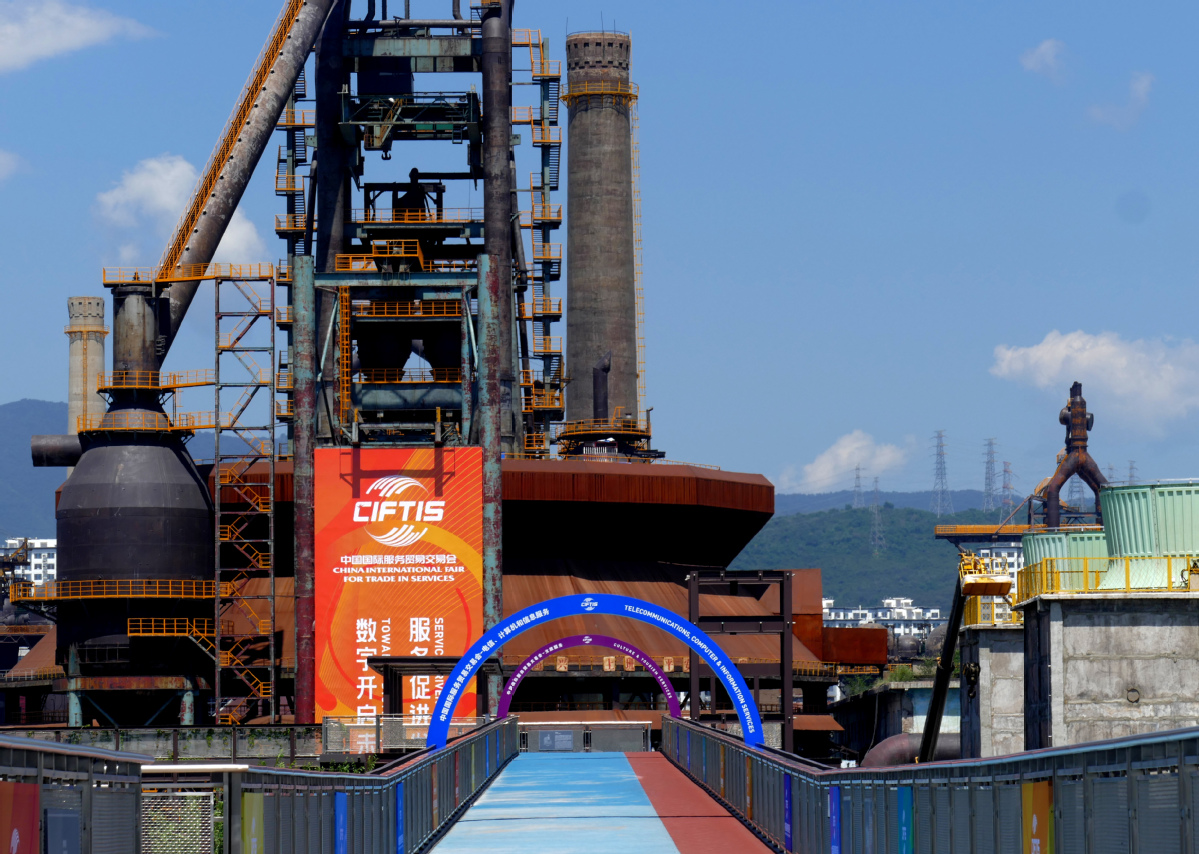 Further opening-up in sector can help domestic firms 'grow bigger, stronger'
China needs to step up and broaden the opening-up of high-end sectors such as finance, insurance, telecommunications and professional services that include audit and accounting to stimulate employment and further nurture middle-income groups, industry experts said.
Such efforts can help expand the domestic market to accelerate the establishment of the dual-circulation development pattern, which takes the domestic market as the mainstay while letting the domestic and foreign markets reinforce each other, experts said.
Their comments came as the 2021 China International Fair for Trade in Services is going to be held both offline and online from Thursday to Sept 7 in Beijing. Participants from about 153 countries and regions are attending this global event.
According to the Ministry of Commerce, China has promised to open up 22 additional services sectors to foreign investors under the Regional Comprehensive Economic Partnership agreement signed late last year, based on the 100 services sectors it promised to open up when it joined the World Trade Organization in 2001.
The output of the nation's services sector hit 29.6 trillion yuan ($4.58 trillion) during the first half, accounting for more than 55.7 percent of the nation's gross domestic product, up 1.2 percentage points from last year, the ministry said.
Yet, the high-end services industry in China lags behind the fast growth of traditional services such as catering, transport and logistics, said Huo Jianguo, vice-chairman of the Beijing-based China Society for World Trade Organization Studies.
"Bringing more foreign investors in those high-end services sectors is key to promoting fair competition among market players to improve operation efficiency of market entities and inject new growth impetus in the services sector, and ultimately contribute to both Chinese and global economic growth," Huo said.
"We should level the playing field for all market players, whether it is Chinese or foreign, private or State-owned, through optimizing regulation constantly."
It is true that most Chinese enterprises in high-end services are not as mature and experienced as their foreign counterparts aiming to enter China's market. However, just like what has happened to China's manufacturing and industrial sector in the past decades, driven by pressure to survive, Chinese enterprises will proactively learn advanced operational approaches and management experience from foreign investors and eventually adapt to the new competition environment to grow bigger and stronger, Huo added.
Wider market access will prompt the growth of foreign direct investment inflows into the services sector, which is a crucial part of China's new round of opening-up, said Nie Pingxiang, deputy director of the Service Trade Institute, which is part of the Chinese Academy of International Trade and Economic Cooperation.
As the Chinese economy ushers in a new era of high-quality development featuring accelerated upgrade and optimization in industrial structure, further opening-up in the services sectors, especially high-tech services, will be supportive of high-quality development, Nie said.
China may encourage more foreign capital to flow into healthcare, culture and entertainment, and high-tech services such as scientific research and technological services and information transmission, she said.
China's 2021 negative list, which is expected to be released soon, will be further downsized, with an aim to promote orderly and wider opening-up in the services sector, said Bai Ming, deputy director of the international market research department under the CAITEC.
A negative list refers to special administrative measures prohibiting access of foreign investment in certain industries or areas. China has been shortening negative lists since 2017, and about two thirds of the restrictive measures have been reduced in the past few years, Bai said.
Cui Fan, an international trade and economics professor at the University of International Business and Economics in Beijing, believes services sectors such as culture, healthcare and aviation still have ample room for opening-up, and the new negative list for 2021 is likely to make progress in the professional services sectors.