In tribute to pop master
Share - WeChat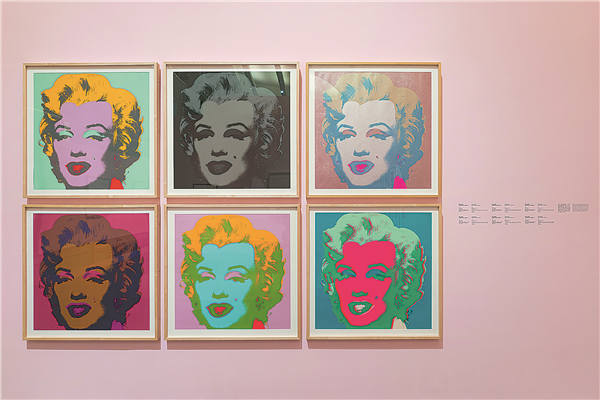 An exhibition at UCCA Beijing highlights the versatility of iconic artist Andy Warhol, Lin Qi reports.
If Andy Warhol were alive today, the pop art icon would have been a social media star. Warhol, a man of curiosity who never limited himself in creativity, knew how to capture the attention of people and how to promote himself.
He blurred the distinctions between fine art and commercial art to make his work, marked with a vibrancy of colors and the appropriation of found, patterned images, reaching a large number of viewers. Considered "a creature of transformation", Warhol constantly explored with different forms of media-photography, film and television-to evoke resonance among people.
Warhol once said: "An artist is somebody who produces things that people don't need to have but that he-for some reason-thinks it would be a good idea to give them."
Warhol is best known for his paintings that depict familiar brands and celebrities, contemplating consumer culture, the role of commercial advertisements and mass media, and the relationship between life and death. The process of evolution from Andrew Warhola (his birth name), son of immigrants who grew up in a working-class neighborhood, to Andy Warhol, the pop art icon, is less known to many.
Becoming Andy Warhol, an ongoing show at the UCCA Center for Contemporary Art in Beijing through Oct 10, has more than 300 works from Warhol's career spanning four decades and covering some other aspects of his life.
The title resonates with Warhol's quote: "If you want to know all about Andy Warhol, just look at the surface of my paintings and films and me, and there I am. There's nothing behind it."
The exhibition adds Warhol to a list of internationally renowned artists whose work UCCA has presented since its founding in 2007, featuring South African contemporary artist William Kentridge, US painter and graphic artist Robert Rauschenberg, US artist Sarah Morris and art icon Pablo Picasso from Spain.
The objects on display are from The Andy Warhol Museum in Pittsburgh, Pennsylvania, where he was born and buried after his death.
Patrick Moore, director of The Andy Warhol Museum, said in a video speech at the opening on July 3: "We hold the largest collection of Warhol's work and archives in the world, including his film and video work. The museum has a full-fledged educational program, performing arts program, and we also present exhibitions all around the world."
Most Popular