Pandemic driving demand for travel nurses across US
Share - WeChat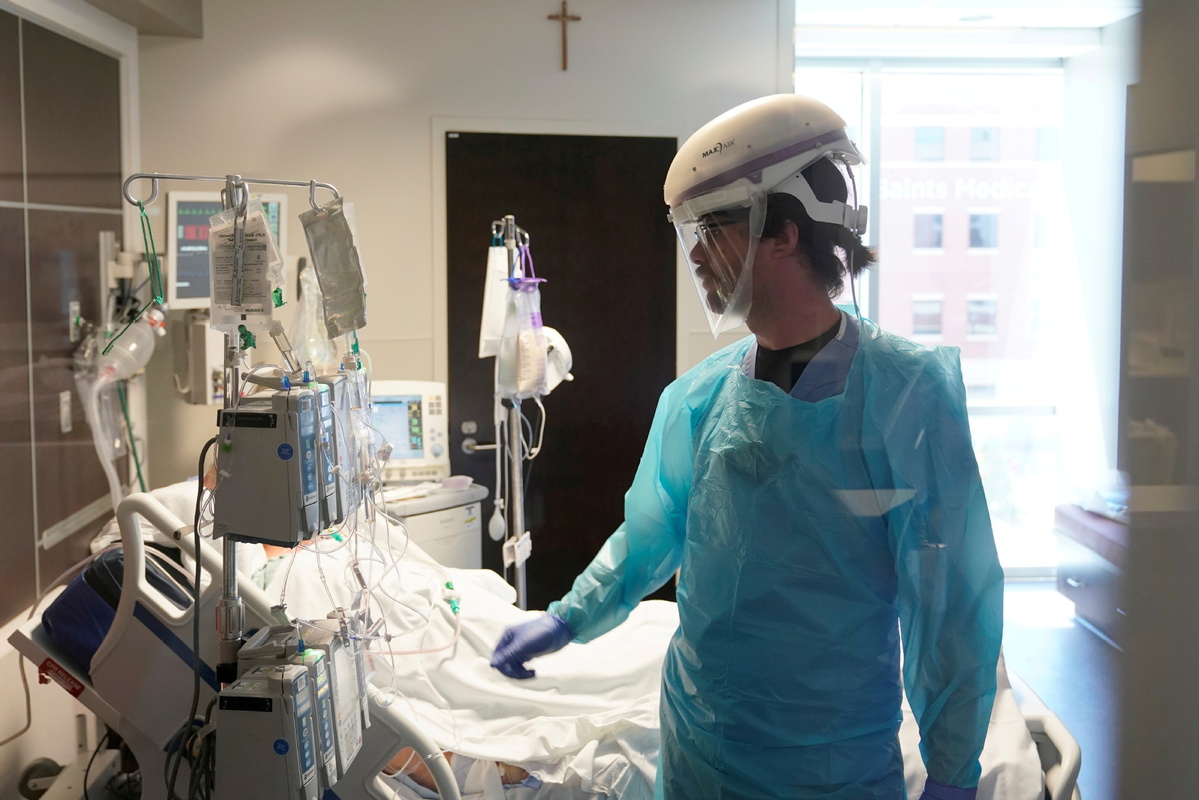 The surging Delta variant is causing a demand for travel nurses in hospitals throughout the United States, according to employment agencies that recruit them.
The nurses are being deployed to states with large numbers of unvaccinated residents, including Texas, Arkansas, Alabama, Tennessee, Florida and Mississippi.
Aya Healthcare, one of the largest travel-nursing companies in the US, sends nurses to all 50 states, the District of Columbia and the Virgin Islands. It serves 3,000 partnered healthcare facilities and says recent demand for clinicians has soared amid the Delta variant of the coronavirus.
"We have nearly a 60 percent increase in job orders from what we saw in our biggest moment in the pandemic,'' Chrystal Fugett, vice-president of recruitment at Aya Healthcare, told China Daily. "At the beginning of July, we had slightly over 23,000 jobs. But now we have 51,000. So, our jobs have doubled in nearly a month and a half."
Fugett said that the travel nurses are needed to respond to hospitals in hot spots deluged by COVID-19 cases. The states most in need of help she said are California, Florida and Texas, "but this changes by the day".
The US is now seeing an average upward of 11,000 new hospital admissions over the last week, and the country is on track to break a hospitalization record for all ages set in January, the Centers for Disease Control and Prevention said.
More children and people under age 50 are currently hospitalized with COVID-19 than at any other time in the pandemic, the agency said.
Tiffani, a registered respiratory therapist from Wisconsin, who asked that her last name not be used, said that she purposely took an assignment with Aya Healthcare in Boston at an ICU trauma and COVID unit because she "didn't want to sit idly by".
"These patients are the most critical I've ever worked with, and even the slightest change in their oxygen can have such a huge impact. You have to be very precise and very patient," she said.
Travel nurses became a crucial part in the fight against COVID-19 last year, during the first wave of the pandemic when hospitals were largely underprepared.
Many first went to New York, where the epidemic peaked, then moved on to other states as the virus spread.
"We thought after every wave, "Oh, this is going to be the peak, this is going to be the highest,' and we get our teams on board and think, "Let's get through this and then we'll have a peak,' and each one has been more insane than the last," said Fugett.
Deaths are rising in 42 states, the highest rate seen since December. On Aug 18, the US reported 5,742 deaths, nearly double the total from two weeks earlier. The 10,991 Americans who died of COVID-19 in the first 18 days of August are already more than all the fatalities in June or July.
For healthcare workers, the stress of the 18-month long pandemic has led some to quit in the middle of their shifts "because they could not take anymore", Cam Patterson, chancellor of the University of Arkansas for Medical Sciences (UAMS) in Little Rock told CNN.
Fastaff Travel Nursing, a company in Greenwood Village, Colorado, specializes in rapid-response nurse staffing.
It said current demand for travel nurses is five times greater than during the first wave of COVID-19. And the states that need their help the most are: Texas, Florida and Louisiana.
Kathy Kohnke, senior vice-president of client relations at Fastaff, told China Daily: "We're definitely seeing an increase in requests during the Delta surge.
"At the same time, after 18 months of treating COVID, hospitals are dealing with much needed staff PTO (paid time off), staff burnout and the healthcare patient case backlog, the demand for nurses has never been higher."
The growing demand for travel nurses means that hospitals may be willing to pay more to hire them, say the agencies.
Fugett explains that hospitals dictate how much they will pay the agency for the travel nurses based on how dire their need is and what skills the nurses have.
She said that Aya Healthcare currently has jobs across the country paying travel nurses $6,800 a week. While the hospital does not pay for accommodation, it has a rate that will offset the cost of living and housing.