Beijing quick to help reduce regional poverty
Share - WeChat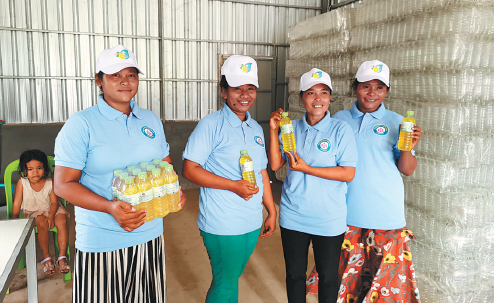 Range of aid provided to scores of neighboring countries
The annual rainy season in Southeast Asia used to be a miserable experience for Mao Tith and his family, as the hut they lived in, built from bamboo with a thatched roof of palm leaves, barely offered protection from torrential downpours.
However, the rain also provided an important source of water for the family, which lives in the small Cambodian village of Svay Ampear. During the dry season, they had to fetch water from a pond shared by the village.
A lack of secure housing and access to safe drinking water were not the only challenges faced by a team of Chinese experts that arrived in the village in 2017 to launch a pilot project aimed at alleviating poverty in Cambodia.
The project was part of a regional poverty reduction demonstration program announced by China during the 17th ASEAN-China, Japan and Republic of Korea leaders' meeting in 2014. China provided combined funding of 100 million yuan ($15.4 million) to pilot poverty reduction in a total of six villages in Cambodia, Laos and Myanmar.
Liu Xiaolin, an official from the bureau of rural vitalization in Sichuan province who took part in the project, said, "We took action based on the experience drawn from China's poverty reduction campaign to try to identify the cause of poverty for each household before coming up with a targeted plan for each of them."
With the joint efforts of Chinese experts and the Cambodian authorities, two villages in Cambodia-Svay Ampear and Chheuteal Phlos-were transformed by the end of last year. A community center was built to offer training sessions for villagers, and water supplies and electricity were connected to all households. A total of 71 homes were rebuilt and another 190 renovated.
Launched in tandem with methods tailored for the villagers to reduce their spending and earn more, the program introduced them to growing mushrooms, vegetables and also to other professional skills.
The program in Cambodia typifies China's broader steps to promote international development cooperation as the world's largest developing nation. With China achieving its goal of building a moderately prosperous society in all respects, officials and analysts said the nation would remain committed to furthering South-South Cooperation in its international development cooperation, with greater focus placed on improving livelihoods and building capacity for less-developed nations.
President Xi Jinping, who is also general secretary of the Communist Party of China Central Committee, has made renewed commitments to enhancing the well-being of humankind.
In a keynote speech to the CPC and World Political Parties Summit last month, Xi said eradicating poverty has been a common aspiration for people from all countries and is an important objective for political parties. The CPC is willing to contribute more Chinese solutions and Chinese strength to reducing poverty worldwide, he said.
In a congratulatory message marking the fifth anniversary of the South-South Cooperation Assistance Fund and the Institute of South-South Cooperation and Development, Xi pledged to work with developing countries to further unleash the potential of South-South cooperation, share development opportunities with them and continue helping them achieve sustainable growth.
In a speech delivered at the APEC Informal Economic Leaders' Retreat on July 16, the president unveiled a three-year $3 billion aid package to support COVID-19 response and economic and social recovery in other developing countries.
According to the China International Development Cooperation Agency, or CIDCA, China has provided various types aid to more than 160 developing nations, carried out thousands of aid programs and offered over 400,000 training sessions to staff members.