Sailing, windsurfing chart courses to success
Share - WeChat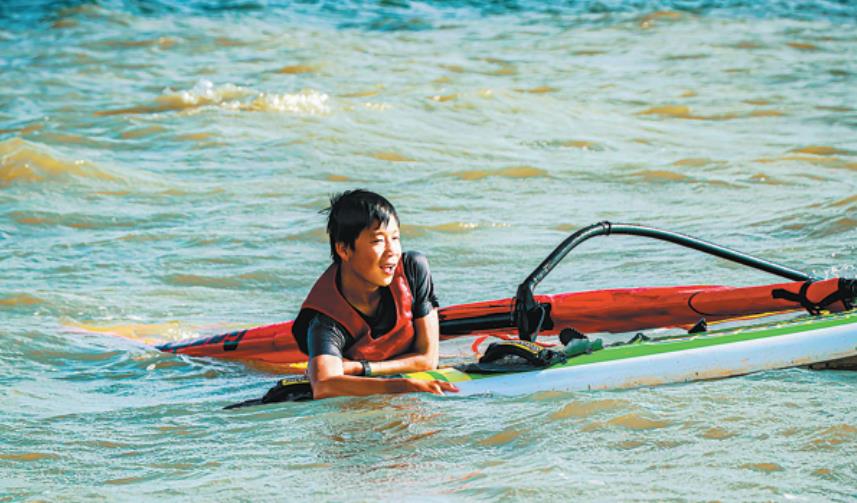 In the late 1990s, sailing, excluding windsurfing, was practiced in only seven provinces and cities in the country. Only a paltry 180 athletes were registered for the sport. Windsurfing was a little more popular, taking place in 13 provinces and cities with about 200 registered athletes, according to a study by Dai Zhiqiang from the Qingdao Marine Navigation Sports School in 1998.
In 1999, the CYA was set up to oversee development of sailing sports in China. This resulted in the total number of registered athletes for sailing and windsurfing rising to about 1,000 in 2006, according to Li Quanhai, the former secretary-general of the association and the current president of World Sailing.
The sports were given a major boost during the 2008 Beijing Olympics, where Yin Jian won the country's first Olympic gold in windsurfing. Xu Lijia won a bronze in sailing.
In the following years, Xu won China's first Olympic gold in sailing when she triumphed in the Laser Radial class at the 2012 London Olympics. Four years later, at the Rio de Janeiro Olympics, Chen Peina bagged a silver in windsurfing.
"The Chinese public only started to notice sailing during the 2008 Beijing Olympics," said Xu, who is now a freelance sports reporter.
"By the time I won gold at the 2012 London Olympics, people were eager to experience the sport themselves."
The rapid rise of sailing's popularity was also driven by growing affluence among China's middle class. Many families now send their children to sailing classes, and yachting clubs have sprung up nationwide.
According to CYA chairwoman Zhang Xiaodong, in 2019, China had about 60,000 sailboat racers and windsurfers, and there were some 200 professional yachting clubs across the country. The number of sailors and windsurfers is expected to more than double by the end of this year, bearing testimony the sports' meteoric rise.
Xu, who started out as a swimmer before switching to sailing in 1997, said: "There is every reason for sailing to be popular, because the sport is very appealing. For me, sailing means, a feeling you can't experience on land."
Lu, who started windsurfing in 2008, said: "When there is little wind, you can immerse yourself in the silence and forget your troubles. When there is a favorable wind, you can enjoy racing in the vast expanse of the sea and let your troubles blow away. When the wind is strong and the waves high, you realize that you are in control of your direction and destiny."