'First village' near highway draws tourists to homestays
Share - WeChat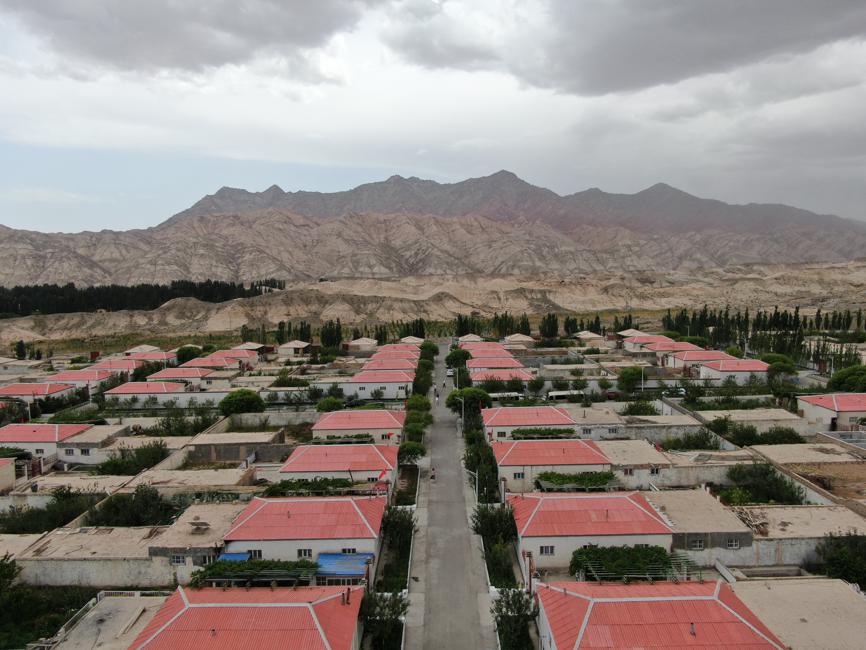 He says on average, about 3,500 vehicles a day pass by the village since the highway's reopening on July 4. Apart from offering accommodation and food to long-distance travelers, the village, situated near the mountains and by a stream, has also built entertainment facilities where folk performances are held to lure visitors from nearby cities who want a short getaway in the countryside.
The tourists can try paddling boats, riding horses or just "drifting "through the village.
Akbar Reheman, 32, is a beneficiary of the village's thriving tourism. He and his wife used to work in the downtown area of Kuqa, about 50 km from his hometown, Kangcun village. In 2018, he decided to go back to his village to set up an express station, helping to deliver e-commerce parcels to the doorway of people living in and around the village. Last year, the couple began to run a homestay at their own residence, and they have been promoting it on Trip.com Group and other domestic tourism websites.
During peak seasons in summer, he also introduces online customers he gets to homestay owners in the neighborhood.
When the couple worked downtown, they could earn 5,000 yuan per month but had to pay rent.
"We could barely save much money back then," he recalls.
"However, now we can averagely earn more than 8,000 yuan every month and are able to live in our own spacious house."
Their house and yard in Kangcun, covering 800 square meters in total, was constructed in 2014 after the local government subsidized more than 80,000 yuan to the family.
"Without a decent house like this, it is impossible for us to open a homestay," he says, adding that the local government would offer homestay owners opportunities to be trained on how to better run the business and serve tourists.
He says the past three years have witnessed a transformation of the village. The dusty paths have been expanded and paved. And income increase has enabled the villagers to buy their own cars.
In 2019, all residents of Kangcun were lifted out of absolute poverty.
Pan Weiwen, a travel-worn motorcyclist from Xi'an, Shaanxi province, just completed his motorcycle tour on the Duku Highway and chose to stay overnight in Kangcun to recover.
He says he was attracted by the village's reputation as the "first village of Duku" and found out that the price of homestays there were reasonable.
"It's a good place for travelers to take a stop," he says.
The traveler has long been yearning to ride on the picturesque highway.
"Although riding a motorcycle in the blazing sun can be toilsome sometimes, the astonishingly beautiful scenery along the highway is the cure," he adds.
He frequently shares what he has experienced during the journey by posting clips on the short-video platform Douyin. A video of him herding sheep with local nomads has notched more than 2 million views on the platform.