Pudong will lead higher level of reform, opening-up
Share - WeChat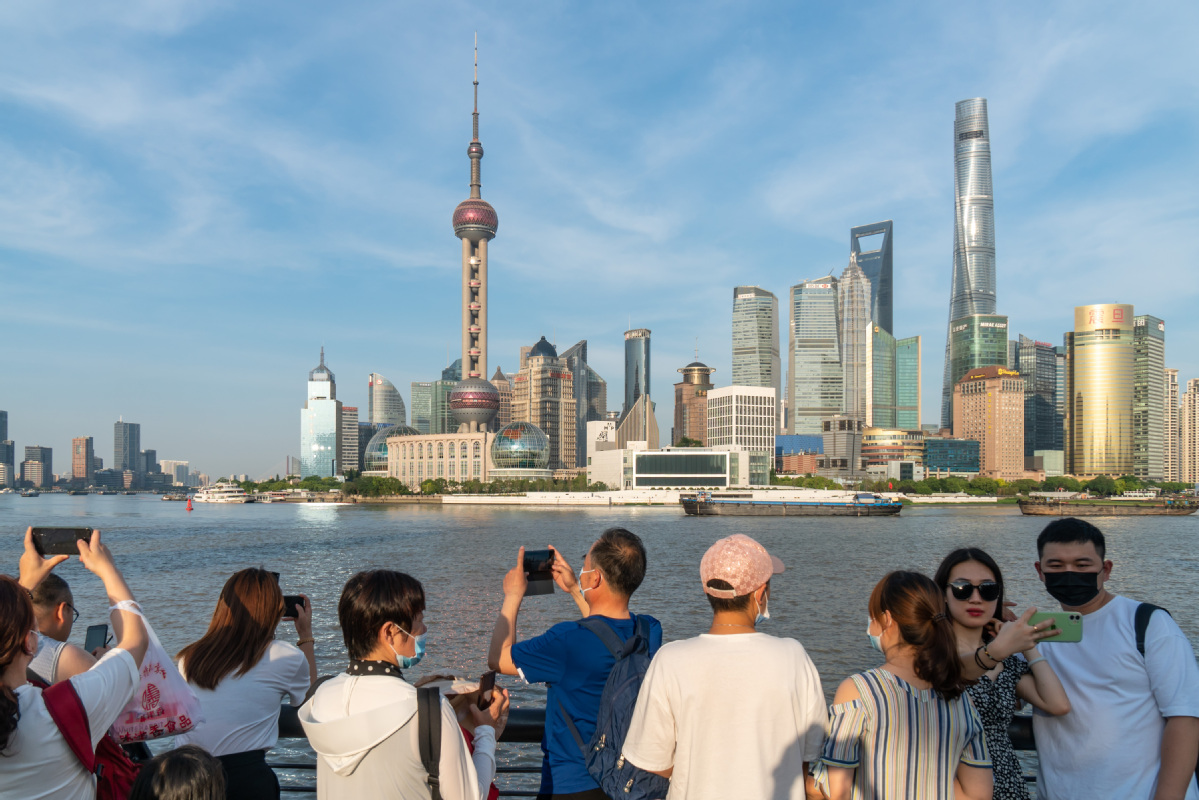 Detailed plans have been carried out in Shanghai's Pudong New Area to make firm steps toward realizing the central government's blueprint for the area.
Officials and experts said Pudong should courageously embrace the rest of the world. Companies and institutions in the area should learn from the best, and compete with the strongest and the fastest.
To that end, the global operation program was launched at the end of last year, in order to better facilitate Pudong-based multinational companies in reaching to rest of the world. The first group of 41 companies enrolled in the plan-including Panasonic Procurement (Shanghai) and Sinopharm Group-have seen the size of their business grow by an average of more than 40 percent year-on-year during the first half. A second group of 52 companies are awaiting their turn.
Meanwhile, 14 multinational companies set up their regional headquarters in Pudong in the first half-a number nearly half of the city's total in that period. Over time, 373 multinational companies have situated their regional headquarters in Pudong.
On July 19, German chemicals giant Covestro represented the 30,000 plus multinationals in Shanghai to attend a meeting organized by the local government at which officials, academics and industry experts brainstormed on how best to implement the central government's guideline.
Pudong's highly efficient local government and extensive services provided to companies have helped Covestro make the move to the area, said Holly Lei, president of Covestro China.
"We consider China a local market for Covestro. And we are willing to contribute to Pudong's higher-level opening-up, high-quality development and innovations," she said.
Innovation is stressed not only by Covestro but also highlighted in Pudong's development for the following years. On July 29, the local government released its Group Open Innovation plan, which encourages industry leaders to set up open innovation platforms in Pudong.
Pudong's Deputy Director Wu Qiang said the GOI plan is the area's latest initiative to build itself into an innovation hub with global influence, and it will help foster a group of leading small and medium-sized tech enterprises and improve the environment for scientific research, technological innovation and entrepreneurship in Pudong.
Looking ahead, he said, Pudong will provide strong support for large enterprises to establish open innovation centers and boost the development of tech SMEs. More efforts will also be made to strengthen the industrial and innovation chain, better serve innovation platforms and SMEs, continuously carry out institutional reforms and make breakthroughs in research and development of technological innovation.
Major pharmaceutical company Roche was among the first 20 companies to join the GOI plan. In May, Roche launched its first in-house accelerator, or innovation center, globally in Shanghai. The accelerator will provide tailor-made support for startups in pharmaceutical, diagnostics, personalized healthcare, and digital and AI-driven healthcare sectors.
"Roche wants to help build up the ecosystem, such as the Roche Accelerator. And the purpose is to collaborate with the government, with venture capital, with local biotic companies to bring our biotech to the next level," said Shen Hong, head of Roche Innovation Center Shanghai.
Citing the recently released guideline to build Pudong into a pioneer for socialist modernization, Shen said Roche will play a significant role in the initiative and will also benefit from the policy.
"We're very excited about the new policies for Pudong, such as enhancing innovation capabilities and generating an innovation ecosystem," Shen said. "We believe that this will only foster collaboration between multinational companies and local companies, traditional domestic companies and startups."
The Communist Party of China Central Committee and the State Council, China's Cabinet, released a guideline on July 15 saying that Pudong New Area should pioneer the country's socialist modernization. It should lead China's higher level of reform and opening-up, serving as a strategic link between domestic and international markets, according to the guideline.
Wang Xinkui, chairman of the Shanghai WTO Affairs Consultation Center, spoke highly of the guideline, saying building Shanghai into an international financial center and a key innovation hub with global influence will inject new impetus into both the municipality and the country's future development.
He said more efforts should be made to deepen institutional reforms and opening-up, boost the development of key fields, such as integrated circuits and artificial intelligence, and increase the active allocation of global financial resources.
While accommodating Lujiazui, Shanghai's financial center, Pudong will step up efforts to attract more industry leaders and enrich the financial product portfolio, said Zhang Hong, head of the Pudong financial bureau. The global institutional investor cluster plan was released in July to attain that goal.
Financial institutions have moved quickly. Nine well-known global asset management companies-including T. Rowe Price, Charles Schwab and Alter Domus-signed agreements with the Pudong local government to set up offices in Lujiazui.