Authorities get clarity on digital money
Share - WeChat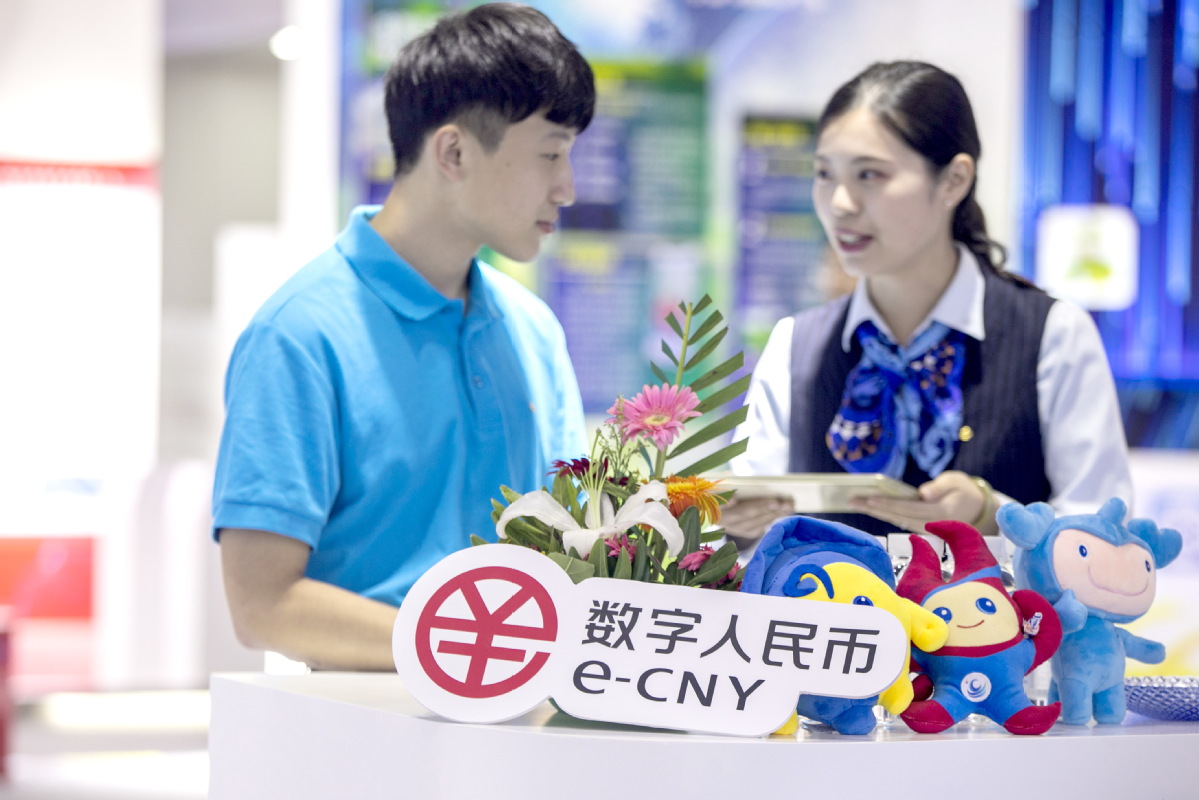 Many agree that use of unregulated crypto-assets in payments is fraught
Chinese central bank officials and international financial organizations are in agreement that use of crypto-assets such as unauthorized cryptocurrencies in national payment systems will threaten economic stability and disrupt the existing monetary policy framework; but, central bank digital currencies with legal tender status, such as China's e-CNY, will benefit the system.
Some leading central banks such as the People's Bank of China are accelerating design and trials of their own digital currencies as monetary authorities across the world agree that cryptocurrencies such as Bitcoin are too volatile as they are not backed by valuable assets.
Sources close to the PBOC told China Daily on Thursday that financial regulators are mulling amendments to the central bank law and promoting regulations on the digital RMB or e-CNY.
One of the key efforts is to enhance protection of personal information and secure the entire operational system of the e-CNY.
To avoid risky and illegal financial activities while protecting users' privacy, the e-CNY can transact anonymously if the amount involved is small. For transactions involving large sums that might trigger suspicions, financial regulators would have the right to track, in order to prevent crimes such as money laundering and financing of terror-related activities.
But more issues need to be researched to assess potential implications like the digital money's impacts on the monetary policy framework and the legal system, sources said.
According to a PBOC white paper on e-CNY research and development, regulation of the digital renminbi should be based on the principle of ensuring its legal tender status.
Risk prevention is the "bottom line", while the regulation should also support innovative developments.
PBOC officials said they have a cautious attitude toward the digital RMB which is still under testing. They also reiterate that cryptocurrencies such as Bitcoin are mostly speculative instruments, which pose potential risks to financial security and social stability.
PBOC Deputy Governor Fan Yifei disclosed at a media conference last month that China will proactively participate in making digital legal tender's standards and rules with global peers, which requires deepened international communication and exchanges.
The Financial Action Task Force, a global watchdog that monitors potential money laundering and terrorist financing activities, has proposed a set of standards for regulating virtual assets and related services, aiming to limit financial integrity risks.
"But enforcement of those standards is not yet consistent across countries, which can be problematic given the potential for cross-border activities," said Tobias Adrian, financial counselor and director of the Monetary and Capital Markets Department at the International Monetary Fund.
Recently, experts from the IMF expressed concerns similar to those of Chinese officials that potential risks and costs of cryptocurrencies could outweigh potential benefits in most cases.
"The most direct cost of widespread adoption of a crypto-asset, such as Bitcoin, is to macroeconomic stability," IMF experts said on an official blog.
A crypto-asset could also pose risks to a country's financial system, fiscal balance, and relationships with foreign countries and correspondent banks, warned the IMF.
In addition, the "mining" of crypto-assets such as Bitcoin requires an enormous amount of electricity to power the computer networks, and a broad adoption of these crypto-assets will result in serious ecological problems, according to Adrian of the IMF.
Chinese financial regulators have urged an end to the mining of Bitcoin in some places such as Sichuan province and the Inner Mongolia autonomous region.