Grief competes with anger year after Beirut blast
Share - WeChat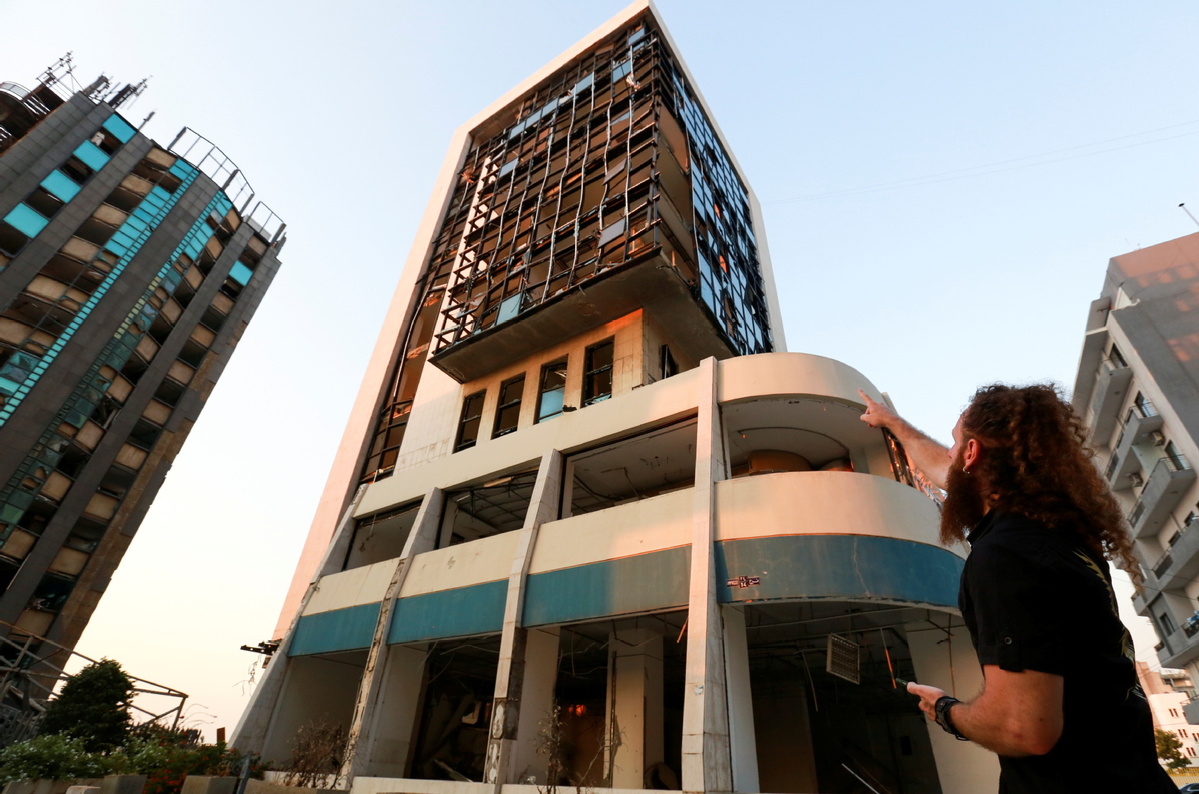 BEIRUT, Lebanon-One year on from a cataclysmic explosion that ravaged Beirut, Lebanese marked the anniversary with a mix of grief over lost lives and anger over the country's worst peacetime disaster that hit when the economy was already in tatters.
Shortly after 6 pm on Aug 4,2020, a stock of ammonium nitrate fertilizer haphazardly stored at the city's port exploded and left swaths of the Lebanese capital looking like a war zone.
What went down as one of the largest nonnuclear blasts in history killed at least 214 people, wounded 6,500 others, leveled entire neighborhoods and irreparably scarred the nation's psyche as well as deepening the country's economic abyss.
This dark blotch in Lebanon's history has since folded into a nightmarish year amid a stalled investigation into the blast and an accelerating financial crisis branded by the World Bank as one of the worst in modern times.
With more than half the country living under the poverty line, former colonial power France was aiming to raise humanitarian aid at another international conference co-hosted by the United Nations on the day of the anniversary. President Emmanuel Macron hopes to gather $350 million.
Families of the dead and survivors were planning vigils, prayers and marches to honor those who perished in a blast where the shockwave was felt as far away as Cyprus.
According to foreign and Lebanese intelligence reports, hundreds of tons of fertilizer were carelessly stored in the same warehouse as tons of fireworks and rolls of detonating cord, among other dangerous materials.
The reports, all dating to last year, suggest that welding work caused the original fire.
A year after the catastrophic blast, Shady Rizk's doctors are still plucking glass from his body. The latest extraction was a centimeter-long sliver above his knee pit.
"Almost every month, I find a new piece,... the glass is still stuck in my thighs, my legs, and I guess, in my arms," said Rizk, a 36-year-old network engineer who was sprayed with shards during the explosion.
"The doctors said there will continue to be glass in my body for several years," he said.
Rizk was standing on a balcony overlooking the port, filming plumes of smoke rising from a warehouse, when the hundreds of tonnes of ammonium nitrate fertilizer stocked inside it exploded in front of him.
The blast left him with more than 350 stitches and permanently impaired his vision. He can barely see at night now. But physical scars are a secondary problem, he said.
"The trauma, it rips you up inside," said Rizk, who is now planning to emigrate to Canada. "It's like internal crying."
Agencies via Xinhua