Chinese vaccine reaccelerated inoculation in Bangladesh
Share - WeChat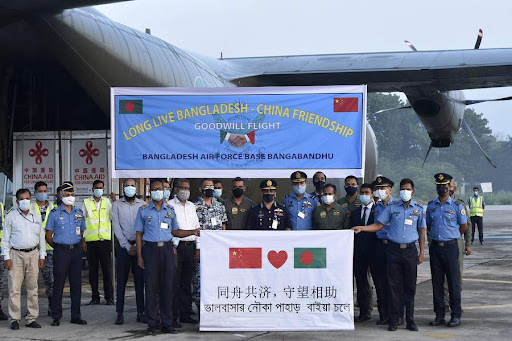 Bangladesh started its mass inoculation process with the Serum Institute's Covishield vaccine in February 2021. Initially, Bangladesh relied upon the Serum Institute as the only source of vaccine. But the situation changed drastically as the Delta variant wreaked havoc in India two months later, in April.
The Indian government halted vaccine export and it resulted in stagnation in mass inoculation in Bangladesh. For the next two months, the vaccination program in Bangladesh was on hold, which added new hurdles for policy makers in the fight against the pandemic. At that time, China entered into the picture and provided quick consignments that lifted up the situation and reaccelerated mass inoculation.
Without the Chinese vaccine, Bangladesh could hardly lift the situation in such a short time. Strong bilateral relations and deep economic ties allowed the two countries to cooperate. Moreover, Chinese efforts in reaching out are also praiseworthy and humane, especially in a year when the Party is celebrating its 100-year anniversary.
Historically, both countries have nurtured good relations for decades, starting back in 1975. Sino-Bangla relations are characterized by economic ties, mostly. During the last decade, relations reached a new height and currently, China is one of Bangladesh's largest trading partners, sharing bilateral trade worth $15 billion.
Again, China also is one of the largest development partners for Bangladesh, with investment and assistance of about $24 billion, with a promise of $40 billion in the coming years. Moreover, China also serves as the top defense seller for Bangladesh. It is also worthy to mention that Bangladesh also imports approximately 31 percent of its total imports from China. Reciprocally, Bangladesh also enjoys duty-free access in 97 percent of products to the Chinese market. Since 2016, both countries have shared a strategic partnership.
Amid the pandemic, China supplied almost all required medical equipment, including PPE, masks, PCR kits and medical appliances. Moreover, amid the global vaccine crisis, especially for Bangladesh after Indian ban on Serum's export, China once again stepped forward and offered a reasonable deal for the vaccine to Bangladesh. The deal resulted in commitment of 15 million doses of Sinopharm vaccine at $10 per unit price. Furthermore, apart from the business deal, China also gave Bangladesh 1.1 million doses in two steps.
These vaccines allowed Bangladesh to restart its halted inoculation program after two months. However, according to Bangladesh's Health Minister's latest announcement, Bangladesh is also planning to buy an additional 30 million doses from China and is also opting for 'co-production' opportunity.
Apart from boosting the inoculation process, the Chinese vaccine has contributed many qualitative aspects to Bangladesh's mass inoculation campaign. Quick consignments lifted the stagnation caused by the Indian vaccine ban and reduced the timespan of stagnation by shorting it to only two months. Moreover, it also helped diversify vaccine sources for Bangladesh and reduced dependency on one source only.
Furthermore, the Chinese vaccine also brought competitiveness both in vaccine diplomacy and market. Unlike many other vaccines, the Sinopharm vaccine is quite handy when it comes to transport and storage. Bangladesh has planned to inoculate 80 percent of its total population to end the pandemic. For Bangladesh, it is already a gigantic effort to reach the goal as soon as possible due to a large population. Moreover, India's export ban on vaccines added extra hurdles to this plan.
At that time, China came forward and lifted the situation by sharing its massive capacity with not only Bangladesh but also with other states. The existing bilateral economic realities, the strategic partnership and good diplomatic relations among China and Bangladesh worked as crucial factors behind China stepping forward. Unlike western discourses, in Chinese wisdom of international relations, relations are highly respected and emphasized.
On the other hand, relations are based on mutual interests and mutual respect for certain values. Hopefully, in the Post post-Ppandemic stage, Bangladesh will find China once again sharing its massive capacity and expertise with her because, "The boat of love sails even over the mountains."
The author is a writer and columnist.
The opinions expressed here are those of the writer and do not necessarily represent the views of China Daily and China Daily website.
If you have a specific expertise, or would like to share your thought about our stories, then send us your writings at opinion@chinadaily.com.cn, and comment@chinadaily.com.cn.
Most Viewed in 24 Hours
China Views