Britain scraps amber list plan to avoid perceived travel chaos
Share - WeChat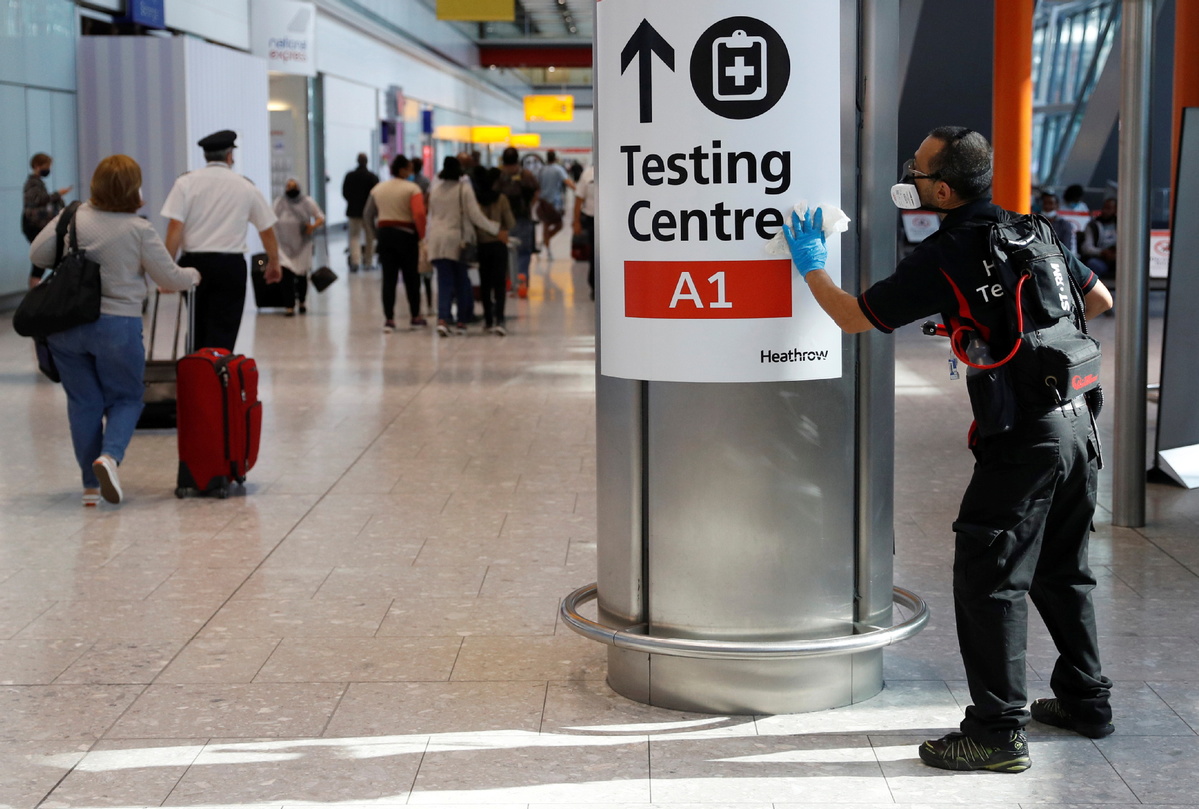 European tourism industry said to be 'losing faith' in UK government's rules
The British government has abandoned plans for a so-called amber watchlist of countries in danger of moving to the novel coronavirus travel red threat level list, because of warnings it would cause chaos.
Currently, countries are ranked as green, amber or red, according to the perceived likelihood of people travelling to them being infected.
It had been suggested there could be an amber watchlist, for countries in danger of going onto red, the highest level, but with the holiday season in full swing and people traveling overseas-admittedly fewer than in a normal summer-critics said any such move would damage the travel industry, throw people's plans into turmoil, and also mean travelers already in those destinations could find themselves facing unexpected quarantine on their return.
The latest review of countries' status is due on Thursday, and it is understood that proposed rule change will not be happening.
"We also have to recognize that people want, badly, to go on their summer holidays, we need to get the travel industry moving again, we need to get our city centers open again and so we want an approach that is as simple as we can possibly make it," said Prime Minister Boris Johnson.
Tim Alderslade, chief executive of the air travel industry body Airlines UK, told the BBC the decision was "a victory for common sense".
"The PM has hit the nail on the head," he said. "People want a clear and consistent travel system that they can understand and that is workable."
Education Minister Gillian Keegan told Sky News that the public wanted to know what was required of them.
"What we want to do is keep it simple enough for people to really understand and obviously be able to take their own decisions based on the system-so we have the red list countries, the amber list countries and the green list countries," she told Sky News.
But her comments came shortly after digital infrastructures minister Matt Warman defended the proposal for an amber watchlist.
"The point of the watchlist … is to try and give people a sense of the direction of travel that a country is going in, it's to try and provide people with as much information as possible when they make those decisions about where they might want to go on holiday," he was quoted as saying by The Guardian.
The opposition Labour Party's shadow transport secretary Jim McMahon said the mixed messages showed the government was in "total chaos over its border policy".
"Not only have ministers failed to protect our borders, allowing the Delta variant to reach the United Kingdom in such force, but time and time again they've refused to be straight with the public and industry to provide them with the information they need to build confidence, with clear information on the direction of travel of infections in each country," he said.
Meanwhile, tourism operators have warned that the European travel industry is increasingly wary of trusting Britain's travel guidance and this could be causing long-term damage.
"Some hoteliers are losing patience and not wanting to be as flexible or take bookings," Fiona Charrington, CEO of cultural tour group company Martin Randall Travel, told The Guardian.
"If there's a German company wanting to book or a British one, of course they will go with the one who is less likely to make last-minute changes. Some operators will find it more harmful than others."
"There is no confidence; why should people trust us when we have the sword of Damocles constantly hanging over us and things could change and result in cancellations at any moment?" added Noel Josephides, director of specialist travel trade association Aito.