Myanmar pledges to hold vote in 2 years
Share - WeChat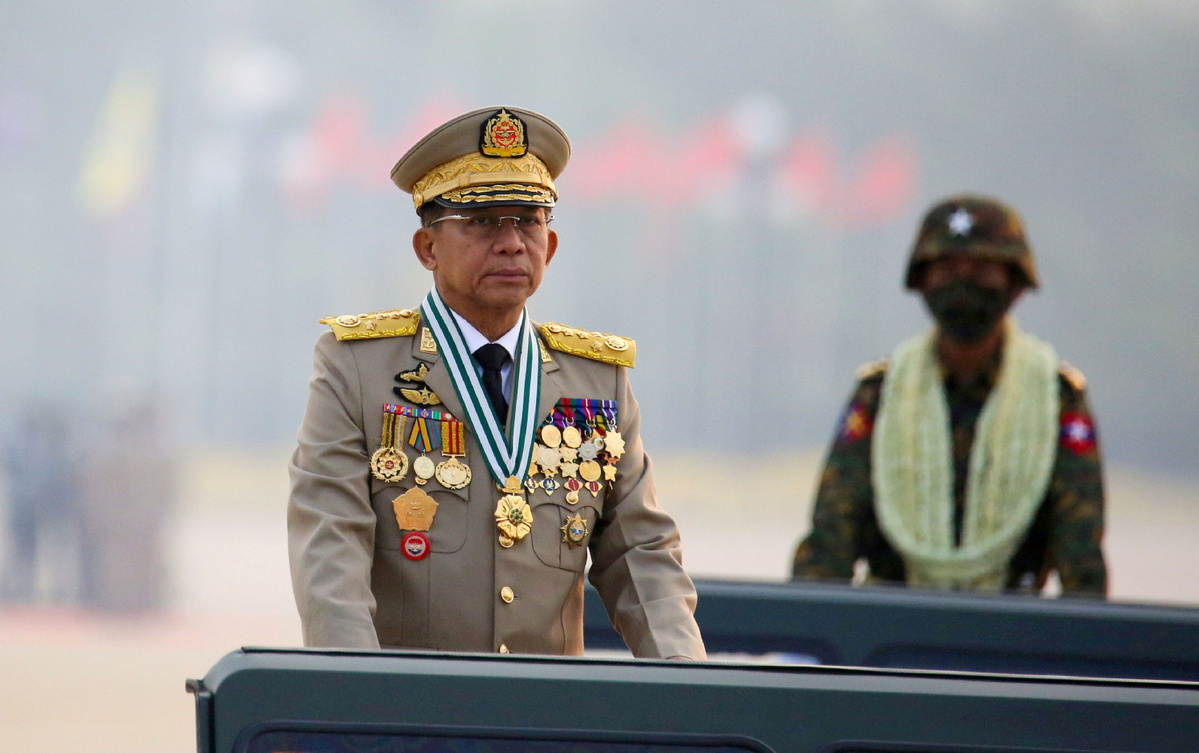 Vow comes as caretaker govt formed and ASEAN discusses crisis envoy, aid
Myanmar's newly formed caretaker government is ready to work with the special envoy of the Association of Southeast Asian Nations to pave way for general elections before the second half of 2023, according to Myanmar's State Administration Council.
"Myanmar is ready to work on ASEAN cooperation within the ASEAN framework, including the dialogue with the ASEAN special envoy in Myanmar," council chair Min Aung Hlaing announced in a televised address on Sunday.
ASEAN, a 10-member regional bloc that includes Myanmar, is holding a series of ministerial meetings this week and is expected to play a key role in helping to bring stability and normal governance back to Myanmar. The appointment of a special envoy is part of a five-point consensus reached in April at the ASEAN leaders' meeting in Jakarta.
Min Aung Hlaing, head of Myanmar's military and titled Commander-in-Chief of Defence Services Senior General, also announced that a Republic of the Union of Myanmar Caretaker Government had been formed, with himself as prime minister and Vice-Senior General Soe Win as deputy prime minister.
"We must create conditions to hold a free and fair multiparty general election," he said.
Joel Ng, a research fellow in the Centre for Multilateralism Studies at the S. Rajaratnam School of International Studies of Nanyang Technological University in Singapore, said it's good that the Myanmar military chief has committed himself to working with the special envoy.
Ng said the envoy should be accompanied by a team rather than performing as a single actor and there needs to be some compromise in order for this format to work.
"On the political side, the main task is to reduce the polarization in the country," said Ng.
Legitimacy claim
Forming the caretaker government "is to make a stronger claim for legitimacy and also perhaps to see how the ASEAN member states respond to that", he said.
Myanmar has been under a state of emergency since Feb 1, which Min Aung Hlaing said will be lifted by August 2023. The nation has since been largely divided, with heavy casualties during violent protests.
On July 26, the Union Election Commission canceled the results of general elections held in November 2020 that saw a victory by civilian leader Aung San Suu Kyi's National League for Democracy. Parties backed by the military said there was voting fraud in the elections.
Lina Alexandra, a senior researcher with the Centre of Strategic and International Studies, a think tank in Jakarta, said there is a need to clarify how the special envoy will work.
Alexandra said the special envoy needs to work as soon as possible to enter Myanmar, speak to the different parties, do an independent assessment of the situation, and report to the foreign ministers on what needs to be done in order to help mitigate the Myanmar crisis.
Simon Tay, chairman of think tank the Singapore Institute of International Affairs, said: "Being a pathfinder, the ASEAN has a responsibility to all the stakeholders and must, in a way, move forward but move quite carefully."
Tay said the regional bloc can act as an intermediary between Myanmar and the international community to help ease the pandemic situation and calm things down before a political solution can emerge.
In addition, Tay said one of the key issues that ASEAN needs to push will be the humanitarian need, especially during the pandemic.
Noting China's vaccine donations to Myanmar as a "very good first step", Tay said Myanmar will need much more help and ASEAN must prioritize the pandemic situation with the help of China and other international partners.
As of Tuesday, China had donated 2.5 million COVID-19 vaccine doses to Myanmar and delivered 1 million jabs procured by Myanmar, the Chinese embassy in Myanmar said.