House mask rule has some baring teeth
Share - WeChat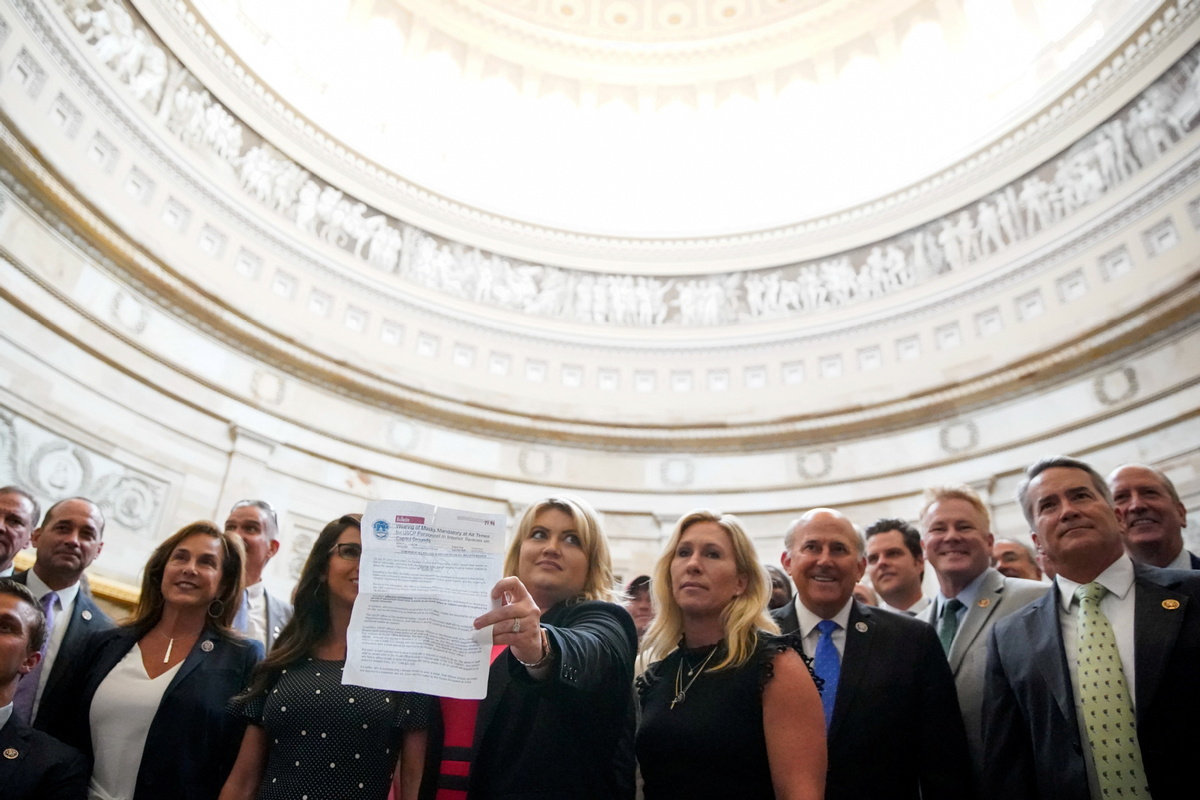 The bitter partisan divide over COVID-19 measures intensified Thursday as US Capitol Police backed away from plans to arrest any unmasked House of Representatives staff member or visitor after Republicans in the chamber strenuously objected.
"Regarding the House mask rule, there is no reason it should ever come to someone being arrested. Anyone who does not follow the rule will be asked to wear a mask or leave the premises. The Department's requirement for officers to wear masks is for their health and safety," the US Capitol Police said in a statement on Twitter.
The House shares the Capitol building in Washington DC with the Senate, which does not have a mask requirement.
House Republicans, many of whom have refused to wear masks on the premises, blamed House Speaker Nancy Pelosi, Democrat of California, with one calling the directive "tyrannical".
The Capitol Police chief does not report to the speaker, but to a three-member board, which is made up of the House sergeant-at-arms, the Senate sergeant-at-arms and the Capitol architect.
The House mandate, which requires everyone, including those fully vaccinated, to wear a mask was ordered Tuesday evening by the Office of the Attending Physician, and Pelosi said she would follow it, as is her prerogative as speaker.
Congresswoman Kat Cammack, a Florida Republican, on Thursday posted a copy of the Capitol Police memo ordering the arrests on her Twitter feed.
"In today's edition of Pelosi's abuse of power, Capitol Police have been directed to arrest staff and visitors to comply with her mask mandate for vaccinated individuals.
"For Members, they advise not arresting but reporting Members to SAA (sergeant-at-arms) for their failure to comply. … I will not comply, Nancy. This is not your House. This is the People's House."
Cammack told Fox News that she got a copy of the mask memo from an unnamed Capitol Police officer. She said that police officers with whom she has spoken are "very uncomfortable" with the directive, which she called "tyrannical".
"If a visitor or staff member fails to wear a mask after a request is made to do so, the visitor or staff shall be denied entry to the House Office Buildings or House-side of the U.S. Capitol," the Capitol Police memo says, a screen shot of which Cammack posted on Twitter. "Any person who fails to either comply or leave the premises after being asked to do so would be subject to an arrest for Unlawful Entry.
"Although this applies to the Members of Congress, officers should not arrest any Member for failure to wear a mask or to comply with the mask mandate," the memo said. "Any Member who fails to comply with a request to wear a mask should be reported to the House Sergeant at Arms' office."
"We were unaware of the memo until it was reported in the press," a spokesperson for Pelosi said.
"The same bureaucratic 'public health experts' who completely upended our society by pushing lockdowns and yearlong school closures now want to force Americans to return to pre-vaccine control measures. By forcing vaccinated Americans to return to masks, the Biden administration is not only casting doubt on a safe and effective vaccine, but contradicting why vaccines exist," House Republican Leader Kevin McCarthy of California said on his website Wednesday.
On Thursday he tweeted: "Their new guidance for vaccinated individuals to wear a mask is based exclusively on a study FROM INDIA — which has NOT passed peer review — using vaccines that are NOT APPROVED in the US."
On Wednesday, Pelosi referred to McCarthy as "such a moron" for opposing the revised mask guidance.
"To say that wearing a mask is not based on science, I think it's not wise, and that was my comment, and that's all I'm going to say about that," she said.
Relations between Pelosi and McCarthy have been icy since she rejected two of his picks for the House committee investigating the Jan 6 riot at the Capitol, by supporters of former president Donald Trump.
After Pelosi vetoed Republicans Jim Banks and Jim Jordan — Trump allies who voted against certifying the Nov 3 election results for President Joe Biden — from serving on the panel, McCarthy withdrew his three other selections for the House select committee.
Pelosi cited the "integrity" of the investigation as the reason for not including Banks and Jordan. Instead, she added Adam Kinzinger, an Illinois Republican, who joined Pelosi's previous Republican pick, Liz Cheney of Wyoming, both of whom have been highly critical of Trump and the storming of the Capitol.
Representative Tim Ryan, an Ohio Democrat, tweeted on Thursday: "Today Minority Leader McCarthy gave a low rent and juvenile speech dragging us for wearing masks to keep our loved ones safe. You can always count on him to take the low road. My message for him: Just Stop."
Representative Nancy Mace, a South Carolina Republican, tweeted: "Madam Speaker, your insane power grab is showing."
In a video, Mace says: "I had COVID, I've had two vaccinations, I'm washing my hands, I'm even wearing my mask inside the chamber, but I'm not going to wear it anywhere else. So Madam Speaker, come and get me."
Congresswoman Zoe Lofgren, a California Democrat, said on CNN: "Let's stop thinking that the rules don't apply to us because we're so special because we're in the House of Representatives. Come on, get a grip. Do what's responsible. Let's get to legislating the people's business instead of whining."
The US had 66,924 new coronavirus cases on Wednesday, an increase of 146 percent in 14 days, according to data compiled by The New York Times.
The CDC said Thursday that 69.3 percent of US counties had coronavirus transmission rates high enough to recommend indoor masking in public spaces and that they should immediately do so. The agency also said that Americans should wear masks in areas where there are more than 50 new infections per 100,000 residents over the previous week.