COVID goes on; shift in sectors comes along
Share - WeChat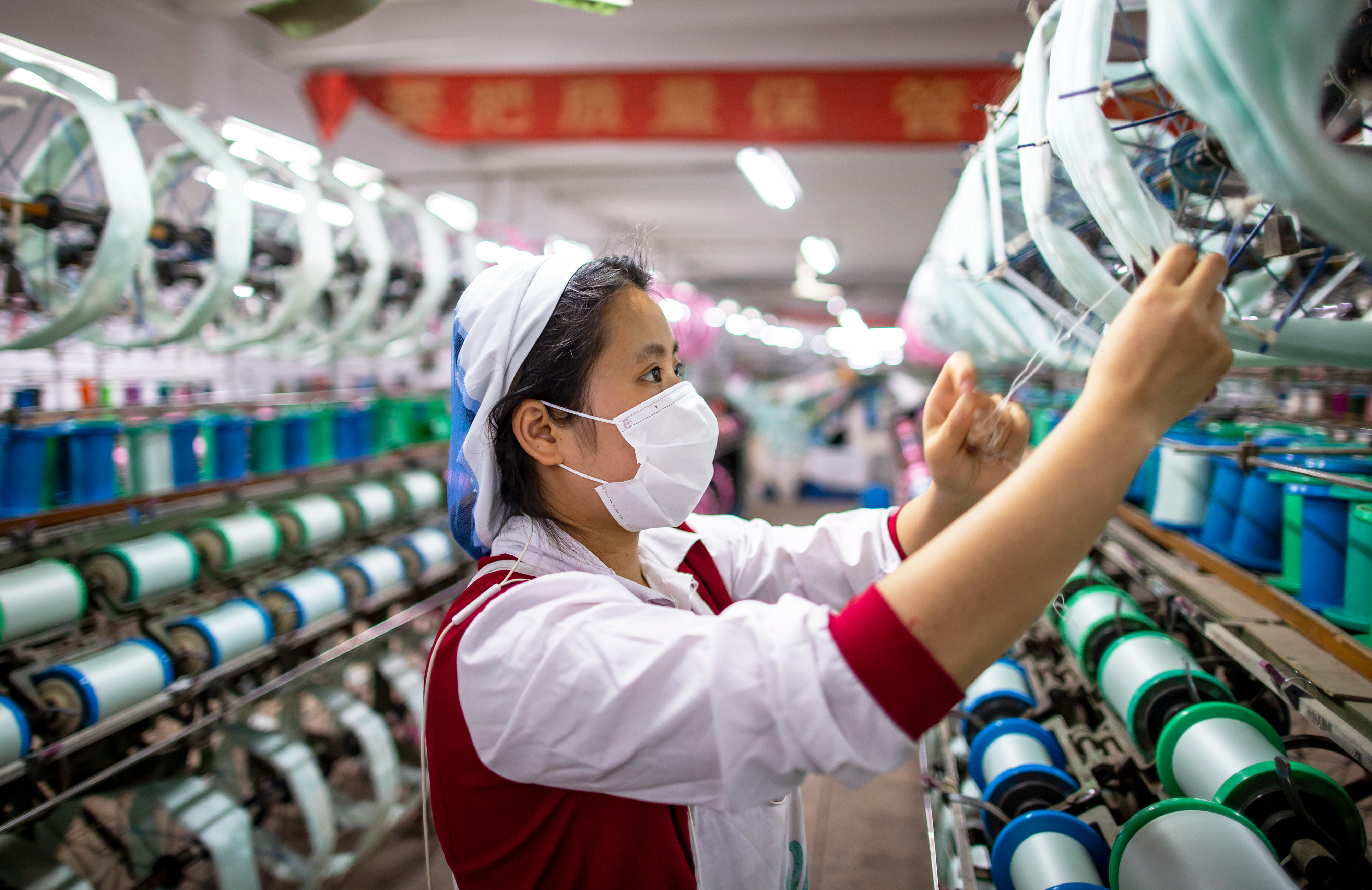 Textile industry ramping up efforts to deal with higher costs, global demand
At a warehouse in Changshu, Jiangsu province, workers from Jiangsu Jinlong Technology Co Ltd, a privately owned knitting and weaving machinery manufacturer, loaded 16 flat knitting machines onto a 40-foot ocean shipping container. The goods were destined for the Philippines.
Even though eight sets of such machines on average were shipped together before this year, the company started to use double-layered steel frame structure packaging to ensure safe deliveries, and now a 40-foot container can be loaded with up to 28 machines. This saves on shipping costs and helps machinery exporters cope with difficulties caused by limited availability of larger containers.
India, Vietnam and Bangladesh are some of the world's top exporters of garments and textile products and big importers of textile machinery. But they have been facing renewed disruptions after being hit by repeated COVID-19 outbreaks, so production by manufacturers in these countries has been severely disrupted and even forced to shut down temporarily. The situation has had a huge impact on global supply chains and many clothing and textile orders have been shifted to Chinese plants.
As a major part of China's private economy, domestic garment and textile companies-as well as related machinery makers-have long been a thriving part of the nation's export trade sector. But they are being pushed to cope with challenges like surging material and commodity prices, insufficient ocean shipping capacity and higher labor costs.
Li Qiyuan, director of the export department at Jiangsu Jinlong, said the company received stable orders in the first half. Affected by the pandemic, exports of flat knitting machines to some countries such as India have declined, and their foreign trade orders have been cut.
The company's key export markets are Bangladesh, India and Southeast Asia. Affected by the pandemic, some customers are short on cash, and it is hard for them to run their businesses as before, Li said.
"Our clients previously paid more attention to factors such as machine quality, configurations and stability. They are now more willing to purchase cost-effective goods that can be delivered as soon as possible, as this can boost their profits within a short period of time," Li added.
Although China's exports of contagion prevention supplies including masks, gloves and protective clothing have dropped in the first five months, the country's exports of garments, including clothing accessories, soared 48.2 percent on a yearly basis to $58.49 billion during the five-month period, an increase of 14.2 percent from the same period of 2019, said the Beijing-based China National Garment Association.
China's exports of this category to the United States jumped 85.3 percent year-on-year between January and May, while exports to the Association of Southeast Asian Nations and the European Union grew by 58.5 and 38.9 percent, respectively.
Despite many Chinese companies raising output, they are also facing pressure of growing labor and shipping costs, as well as price rises of imported fabrics and materials to produce goods for clothing, stay-at-home products and other key goods.
Similar to Jiangsu Jinlong's step to use shipping container space as wisely as possible, Zhejiang Baofang Printing and Dyeing Co Ltd, a Shaoxing-based company, has begun to book three 20-foot shipping containers to load goods instead of the previous two 40-foot containers. Despite shipping the same cargo volume, this reorganization of shipping logistics saves the firm some 25 percent in ocean freight costs.
The Zhejiang company has an annual production capacity of 450 million square meters. It has changed the way trade transactions are settled with free on board (FOB) terms.
These measures not only avoid sea freight under CNF (cost and freight) or CIF (cost, insurance and freight) terms as part of the company's costs, but also avoid the erosion of rising corporate profits and give sellers more power to control shipments, said Shi Zhongfu, head of the company's international business unit.
CIF, CNF and FOB are international shipping agreements applied in the transport of goods between a buyer and a seller. CIF means sellers pay for costs, insurance and freight, while CNF means the consignee is responsible for insurance only. FOB contracts relieve the seller of responsibility once the goods are shipped, said China COSCO Shipping Corp Ltd.
"First-half orders increased significantly compared to the same period last year," said Shi, adding that in order to alleviate urgent demand, several of the company's Indian clients temporarily transferred their orders originally scheduled to be produced in India to China, and handed them over to his company for production. The order volume from India has also grown by 30 percent over the course of the first half.
The private company-supported by more than 1,200 employees-shipped more than 1,100 containers to its principal markets in Africa with a total export value of $60 million between January and June, up 70 percent year-on-year.
During a tour to Qinghai province in June, President Xi Jinping called for fostering a policy environment that encourages, supports and guides the development of private enterprises, and helps industries and enterprises boost employment.
Thanks to growing demand in the international market, coupled with the return of orders caused by outbreaks in other supplier countries, China's garment exports have also shown a notable recovery trend in the first half, said Zhao Ying, a researcher at the Beijing-based Institute of Industrial Economics, which is affiliated with the Chinese Academy of Social Sciences.
"Many Chinese manufacturers have continued to invest to improve technical content and added value of exports in a bid to move up the value chain," Zhao said.
He added that a growing number of Chinese companies have also begun to cultivate their "soft power "for exports, focusing on improving comprehensive capabilities of supply chain management, brand-building, quality-control and aftersales services to further compete with both domestic and global rivals.
Jiangsu S&S Intelligent Science and Technology Co Ltd, a Shuyang, Jiangsu province-based private company engaged in high-end weaving equipment and key components, saw growing export orders since March, with the company signing more than $20 million in export deals from January to June.
Song Yijia, chairwoman of Jiangsu S&S, said the company's overseas orders will continue to expand in the coming years after the implementation of contagion prevention measures and the popularization of vaccines in various countries.
Its weaving machines are mainly exported to India, Indonesia, Uzbekistan, Turkey and many other countries and regions involved in the Belt and Road Initiative. They are mainly used in the production of home textile fabrics, apparel fabrics and industrial textiles.
Despite there being no new technical demand for its products from overseas clients yet, Song predicted that Jiangsu S&S' foreign customers will prefer to purchase products with high efficiency, high precision and multilayered functionality to manufacture high-end fabrics in the coming years.
Apart from building an internet of things technology-based information platform for its weaving equipment and investing in next-generation manufacturing techniques, the company is actively learning to apply futures market strategies to hedge against sudden fluctuations in prices of raw materials, Song said.
"It is also vital for players in the garment and textile industry to form closer partnerships from upstream and downstream supply chains across China to ensure they stay competitive in both global and domestic markets," she added.
However, China's garment and textile sector still faces pressure for its exports in the second half, said Chen Ping, an economics professor at Wuhan Textile University.