French health pass approved in face of protests
Share - WeChat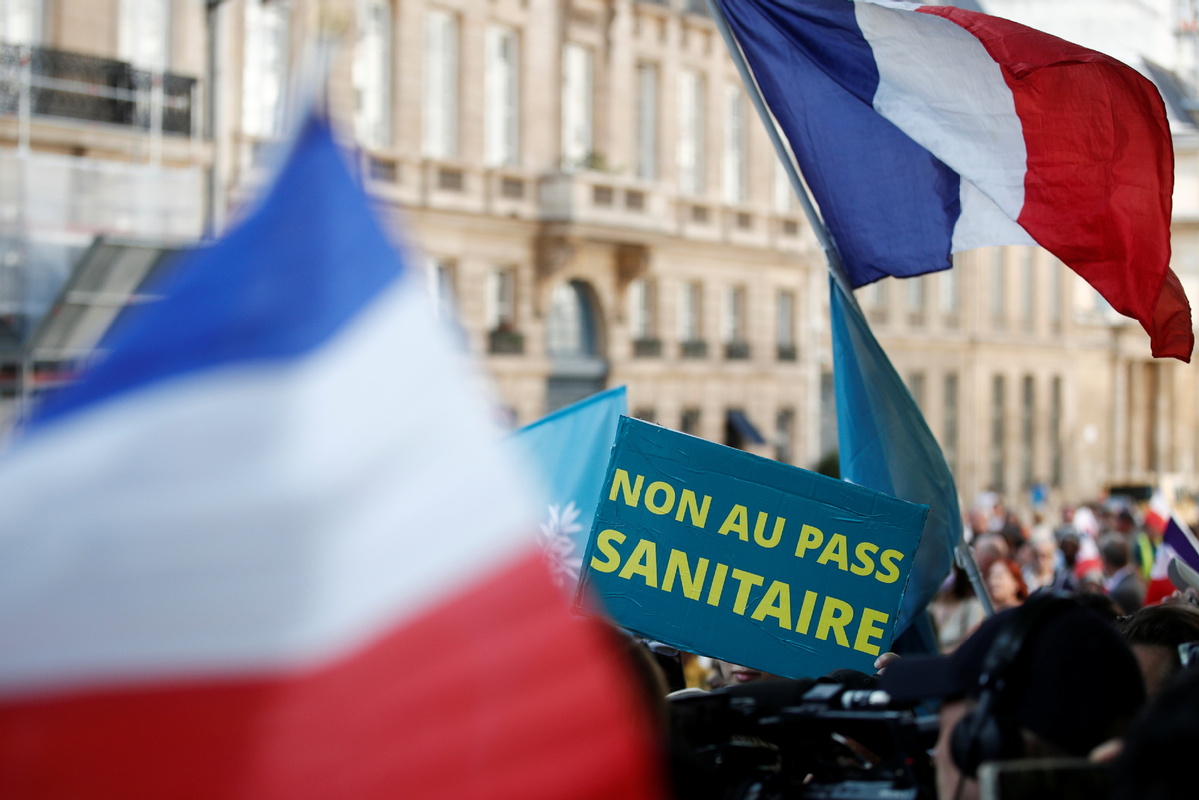 France's parliament approved a controversial law early on Monday requiring COVID-19 passes for people to enter restaurants and mandatory vaccinations for health workers despite two consecutive weeks of mass protests across the country.
The law requires a COVID-19 health pass to enter all restaurants, planes, trains and some other public spots. It also requires all healthcare workers to get vaccinated by Sept 15 or risk suspension.
In order to receive the pass, people must have proof that they are fully vaccinated, have tested negative recently or recovered from COVID-19 recently.
French lawmakers agreed to a compromise over the weekend with approval of the bill by the Senate on Sunday night and the National Assembly after midnight. The current rules can be applied through Nov 15 depending on the COVID-19 situation in the country.
The Delta variant is now the main strain circulating in France. Prime Minister Jean Castex said last Wednesday that 96 percent of the 18,000 new cases reported the day before were among the unvaccinated.
The bill, which was unveiled six days ago, sparked protests in a number of French cities, with 161,000 people demonstrating across the country on Saturday, up from the 114,000 a week earlier, according to the country's interior ministry.
On Saturday, anti-riot police fired tear gas as clashes erupted during protests against the new restrictions in central Paris. Protesters denounced what they call a "sanitary dictatorship" and said the COVID-19 passes violate individual freedom.
Call for unity
President Emmanuel Macron on Sunday called for unity in the country against a resurgent coronavirus. He again asked citizens to get vaccinated.
Macron, who was visiting a hospital in Tahiti in French Polynesia, questioned the motives of the protesters demanding freedom.
He said the protesters were "free to express themselves in a calm and respectful manner", but this would not help end the pandemic.
"I want to make a call for unity," Macron said. He accused the far-right and other organizations of using "sometimes cynical manipulative mobilization" against vaccination. The yellow vest movement, which staged long anti-government protests starting in late 2018, also participated in the demonstrations.
Despite the protests, more than three-quarters of the French public support the new measures, according to a recent Elabe poll for BFMTV. But an Ifop poll for Le Journal du Dimanche shows that 35 percent of the public feel "support" or "sympathy" for the protests.
Some other European countries are making similar moves requiring vaccine passes for public venues in a bid to halt the resurgent pandemic as societies reopen for the summer season.
Italy adopted a "green pass" proof-of-vaccination system last Thursday for access to certain leisure activities and restaurant dining.
In Germany, Chancellor Angela Merkel's chief of staff Helge Braun, a medical doctor by training, warned that restrictions for unvaccinated people may be necessary if COVID-19 case numbers reach new heights in the coming months.
Agencies contributed to this story.