Patriots find peace at the foot of Gele Mountain
Share - WeChat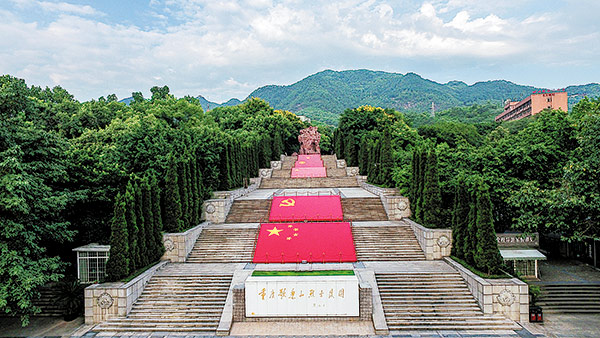 The Gele Mountain Martyrs' Cemetery is located in Chongqing's southwestern Shapingba district, which is famous for its superb cultural and educational environment and has remained the city's educational, scientific and cultural center since the War of Resistance Against Japanese Aggression (1931-45), during which Chongqing became China's temporary capital.
During the war, Shapingba, with its unique location and beautiful green mountains, attracted cultural elites from across China, as well as temporarily housing many of the nation's educational institutions.
The Martyrs' Cemetery is home to historical sites such as Zhazidong (Cinder Cave) and Baigongguan (Bai Mansion, former villa of warlord Bai Ju built in the 1930s), and a monument memorializing of the revolutionaries.
Kuomintang forces used Zhazidong and Baigongguan as prisons where more than 300 Communist inmates were tortured and killed.
Zhazidong is located at the foot of Gele Mountain. The cave used to be a coalmine, founded in 1920 by a businessman named Chen Erchang. In 1938, it became a clandestine prison for Kuomintang forces to detain and persecute revolutionaries. During the war, lots of heroic, solemn and stirring stories originated from the prison. These moving stories encouraged the patriotic sentiment among the Chinese. In 1943 Kuomintang forces founded an intelligence agency: the Sino-American Special Technical Cooperative Organization.
Baigongguan, another clandestine prison, then became the headquarters of the newly formed agency and imprisoned revolutionaries were transferred from Baigongguan to Zhazidong prison. Among those revolutionaries were the likes of Jiang Zhujun, also known as Sister Jiang. She was also sentenced to imprisonment in Zhazidong prison.
On Nov 27, SACO agents set fire to the male ward at Zhazidong, killing all but 15 who managed to break through a section of wall. Only 19 survived from the shooting massacre in Baigongguan.
Gele Mountain is now a cultural heritage site under national protection, visited by more than 2 million domestic and foreign tourists every year.
Opening hours: 9 am-5 pm.
Entrance: free