Given its own poor rights record, Washington must not point fingers
Share - WeChat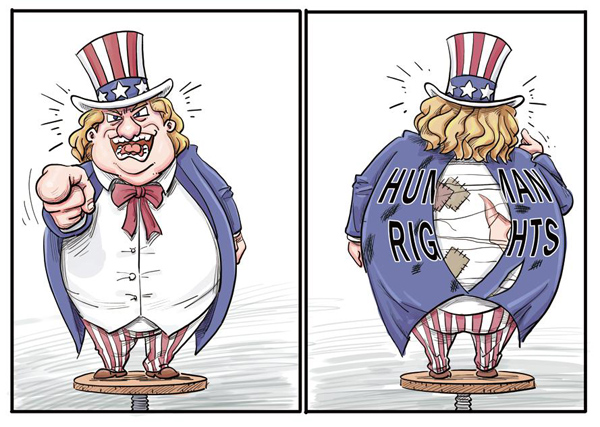 The United States recently launched a massive air strike on the Syria-Iraq border, the second military operation in the Middle East since the Joe Biden administration assumed office, once again exacerbating tensions in the region.
It has become routine for the US to trigger conflicts, even directly launch attacks on countries in the Middle East. It has intervened militarily in Lebanon and other Middle East countries under the pretext of "humanitarian intervention", and in Libya and Syria on the grounds of restoring "peace" and spreading "democracy". Libya and Syria are now facing prolonged instability and a serious food crisis.
The US invaded Iraq saying the former Iraqi leader possessed weapons of mass destruction and Afghanistan on the pretext of fighting terrorism. That the US found no weapons of mass destruction in Iraq even after overthrowing the Saddam Hussein regime is not surprising because Iraq didn't have any to begin with. The result of the US invasion is there for all to see: more than 250,000 civilian casualties and about 2.5 million refugees.
In Afghanistan, even after waging a war against terrorism for 20 years, the US failed to rid the country of terrorism. Instead, Afghanistan has suffered hundreds of thousands of civilian casualties, and millions of its citizens have been displaced.
All these military actions, described by Western public opinion-makers as a shining example of "moral brilliance", have plunged the Middle East into a serious humanitarian crisis while trampling on people's human rights.
It is evident that it is the US that stirs up wars in the Middle East under the guise of "human rights"; and "democracy" is to blame for human rights abuses in the region. However, at the 47th session of the UN Human Rights Council, that concluded last week, the US slandered other countries' human rights record while not talking about its own crimes in the Middle East.
After the end of the Cold War, the US has provoked disputes and subverted legitimate regimes to fulfill its own interests, and maintain its hegemony.
However, the forces of peace are growing, especially after the novel coronavirus outbreak. The international community is now more than eager to deal with global challenges in a peaceful manner and through multilateral cooperation. The US' "human rights" and "democracy" ruse is fast losing its market. The US should first examine its own human rights record before pointing the finger at others and curb its impulse to launch wars to avoid causing more human rights disasters.
Most Viewed in 24 Hours
China Views