From real virus to virtual turnaround, quickly
Share - WeChat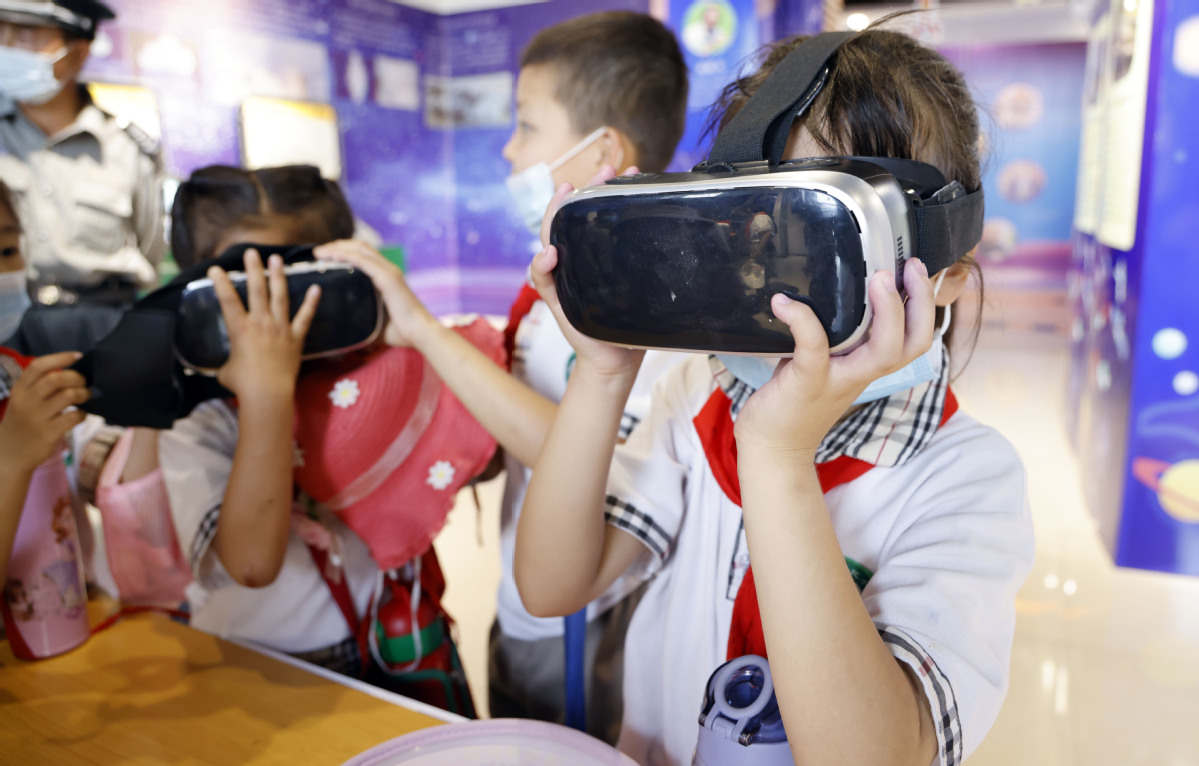 The COVID-19 outbreak catalyzes digital transition, revives flagging technologies
The fifth-generation wireless technology is becoming a big enabler of virtual reality and augmented reality industries, as 5G opens new possibilities by providing high bandwidth, low lag times and massively collaborative on-demand contextualized experiences, company executives and industry observers said.
Their comments reflect the fact that VR and AR applications have become an improbable key engine for digital transformation amid the COVID-19 pandemic.
And now, companies are scrambling to promote the use of AR and VR in sectors like education, social networking and gaming.
International Data Corp, a market research company, forecast that worldwide spending on AR and VR will accelerate in the aftermath of the COVID-19 pandemic, growing from just over $12 billion in 2020 to $72.8 billion in 2024-a staggering 507 percent lunge over a four-year period.
Specifically, the spending on AR and VR in the Asia-Pacific region will reach $28.8 billion by 2024, and the China market represents the largest AR/VR spending in the Asia-Pacific region-with more than 90 percent share in 2020, IDC said.
Deepan Pathy, research manager of Future of Work, AR/VR and Mobility research at IDC's Asia-Pacific region, said: "With customer and employee engagement gaining prominence, spending intent on AR/VR is rapidly accelerating. Organizations need to develop a vision and devise a resilient strategy for deploying AR/VR as enabling tools to achieve strategic priorities."
IDC said 2020 is now seen as a major turning point where enterprises and organizations across all verticals decided to embrace the unarticulated need for augmented, mixed and virtual reality.
During the pandemic, AR/VR showed great potential and played a critical role in digital transformation efforts of many organizations across industries.
When doctors used mixed reality technology to solve several medical problems during the ongoing pandemic, their super specialized field at the intersection of healthcare and AR/VR technology became an instant focus area of investments. In addition, remote working, virtual events, and more augmented customer engagement use cases will generate demand for implementing AR/VR technology in the future, IDC said.
As organizations return to workplace strategies, ensuring a safe workplace for employees is a top-of-the-agenda item for business leaders-and creating a contactless or touch-free workplace environment will be crucial.
AR/VR will be a key enabler in creating a workplace that can minimize person-to-person interaction. And initiatives like virtual conferences, remote support, remote device management, and AR-aided retail shopping will hold the key to the future, IDC said.
IDC forecast that spending in VR solutions will be greater than that of AR solutions initially. But, strong growth in AR hardware, software and services spending will push overall AR spending well ahead of VR spending by the end of 2024.
Yuan Min, deputy general manager of Migu Video, a subsidiary of Chinese digital content provider Migu, said VR is a major 5G-powered application and is closely linked to the development of 5G. As China accelerates efforts to roll out 5G, VR is also expected to see faster expansion.
"We will pour in more resources to assist the production of high-quality VR content because the commercialization of 5G will fuel the industry's growth," Yuan said.
She also said 5G can solve many of the technological bottlenecks that have limited the popularity of VR and AR, such as enabling new convenient forms of meetings to reduce misunderstandings and better convey messages.
Migu said its Cloud VR platform has already played an active part in offering rich content to consumers amid the COVID-19 pandemic. For instance, it has enabled consumers to see 360-degree online livestreams of Qomolangma, known in the West as Mount Everest, and support VR concerts.
Yuan said the platform is currently dedicated to helping consumers access VR content on smartphones, TVs and VR goggles, so more people will learn about the format and enjoy its beauty.