'Anxiety for appearance' behind the popularity of high-risk plastic surgeries
Share - WeChat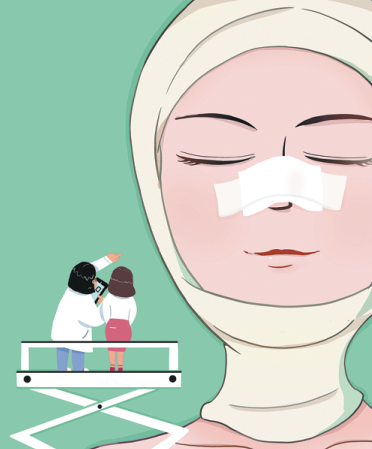 China has seen an increase in the number of dangerous plastic surgeries. Some are choosing to undergo calf reduction surgery, which involves cutting nerves that control the calf muscles. When the nerves are cut the lower leg muscles begin to atrophy due to lack of signals and start to reduce in size. Another procedure gaining traction is getting "elf ears" by injecting a massive amount of hyaluronic acid into the outer ears so that they prop out.
On July 13, a female influencer died after undergoing liposuction, a surgery that removes fat from the body. Her death sparked a widespread outcry online over the unqualified plastic surgery clinic, and brought the hot topic "anxiety for appearance" back to the public.
Anxiety for appearance is occupying many people's minds in modern China. Nearly all women say they are not skinny enough. Losing weight and dieting are definitely a big topic of people's discussions. Some resort to plastic surgery, but perfectionists still feel distressed because they think there must be a blemish hidden away somewhere.
The pursuit of beauty reflects a kind of progress as people move up to aesthetic needs after physiological requirements are met.
In addition to enhancing self-confidence, people are increasingly agreeing with the idea that beauty can benefit them in personal and professional prospects. Expenditure on cosmetics, clothing, gym and face-lifting keeps growing, creating the "economy of good looks".
However, plastic surgery procedures such as "elf ears" have gone too far. Sacrificing health for the so-called beauty is just like putting the cart before the horse.
The aspiration to find a shortcut to success and fame by taking advantage of good looks may partly nourish the surge of demands for some ridiculous plastic surgeries. As a woman said to Beijing News, she was well aware of the risks but decided to have her calf nerves cut after weighing the pros and cons. "I am not that kind of person who loves sports…As long as I get the exact look that I want, I can live with the downsides."
Social media has also stoked such anxiety. Surrounded by good-looking people with Photoshop retouching and powerful filters in cyberspace, ordinary people easily get upset: why everyone is so beautiful except me?
Such fiction may mislead some people falling into the trap set by businesses. To maximize the profits, plastic surgery hospitals play up the anxiety and brainwash their potential consumers with advertising slogans all over everywhere, for instance, "Women who don't have plastic surgery are not perfect enough." or "How are you? Needless to say. It is all written on your face."
Some unscrupulous clinics and drug makers even work together to create and peddle some new plastic surgery items regardless of safety. "Elf ears", which were until recently considered ugly but now are leading the fashion of beauty, are such an example. Behind the popularity is the shadow of capital because the program is profitable as it needs the support of abundant hyaluronic acid, and to maintain the shape, repeated injection is required every few months.
People with "anxiety for appearance" should be cautious of who is defining the aesthetic appreciation and encouraging them to take the risk. Good looks at the sacrifice of health may get some benefits for a while, but it won't last long.
There is nothing wrong to pursue external appearance, but the fault is beauty supremacy. Nobody is perfect and nothing is worth sacrificing health.
Most Viewed in 24 Hours
China Views