Weaving a bright future
Share - WeChat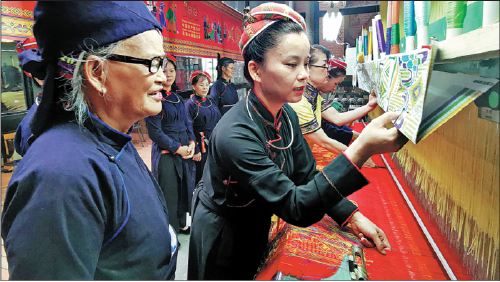 Zhuang brocade weaver Li Donglian (right) works with a colleague at a workshop in June in Nanning, the capital of the Guangxi Zhuang autonomous region. XIE ZHONGGUO/FOR CHINA DAILY
Editor's note: From arts and crafts to knowledge and skills, China's intangible cultural heritage is invaluably embedded in its ethnic communities. This series looks at the latest efforts to preserve and promote the country's inherited traditions and living expressions.
Less than a decade ago, Li Donglian had to leave home to work odd jobs, venturing out to neighboring provinces to make a living.
But in 2016, Li was given a life-changing opportunity to find her true calling-as an ethnic brocade weaver back in her own village of Banchi in the city of Chongzuo in South China's Guangxi Zhuang autonomous region.
"We are very proud of our traditional brocade. Many Zhuang women like myself have been weaving it all our lives. It's good that I can return to my roots to help more people understand and appreciate our heritage," said Li, 39, who is a fifth-generation Zhuang brocade weaver.
Zhuang brocade is deeply embedded in the traditions and customs of the region's major ethnic group. Archaeological evidence traces it as far back as the Western Han Dynasty (206 BC-AD 24).
Its bold colors and elaborate designs are based on ethnic symbols and motifs, ranging from geometrical patterns to flora and fauna, developed in the Tang (618-907) and Song dynasties (960-1279) and further improved throughout the Ming (1368-1644) and Qing (1644-1911) dynasties.
The invaluable knowledge and skills needed to produce Zhuang brocade make it a national-level intangible cultural heritage, part of a categorization system that recognizes the importance of conserving ethnic cultures across the country.
During a visit to South China's Guangdong province in October, President Xi Jinping said proactive efforts should be made to train inheritors of intangible cultural heritage.
There are now more than 100,000 Chinese intangible cultural heritage-related listings, ranging from national to county level.
As of December, China also had more than 40 items on UNESCO's Lists of Intangible Cultural Heritage, the most in the world, according to the Ministry of Culture and Tourism.
Most Popular