Africa turns to Chinese vaccines to battle COVID
Share - WeChat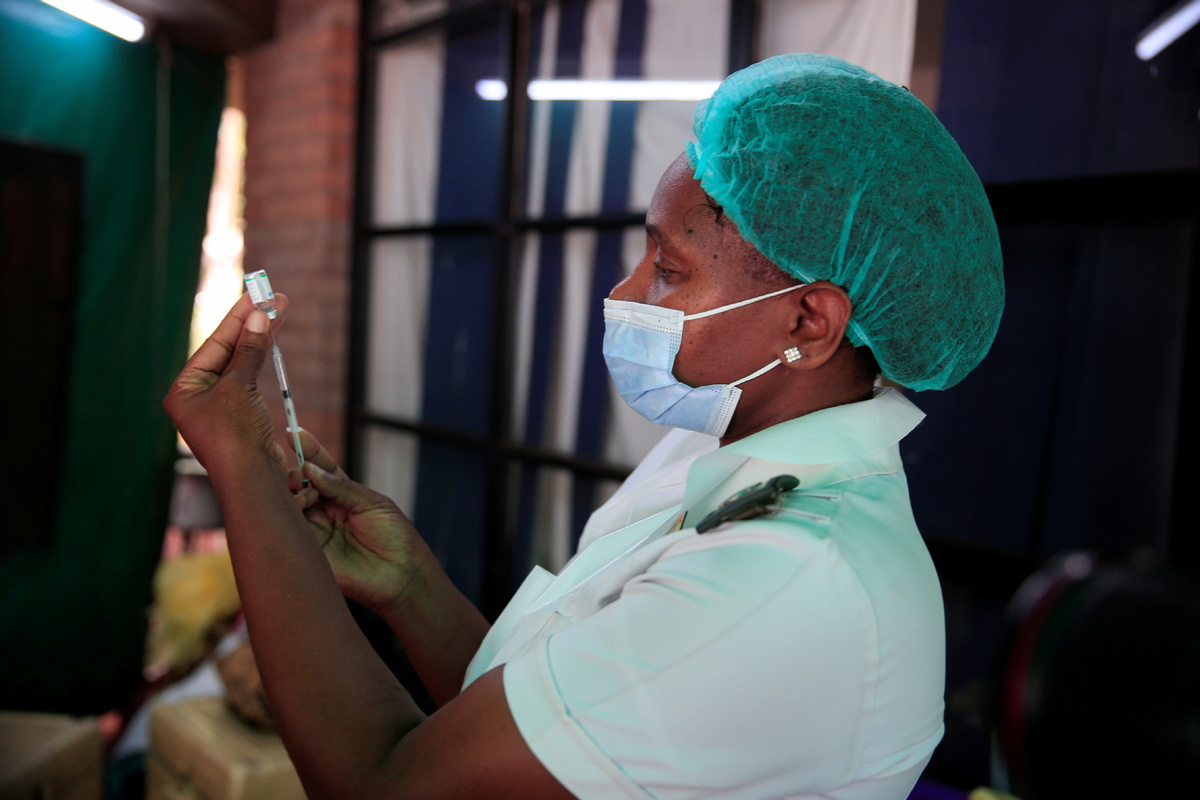 As African countries expand the range of vaccines used to battle a brutal third wave of the COVID-19 pandemic, Chinese vaccines such as Sinovac and Sinopharm are being used in greater numbers across the continent.
In addition to vaccines donated by the Chinese government, many African countries are buying the Chinese doses while other nations have signed agreements to manufacture the vaccines locally.
In February, China pledged to provide COVID-19 vaccines to 19 African countries that had requested them, as part of its commitment to make vaccines public global goods.
To date, China has donated or exported vaccines to almost 40 African countries. According to Bridge Consulting, an independent Beijing-based consultancy that tracks China's impact on global health, the country has delivered 27 million doses to Africa.
Equatorial Guinea and Zimbabwe started their COVID-19 vaccination campaigns in February after respectively receiving donations of 100,000 and 200,000 Sinopharm doses from the Chinese government.
Cameroon also began inoculating its population in April with a donation of 200,000 Sinopharm vaccines from the Chinese government.
Equatorial Guinea, which had recorded 8,815 coronavirus cases and 122 deaths as of July 14, has been exclusively using Sinopharm vaccines and has received 600,000 doses to date.
In Zimbabwe, more than 90 percent of COVID-19 vaccines are supplied by China, and on July 8 the country received another 2 million Sinovac vaccines.
Mthuli Ncube, Zimbabwe's finance and economic development minister, said the country is due to receive another 1.5 million doses of Sinovac this week. He added that Zimbabwe plans to buy another 2 million doses this month.
As of Tuesday, the country of almost 15 million people, had fully vaccinated 619,883 people and administered a single dose to another 955,656 people, according to the health ministry. "Our current budget on vaccine acquisition is $100 million cumulatively. We have spent about $40 million and what is left now is $60 million, if necessary, we will top-up depending on need," Ncube wrote on his Twitter account.
South Africa, the hardest hit country in terms of COVID-19 cases and deaths, approved the use of CoronaVac on July 3. As of Monday, South Africa had recorded 2,219,316 COVID-19 cases with 65,142 deaths, according to the World Health Organization.
The South African Health Products Authority said it approved the Chinese vaccine for use based on its quality, safety and efficacy.
On July 9, during a virtual news briefing, Mmamoloko Kubayi, the acting minister of health, said CoronaVac will boost the country's vaccination program, which also uses Pfizer and Johnson& Johnson doses.
In his address to the nation on Sunday, President Cyril Ramaphosa said the Vaccine Advisory Committee is working on how soon to bring CoronaVac into its vaccination program.
Egypt has signed an agreement with China to locally manufacture Sinovac, and Morocco has signed a similar agreement to make Sinopharm.
The Egyptian Holding Company for Biological Product and Vaccines will produce an initial 2 million doses, with plans to produce over 5 million doses in the following two months and 40 million vaccines within a year.
On Monday, the company announced it had produced the first batch of 1 million doses of Sinovac.
The Egyptian government is negotiating with its Chinese partner to double the supply of the raw materials used to make Sinovac so it can manufacture 600,000 doses a day.
After it meets domestic demand, Egypt said it will look at exporting Sinovac to other African countries.
The WHO hailed the cooperation between China and Egypt, saying the partnership was a good example of international cooperation and contributed to the achievements of the United Nations Sustainable Development Goals.
Naeema Al-Gasser, the WHO representative in Egypt, said the cooperative effort will accelerate the vaccination drive in Egypt and help all of Africa fight the COVID-19 pandemic.
On July 5, Morocco announced that Sothema, a local pharmaceutical firm, had signed an agreement to start local monthly production of 5 million doses of Sinopharm.